How To Start Investing With $1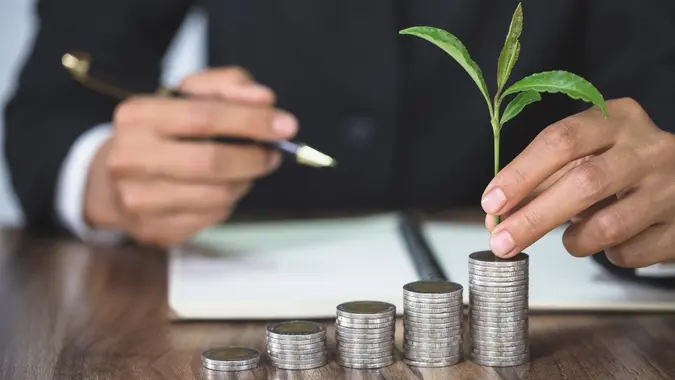 Tinnakorn Jorruang / iStock.com
Investment is the cornerstone of long-term wealth. Even if you earn a high salary, you're likely to burn through most or all of it unless you set aside some for investments. And with many Americans living paycheck to paycheck rather than drawing six-figure salaries, the dilemma becomes even clearer.
$2,000 Quarter? Check Your Pockets Before You Use This 2004 Coin
Find Out: 3 Things You Must Do When Your Savings Reach $50,000
However, it is possible to start investing even with small amounts, and the earlier you begin, the less you'll actually need to set aside. Here are steps you can take to start investing with even a single dollar, and a projection of the results you might be able to achieve if you stick to your long-term plan.
Pay Yourself First
Paying yourself first means setting aside money for your savings and investments before you use it even to pay your monthly bills. This is a critical step to ensure that you save money every month, even if it is only a single dollar. If you instead spend your money on your bills and your discretionary "wants" — think going out to eat or "treating" yourself — you'll likely never end up with any money "left over." Even in the tightest of budgets, you can likely set aside a single dollar per month, so start there. 
Bump Up Your Savings
It's true that putting away $1 per month won't make you rich. But once you're used to putting that dollar aside, you'll likely find that you hardly even miss it. This is the key step to start bumping up your investments. If saving $1 per month doesn't affect your budget, try $1 per week and go from there. By moving up your savings in small increments, over a relatively short period of time, you may find that you are now saving $100 per month without any adverse effects on your lifestyle. And once you start investing more than $100 per month, you might be surprised at just how much you can earn over a long period of time. 
Live Richer Podcast: How To Leverage Your Investments
Find Places Where You Can Start Small
The good news for small investors is that it's never been easier to get started with a small sum. Many brokerage firms now allow the purchase of fractional shares of stock, and the minimum investment is typically around just $5. For example, if you wanted to buy into a $50 stock, you can buy 0.10 shares of that stock with your $5.
Robo-advisors can be another good option for those just starting to invest. These automated portfolios allocate your money among a series of exchange-traded funds that match your objectives and risk tolerance, and many have no investment minimums.
Of course, when you're just starting out, a savings account might be your best option. Savings accounts are insured by the FDIC and don't fluctuate in value, and that peace of mind might be just what you need at first. Plus, most savings accounts don't have any investment minimums. With rates on the rise in 2023, savings accounts are actually paying a decent amount of interest for the first time in years, with many online accounts topping a 4% yield.
Automate Your Investments
It's hard for even the most diligent investor to consistently set money aside without the help of automation. And from a human nature perspective, without money being automatically swept into your savings account, it's often far too tempting to spend that money instead of sticking to an investment plan. To ensure that you're consistently meeting your savings objectives, simply contact your bank or brokerage and set up an automated transfer schedule. By having that money swept out of your account as soon as you get your paycheck, you're much more likely to actually save and invest it.
Use Projections To Keep Yourself Motivated
While it's true that saving $1 per month won't make you rich, you might be surprised at the wonders that compound interest can achieve over time. 
Let's say over time you're comfortable enough to bump up your savings to $100 per month. If you can invest that money for 40 years at a 10% annual return — which is just about the long-term average of the U.S. stock market — you'll end up with over $632,000! If you can manage to set aside just $150 per month, your 40-year investment total will be closer to $1 million. 
Now, investment returns are never guaranteed, and there will certainly be some ups and downs in your portfolio over time. But whether or not your savings ever reach $1 million, the point is that even with small amounts of money, if you stick to your plan and invest in growth investments like the stock market, you can generate real wealth over time. 
More From GOBankingRates