I'm a Self-Made Millionaire at 35: My Best Advice on Investing and Saving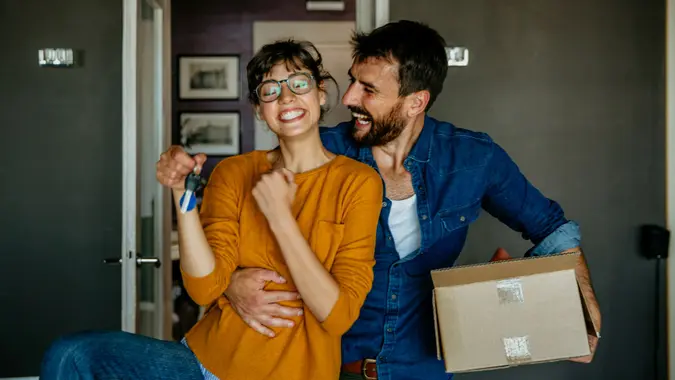 Studio4 / Getty Images
Have you ever read about someone who became a millionaire in their thirties and wondered to yourself what their secret is to success? The big "secret" typically involves years of making habitually good financial choices and being consistent in one's saving and investing practices.
GOBankingRates spoke to Derek Sall, founder of Life And My Finances, who became a self-made millionaire thanks to intentional spending, saving and investing behavior. This is his best advice on investing and saving.
Get Debt-Free Early in Life
By age 35, Sall and his wife became self-made millionaires. One attributing factor to their success was getting intentional about becoming debt-free early in life.
Sall and his wife took on minimal student loans for their education. Sall's wife graduated without any student debt, and Sall had just $12,000. In their mid-twenties, the couple were consumer debt-free and became mortgage-free at age 29. Going into their thirties, Sall said they had absolutely no debt.
Take Our Poll: Are You Planning To Buy or Sell a House This Year?
Invest Early
Early in his career, Sall said he started investing 10% to 15% in his 401(k). His wife made the same financial moves. By their mid-thirties, Sall said the couple had nearly $300,000 in their retirement accounts.
Purchase a Rental Property
Within a couple of years in their thirties, Sall and his wife were able to save nearly $100,000 thanks to not having any debt. They put the money towards buying their first rental property. The property cost $90,000 and the couple bought it using cash. 
Today, Sall said the property is worth $240,000 and produces $12,000 in profits.
Avoid Moving
In the last 10 years, Sall and his wife have only moved once. They plan to stay in their current house for the next few decades, another factor Sall attributes to their financial success. 
"Fewer moves equals more money in our pockets. It means no moving costs, no realtor fees and low property taxes," said Sall.
Since becoming self-made millionaires, not much has significantly changed in the couple's life. Sall said they continue to invest in S&P 500 index funds and are currently looking to find a good deal on another rental property. 
"Becoming a millionaire doesn't have to be complex. You just need to live beneath your means and spend your money on assets that go up in value. That's it!"
More From GOBankingRates