Love Investing in Tesla? Here Are 6 Other Similar Stocks You Might Like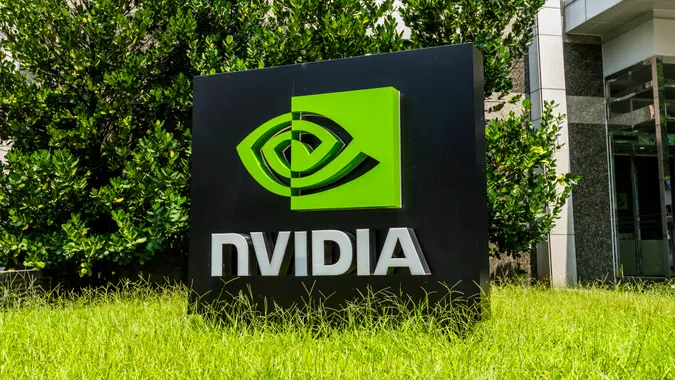 BING-JHEN HONG / Getty Images
Tesla has made headlines in recent years as much for the volatility in its stock price as for its groundbreaking innovation in the world of electric vehicles and battery storage. After posting an incredible 700% gain in 2020, Tesla rose another 50% in 2021 before falling 65% in 2022 and then popping over 100% YTD in 2023. While that means some traders have made fortunes, others have lost them, and the stock would still have to gain about 60% from current levels just to match its 2021 high.
But Tesla is far from the only stock in this category. Other EV stocks, even those that may end up being eventual winners, have been similarly volatile Some non-EV tech stocks have also had wild runs as investors argue over their future potential. If these are the types of stocks you enjoy owning, here's a list of names that can give you the same kind of volatility and potential returns as Tesla.
Meta Platforms (FB)
YTD gain as of Oct. 16, 2023: 166.88%
Meta Platforms is one of the big winners of 2023, but it's coming off a huge loss of 64.22% in 2022, meaning the stock is still well below its 2021 high. The social media company has cast its lot with the future of AI, planning on using generative AI to fuel its advertising business going forward. This AI connection is one of the reasons that investors have piled into it in 2023.
Nvidia (NVDA)
YTD gain as of Oct. 16, 2023: 215.32%
Nvidia has been a stock market darling in 2023, more than tripling in price amid a surge of enthusiasm for artificial intelligence-related stocks. Nvidia, according to the New York Times, makes 70% of the chips required for AI processes, and an even greater market share for generative AI.
The company's competitive advantage makes a case for further gains in the future, but volatility is the cost that investors have to pay. In between gains of 125.29% in 2021 and 215.32% YTD in 2023 was a painful loss of 50.31% in 2022.
On Semiconductor (ON)
YTD gain as of Oct. 16, 2023: 46.98%
On Semiconductor isn't nearly as well-known as Nvidia and Meta Platforms but it mostly avoided the tech rout that dragged those companies down in 2022, dropping just 8.17%. The company sandwiched that small loss with big gains of 107.52% in 2021 and 46.98% so far in 2023, contributing to a whopping 250.42% three-year gain. That trumps even Nvidia's gain of 239.07% over the same period.
The company, which provides intelligent power and sensing solutions, has its fingers in many high-growth pies, ranging from EVs and industrial automation to smart cities, charging infrastructure and robotics.
Quantumscape (QS)
YTD gain as of Oct. 16, 2023: 10.67%
In terms of its industry, Quantumscape probably has the closest ties to Tesla as any company on this list. Quantumscape builds next-gen, solid-state, lithium-metal EV batteries, focusing solely on faster charging, enhanced safety and larger energy capacity.
The mid-cap company, with a market cap of just over $3 billion, is much more of the "boom-or-bust" variety than the established large-caps on this list, and the stock has lost more than half its value over the past three years. Analysts have a $7.80 consensus price target on the stock, about 24% above current levels, but the truth is that the company will likely either be a home run or an also-ran in the exciting, competitive industry.
Blink Charging (BLNK)
YTD gain as of Oct. 16, 2023:

-72.47%
Blink Charging is a small-cap, aggressive bet that, while having future potential, has provided nothing but disappointment to investors so far. Just ask those who bought the now-$3 stock at above $60 per share in 2021. On the surface, the stock seems like a sure winner — as the world moves to electric vehicles, more and more chargers will be needed, and that is Blink's core business.
But the company isn't profitable, and Tesla's recent news that it's going to open its supercharging network to non-Tesla vehicles may be a difficult obstacle for the company to overcome. All-in-all, the company is more of a speculation now, only appropriate for highly aggressive investors — but those who like Tesla may be willing to take on that kind of risk.
Global X Autonomous & Electric Vehicles ETF (DRIV)
YTD gain as of Oct. 16, 2023: 15.38%
If you want exposure to the world of EVs and autonomous driving, one way to cover all of your bases in a single investment is to buy an exchange-traded fund.
The Global X Autonomous & Electric Vehicles ETF's top 10 holdings are currently Alphabet, Nvidia, Toyota Motor, Apple, Tesla, Intel, Honeywell, Qualcomm, Microsoft and Honda Motor. It's also got the volatility that Tesla investors might enjoy, with a beta 43% greater than the S&P 500. The ETF's returns for the past four years have been 28.54%, 62.75%, 27.80% and -34.14% in 20222.
More From GOBankingRates