Tesla Stock Forecast: Where Is the Stock Heading in 2022?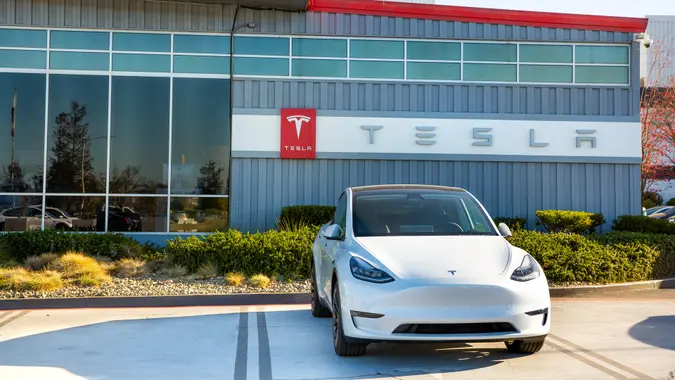 vzphotos / Getty Images
Tesla is a stock that is seemingly in the news every day. For starters, the innovative electric vehicle maker has shaken up the entire automotive industry with its extremely popular product line, and investors and the general public alike have a keen interest in what the company will do next.
See: 5 Things You Must Do When Your Savings Reach $50,000
But Tesla's sometimes-controversial CEO, Elon Musk, also keeps the company in the news, both with his bold business moves and with his always newsworthy tweets and public comments. Both aspects of the company's headline-making quality play a role in the day-to-day movements of Tesla stock, which is particularly important for investors.
But what do analysts say about the future of the company? Here's a quick overview of the company itself along with a summary of analyst expectations for Tesla's stock price.
A Brief Overview of Tesla — the Company
Most people have at least heard the names of Tesla and its CEO Elon Musk, especially over the past few years. But as with many large companies, Tesla actually has a longer history than many may realize.
Tesla was founded way back in 2003, and Elon Musk, to the surprise of many, was not its founder. That honor instead fell to Martin Eberhard and Marc Tarpenning. Shortly after Tesla's founding, Musk became tied to it by investing $30 million into it.
Soon afterwards, Musk was named the chairman of the company, and he has been inextricably linked to it ever since. Musk's investment not only provided the company with needed capital but also attracted additional funding from outside investors, including venture capitalists.
Tesla actually produced its first vehicle in relatively short fashion, rolling out the original Roadster in 2008, just five years after the company's founding. Since then, Tesla has produced a wide range of vehicles, such as the Model S, Model X, Model Y and Model 3. Other models are on the way, including a truck and a new version of the Roadster. In addition to vehicles, the company also produces solar panels and storage devices.
A Brief Overview of Tesla — the Stock
Tesla's stock is always in the news because not only is the company popular, it has grown to be one of the most valuable businesses in the world. Even after a relatively large selloff in 2022, Tesla is still the sixth most valuable company in the entire world. Its CEO, Elon Musk, was reportedly the richest man in the world as of Nov. 2022, in large part — although not exclusively — due to the success of Tesla.
Tesla's Early Days
Yet, for all the noise that Tesla stock has made, as with many companies, Tesla wasn't a big winner in the early days of its existence. In fact, until quite recently, Tesla's stock didn't do much of anything for a long period of time.
Looking back at historical charts, Tesla's stock essentially went nowhere all the way from 2014 to 2019, when it fluctuated around $17 per share. While there were obvious ups and downs, the stock wasn't making the type of moves that would snag it all of the headlines it receives today.
Recent Growth
Starting in 2019, however, the stock began getting legs. Its biggest year ever — by far — was 2020, when shares skyrocketed an astonishing 696.45%. This made Tesla far and away the best performing stock in the S&P 500 for that year, more than doubling second-place Etsy's 301.6% return.
Although Tesla's returns moderated a bit in 2021, the stock still posted an additional 49.76% gain in 2021, as investors refused to take profits even after the company's extraordinary 2020 returns.
Tesla in 2022
Year-to-date in 2022 has been a bit of a different story, as Tesla shares have slid close to 40% as of early November 2022. However, given the massive gains of the prior two years and the bear market that has hit all three of the major U.S. market indices in 2022, some might consider that drop surprisingly low.
Average Analyst Ratings and Price Targets
Tesla stock closed at $197.08 on Nov. 7, 2022. Although the average analyst rating on Tesla stock is "buy," predictions for the company's future stock price are all over the map. In fact, Tesla stock price predictions are more variable than with nearly any other company in the S&P 500, in large part because of the "boom or bust" mentality many have about the company.
In the bullish camp, analysts and investors believe that Tesla will continue to take the leading role in the electric vehicle revolution that has finally gained traction. They also believe that Tesla will lead in other green energy fields, such as solar panels and energy storage devices.
In the other camp, bearish analysts and investors feel that the company will fail to live up to expectations and will just become another production company, rather than something innovative and special. Bears view the company as overvalued, susceptible to competition and overly subsidized.
Price Targets
As a result of this major difference in expectations for the outcome of the company, price targets show considerable variation. The average 12-month price target for Tesla stands at $302.05 according to Nasdaq, which is a significant 53% above its current valuation.
However, the most bullish 12-month forecast for Tesla stock stands at an incredible $760, or a whopping 285% above its current price. On the other side of the coin, the most negative analyst covering Tesla sees shares dropping to $73 within 12 months, representing an equally incredible prediction for a 63% loss. Clearly, there's a wide variation within the investment community as to the near-term future for Tesla.
Which Way Will Tesla Stock Go?
Whether or not Tesla stock hits $760 within 12 months, falls to $73 or trades somewhere in between will likely depend on whether its catalysts outweigh its risks in the eyes of investors, or vice versa. Here's a list of some of the factors that bulls and bears look at when evaluating the stock.
Catalysts for Tesla
While the future is unpredictable, here are some of the bullish ideas that are supporting investor interest in Tesla stock:
The company will soon be selling a competitively priced vehicle, which will broaden its appeal to the masses.
Tesla continues to dominate the e-vehicle market, even in the face of competition.
Tesla's stock valuation has tumbled, thanks to its falling price and rising earnings.
Tesla actually has three segments, something even many investors don't know yet but will learn. In addition to its e-vehicle division, the company has an energy generation and storage division and a "services and other" division — and both are growing rapidly.
If any — or all — of these catalysts work out, the stock should go higher.
Risks for Tesla
Part of the reason Tesla stock can be volatile is that it has inherent risks. Here are some of the major factors that could keep the stock depressed:
CEO Elon Musk just bought Twitter. Some analysts fear that between that and SpaceX, his space exploration company, he might have his hands full instead of simply focusing on Tesla.
Car deliveries may be below expectations. This is a risk with any company that produces anything, but Tesla has had supply chain and production problems in the past.
A recession may be right around the corner. This risk isn't Tesla-specific, but could greatly damage the buying power of consumers for the company's higher-priced vehicles.
Competition in the electric vehicle space will only grow. With new mandates for internal combustion engines to be phased out of existence, every car maker is now incentivized to produce e-vehicles. 
In the near term, Tesla stock may fall victim to year-end tax-loss selling. 
Final Take
Analysts don't seem to be able to agree on the future of Tesla — it could be a big win or a significant loss. Whether you choose to invest in Tesla or another company, never invest what you can't afford to lose.
FAQ
Is Tesla stock predicted to go up?

The average 12 month stock price prediction for Tesla is $302.05, which is an increase from its current price. Analysts don't agree on whether Tesla stock will go up or down in the short term, though. Some predictions peg it as high as $760 a year from now, while others see it dropping as low as $73.

Is Tesla a buy, sell or hold?

The average analyst rating for Tesla stock is "buy."

What is Tesla's projected stock price in 2022?

The average 12 month price forecast for Tesla stock is $302.05.
Our in-house research team and on-site financial experts work together to create content that's accurate, impartial, and up to date. We fact-check every single statistic, quote and fact using trusted primary resources to make sure the information we provide is correct. You can learn more about GOBankingRates' processes and standards in our editorial policy.