How Much Does Elon Musk Make a Day?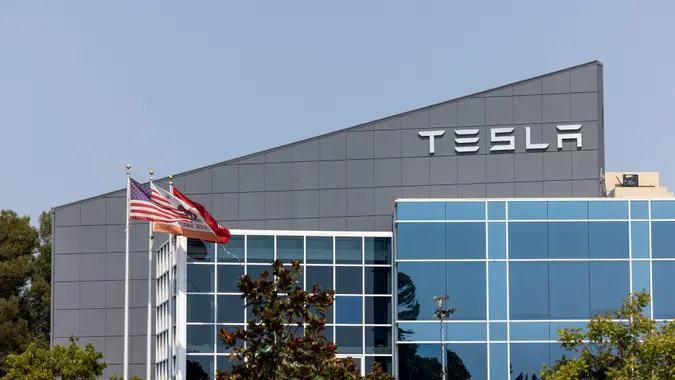 JasonDoiy / Getty Images
Recently crowned the richest man in the world, Elon Musk is the self-made billionaire behind Tesla and SpaceX. The South African native unseated Amazon's founder,  Jeff Bezos, for the first time in January 2021. Since then, as Tesla's stock price changed, he has sometimes dropped from the top spot but has now ended up back on top.
Musk's exact net worth varies, as it is largely tied to Tesla stock. However, he is worth $219.9 billion, according to Forbes. This is almost $50 billion more than Bezos — currently the second-richest man in the world — whose net worth is $171 billion, both as of Oct. 24, 2022.
How Much Does Elon Musk Earn a Day?
Musk likely earned $23 billion in the first quarter of 2022, which had 69 weekdays — the assumption is that he was paid on holidays. Given these assumptions, he would be earning $333.33 million per day. The NYSE is closed on weekends, so for purposes of daily salary calculations, assume a five-day workweek. 
Despite his constantly increasing net worth, Musk technically doesn't earn a salary. Instead of collecting a paycheck at Tesla, the company's CEO — and majority shareholder — only gets paid when the electric automaker's market capitalization and financial growth reach certain targets.
Make Your Money Work Better for You
This arrangement seems to be working out for him, as he was slated to receive $23 billion in new compensation for the first quarter of 2022. Obviously, Musk isn't paid by the day but if he was, his rate would certainly be record-breaking.
It's hard for the average person to even comprehend a fortune of this size, so it's only natural to wonder, how much money does Elon Musk make a day? Here's a breakdown of his wealth.
How Much Money Does Elon Musk Make?
While he's been extraordinarily wealthy for years, his fortune has significantly increased since 2018. Just four years ago, his net worth was $19.9 billion, according to Forbes. His net worth held relatively steady for the next two years — $22.3 billion in 2019 and $24.6 billion in 2020 — before skyrocketing in 2021. Last year, his fortune surged to $151 billion, before rising even higher to its current level.
Of course, this meant some very big paydays for the Tesla CEO. For example, Musk earned $37 billion on Oct. 25, 2021. His net worth surge was tied to a very good day for Tesla stock, which saw its price increase by nearly 13%. To put this in perspective, Musk's net worth increased higher than the market value of Dell Technologies — $27.23 billion — Deutsche Bank — $18.29 billion and Sun Life Financial — $24.11 billion — as of Oct. 24, 2022, in one day.
Make Your Money Work Better for You
Financially speaking, it's good to be Elon Musk. The world's richest man has earned more in a day than the average person makes in a lifetime — several times over.
5 Facts About Elon Musk's Net Worth
Here are five unbelievable facts about Elon Musk's net worth:
Elon Musk Facts

Elon Musk claimed in 2021 that he would "pay more taxes than any American in history that year," according to a tweet reported by Business Insider.
Elon Musk's first business, a company that provided and licensed online city guide software to newspapers named Zip2, sold to Compaq for $307 million.
Elon Musk's first big splurge in 1999 after selling Zip2 was a $1 million dollar McLaren F1 supercar.
After creating PayPal, Elon Musk sold it to eBay for $180 million. 
Elon Musk often talks about his interest in cryptocurrency, and has allegedly bought at least 2.5 million dogecoin.
Elon Musk's Businesses
Now that we've answered the question "How much does Elon Musk make a year?" you're probably curious about the businesses behind his fortune.
Founded in 2003, Tesla builds all-electric vehicles, as well as clean energy generation and storage products. Musk owns approximately 21% of the company, but more than half of his stake is currently tied up as collateral for loans, according to Forbes. A good stock to have, Tesla shares have climbed 823% in the past 5 years. It closed at $222.96 per share on Oct. 10, 2022.
Make Your Money Work Better for You
Musk also founded SpaceX in 2002 and serves as the company's CEO. Since its inception, the aerospace company has had 185 total launches,147 total landings and123 total reflights, according to its website. SpaceX is privately held, but following a share sale in October 2021, existing investors said the company was valued at more than $100 billion. The company has an agreement with new and existing investors to sell up to $755 million in stock from insiders at $560 per share, according to CNBC.
However, the company valuation is likely on the rise, as it's reportedly raising a new round of funding. This would increase its valuation to $127 billion, according to a May 2022 CNBC report.
Where Else Does Elon Musk Get His Money?
These are some of the ways Elon Musk invests his money.
Elon Musk's Real Estate Portfolio
He might be the richest man in the world, but Musk doesn't currently own his home. In fact, he's vowed to never own a house again.
In May 2020, he tweeted: "I am selling almost all physical possessions. Will own no house." He made good on that promise, selling seven homes for nearly $130 million, according to The Wall Street Journal. In a June 2021 tweet, he revealed that he's currently renting a home from SpaceX worth $50,000 in Boca Chica, Texas.
Elon Musk Takes Twitter
Musk may soon add Twitter to his portfolio of companies. In April, he offered to buy the company for $44 billion, and the process moved closer to a vote on June 21, 2022. A Securities and Exchange Commission filing revealed Twitter's board of directors advised shareholders to approve the deal. While there has been some back and forth between Twitter and Elon Musk, with Musk accusing Twitter of not disclosing the number of bot users on the platform, and the matter even going to court, Musk has now again declared that he will buy the platform. If the deal goes through, it could push his net worth even higher.
Final Take
Now that you know the answer to the question "How much money does Elon Musk make a day?" you're probably a bit stunned. Knowing he's the richest man in the world is one thing, but actually seeing how much he earns per day — and per minute — is truly jaw-dropping. 
If you're inspired to try and increase your earnings, take a look at this GOBankingRates guide on 19 proven ways to make money fast. While you may or may not become the world's richest man, a side hustle can help you invest in your future.
Elon Musk Earnings FAQs
Here are some more answers about Elon Musk and how much money he makes.
How much does Elon Musk make a year?

As Elon Musk's net worth grows, he makes more and more money each year, so it can be hard to estimate a yearly salary. In August 2017, over five years ago, Elon Musk's net worth was $20.70 billion. Therefore, for the past five years, Elon Musk has made an average of $39.84 billion a year.

How much does Elon Musk earn per month?

If Elon Musk has increased his net worth by an average of $39.84 billion a year over the past five years, then his monthly income can be calculated by dividing that number by 12. Therefore, Elon Musk has made an average of $3.32 billion over the last 5 years.

What does Elon Musk make per hour?

Considering his wealth is largely tied to Tesla stock performance, we'll say his work hours are the same as the core trading session at the New York Stock Exchange -- 9:30 a.m. to 4 p.m. EST. This would mean he's paid for a 6.5-hour workday.
This makes it easier to answer the question, how much does Elon Musk make an hour? Since his daily earnings for the first quarter of 2022 are an estimated $333.33 million per day, his hourly rate would be $51.30 million.

How much does Elon Musk earn per minute?

No doubt about it, Elon Musk earned more per minute in the first quarter of 2022 than many people will make in a lifetime. Since his hourly rate was approximately $51.30 million, this means he earned roughly $855,000 per minute.
In the first quarter of 2022, the median weekly earnings of full-time wage and salary workers in the U.S. was $1,037, according to the Bureau of Labor Statistics. Therefore, it would take the average worker 825 weeks -- nearly 16 years -- to earn what Musk made in a minute.
Jennifer Taylor contributed to the reporting for this article.
Information is accurate as of October 24, 2022.
Our in-house research team and on-site financial experts work together to create content that's accurate, impartial, and up to date. We fact-check every single statistic, quote and fact using trusted primary resources to make sure the information we provide is correct. You can learn more about GOBankingRates' processes and standards in our editorial policy.
Make Your Money Work Better for You