This Tesla Model 3 Is Discounted $11,000 — Is It Worth Buying?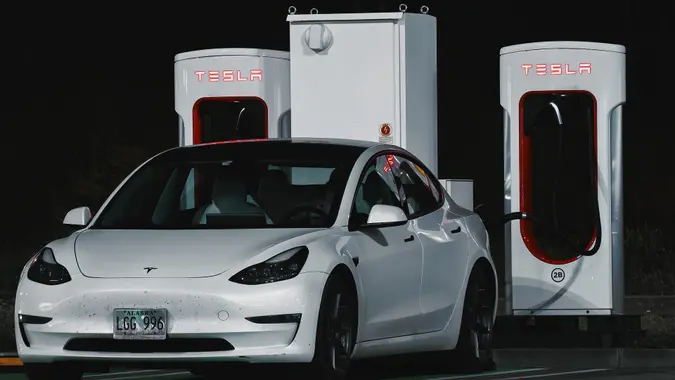 Kukurund / iStock.com
Tesla has once again cut prices on the brand-new Model 3 in North America. Back in June, Tesla announced discounts of up to $2,500 on most of the Model 3 North American inventory trims (pre-packaged groups of features for a particular car) and up to $3,040 in the case of the top-range Model 3 Performance.
According to Drive Tesla Canada, Tesla has been offering bigger discounts on its cheapest model than previous initiatives in the U.S. and Canada. If you're looking at a Tesla, it won't be uncommon to see a Model 3 Rear-Wheel Drive (RWD) reduced by $3,700 to $4,100, the Model 3 Long Range Dual-Motor by more than $5,000 and, as MotorTrend noted, the Performance AWD has already been seen discounted by as much as $5,520 in Beverly Hills. When you add in the $7,500 federal EV tax credit, you're looking at deals of over $11,000 in some instances.
As Reuters suggested, these big Model 3 discounts come at a time when the electric automaker has just unveiled its Model 3 refresh, signalling that the price cuts could be part of an inventory purge before the new Models 3 hit the market.
The new Model 3 sedan was recently unveiled at the China International Fair for Trade in Services (CIFTIS) in Beijing and at the at the International Mobility Show (IAA) in Munich. The launch of the new model marks the first time Tesla has rolled out a vehicle in China ahead of the United States, as it looks to get a foothold in the country and compete with the homegrown BYD for market share.
Should You Buy a Tesla Model 3?
Tesla cuts prices on its other models on a regular basis, but what makes the Model 3 so appealing is the fact that it's one of only a handful of EVs that is currently eligible for the Inflation Reduction Act's $7,500 federal EV tax credit after strict supply chain rules went into effect on Apr. 18, 2023.
According to The Drive, brand new 2023 Tesla Model 3 RWDs have been discovered for as low as $37,020 (under $30,000 after the EV tax credit). Long Range models, which normally have a sticker price of around $48,740, have been spotted as low as $43,870 — as has the Performance trim, which retails for upwards of $53,000, for as little as $47,920. These prices are before any eligible EV tax credits have been factored in.
These significant Tesla discounts make Models 3s more accessible to a wider audience and make now an excellent time for prospective EV buyers to take the plunge. The price slashes come at a time when the company will be trying to get rid of existing inventory and when other companies are looking to seriously compete with the largest battery electric vehicle manufacturer in the world (second overall now after BYD, who also builds plug-in hybrid EVs).
If you have money to burn, prices for standard range base Model S and Model X cars were each recently cut by $11,000, to $78,490 and $88,490, respectively (these two models started 2023 priced at $104,990 and $120,990). If your budget won't allow a new purchase, keep in mind that used Teslas now qualify for the $4,000 used EV tax credit, per InsideEVs.
More From GOBankingRates