It's Not Too Late for You To Start Investing — Take These Next Steps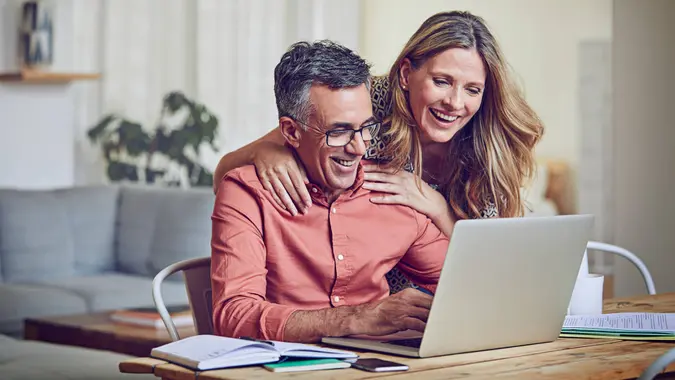 kupicoo / Getty Images
It is ever too late for anyone to start investing. "A very old aphorism in our industry is: When's the best time to plant an apple tree? 50 years ago. When's the second-best time? Today," said Warren Ward, CFP at WWA Planning & Investments.
See Our List: 100 Most Influential Money Experts
Read: 5 Things You Must Do When Your Savings Reach $50,000
Today is a great day for someone a bit older to begin investing, especially since individuals starting to invest later in life often have the benefit of doing so during their peak earning years. Keep these considerations in mind and take the following steps to ensure you reap as many advantages as possible during your investment journey.
Pay Attention to Time Horizon and Risk Tolerance
While the most important aspect of investing is getting started, there are two fundamental factors to keep in mind if you're starting to invest around the same time your age is reaching the speed limit. These two factors are time horizon and risk tolerance, and they help investors manage risk and find opportunities.
"For investors that are starting their investment journey later in life, it's important to keep your time horizon in mind," said Colby McFadden, founder and CEO of Quiver Financial. "Your time horizon may not be long enough for you to afford taking the same risks as someone that started their investment journey at a younger age."
In addition to the time horizon, McFadden said someone starting their investment journey later in life should consider investing extra time in understanding what risk tolerance really means. McFadden recommends consulting a financial advisor that is well adept at modeling the sensitivity of various investment mixes. This will help you find a portfolio allocation that fits well with your tolerance for volatility in your account balances due to changes in market cycles.
Take Our Poll: Do You Think Student Loan Debt Should Be Forgiven?
Investing Later in Life: Next Steps
Once you have an understanding of your time horizon and risk tolerance, here are the next steps to take to make the most out of investing later in life.
Contribute to Your 401(k)
The best place to begin on your investment journey is the company-sponsored retirement plan. If your employer offers a 401(k) program with a matching component, take advantage of this free money and max out your contributions.
Ward said in today's competitive job market, there's likely to be a meaningful company match with your employer. Employees should contribute at the highest level to receive this match.
Contribute to a Roth IRA
If you do not work for a company that offers an employer-sponsored 401(k) plan, max out contributions to a Roth IRA. McFadden recommends utilizing IRA catch-up provisions as a possible strategy to play some catch-up in your investment journey. 
Ron Tallou, founder and owner of Tallou Financial Services, said an IRA can be a great start for investors because investors will have access to different mutual funds. 
"These mutual funds can diversify your portfolio and the taxes will be deferred till you withdraw the money. By not taxing the gains every year you'll essentially build a bigger nest egg," said Tallou.
Open a Brokerage Account
For most individuals looking to start investing, another easy way to get started is to open a standard brokerage account. McFadden recommends starting a system of dollar-cost averaging — where investors systematically invest a certain amount of money every month — with this account.
Don't Ignore Equities (Stocks)
David Fowler, CFP, ChFC and founder of High Mountain Financial Coaching, said a lot of times people will dial back or completely eliminate their exposure to equities, or stocks, because they are afraid of losing money in stock market downturns. 
"The problem with ignoring equities and loading up on fixed income, like government securities, is the equity component over time will have a higher expected return which will help you to keep ahead of inflation," said Fowler.
If you'd like to invest in stocks but aren't sure where to begin, Ward recommends a low-cost "balanced" stock and bond fund. 
Consider Fixed Indexed Annuities
There are financial products that can protect older investors from any downside risk. Tallou recommends the fixed indexed annuity as an attractive vehicle for those investing in the stock market later in life to put their money into. 
"The majority of fixed indexed annuities have contractual guarantees that you won't lose your initial deposit and are tied into the performance of certain indices, like the S&P 500. Depending on the cap and participation rates, if the underlying index performs you get a portion of the returns," said Tallou.
The Benefits of Investing Later in Life
Those who start their investment journey later in life have two great assets on their side: maturity and experience. 
"Many investing pundits like Warren Buffett and Peter Lynch have been noted advising would-be investors to invest in what they know. This seems easier to achieve as you mature and know more about life and how the world works as opposed to just having youthful energy and ideas," said McFadden.
Having maturity and experience as an investor, regardless of what age you start investing, can give you an advantage in identifying trends that may be similar to something you have seen before in life. This can be valuable when managing your time horizon and risk tolerance related to investing.
It may even help you reach your savings goals a little sooner than you imagined.
More From GOBankingRates