Jaspreet Singh: How To Invest Your First $1,000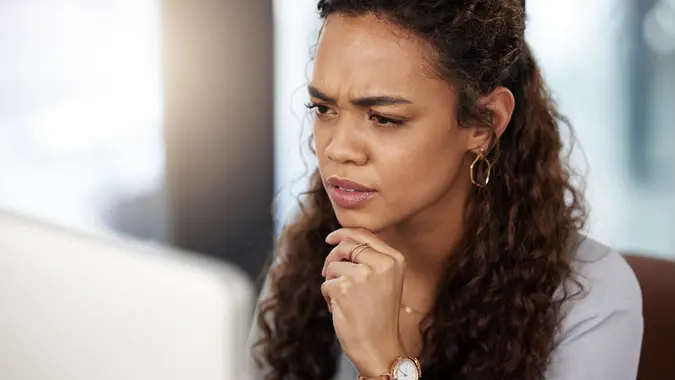 PeopleImages / iStock.com
Having $1,000 after all expenses are paid can seem like a major accomplishment, especially if you've never seen such a large amount of money in your account before.
But before you go on a shopping spree, you might want to consider investing this money in something with greater returns.
In a YouTube video, entrepreneur and financial guru Jaspreet Singh explained what to do once you have your first $1,000 saved up.
While it's important to note that everyone's financial situation and goals are different, Singh's advice and tips for investing your money could still work for you. Here's what he said.
1. Use a High-Yield Savings Account (HYSA)
To begin with, there are a few things that $1,000 alone won't be able to accomplish well. For example, it's not enough money to invest in some of the more lucrative income-earning assets like real estate.
But that doesn't mean you can't find a good use for it.
One of the things you could do is put it in a high-yield savings account. Unlike traditional savings accounts, HYSAs tend to gain more interest on the money you've put into the account. What this means is that you money will grow over time.
With $1,000, it won't be quick, though. You also aren't likely to see major growth if you only put $1,000 into the account.
Jaspreet Singh provided an example to illustrate this point. Assuming the HYSA has a yield of 5%, your initial investment would be worth $1,050 after a year. That's only a $50 increase so, while using an HYSA is better than simply spending the money, it won't help with long-term growth.
2. Invest In the Stock Market
As Singh pointed out, investing in the stock market or real estate could result in much higher returns on your money. But as noted, having such a small amount isn't likely to get you very far very fast.
Singh used another example to demonstrate this point. Say, for example, you invest in stocks that have an average return of 10%. Earning 10% on $1,000 will get you $100.
While not the most effective long-term solution for earning money, it's a start. It's also a better option than leaving it in the bank.
3. Invest In Your Education
According to Singh, the ideal scenario would be to invest $1,000 every week or month. This is because this amount of money can be used to start building some significant savings and investments.
But when you have just $1,000 to start, you may want to look into investing in yourself first. This means using it to improve your education through courses and coaching sessions. Provided you put your newfound knowledge and skills to good use, you could end up earning thousands or tens of thousands of dollars off of your initial investment.
Singh also noted that you should be careful about how you go about this, though. Start by looking into free or inexpensive classes that can improve your education or skills. Singh mentioned free online resources like YouTube and podcasts as a starting point. Once you have a solid basis for whatever it is you're learning, you can then turn to a paid course.
He also suggested spending around $50 on a book or two related to your chosen subject as well. If you find you need more education, you can then pursue more expensive options. Just make sure you choose something that will ultimately bring you value for your time and money.
4. Invest In Your Business Idea
Another of Singh's strategies for growing your money is to use it to invest in a business idea you believe in. As an example, you could use the $1,000 to purchase a camera or a microphone — if relevant to your business. Depending on your idea, you could also purchase other things like the software, tools, and specific accessories needed to make your business profitable.
As with investing in your education, Singh suggested that you proceed with caution. It's all too easy to look at other businesses or brands with their fancy or expensive equipment and think you have to match that. But this might not be the case, so take a moment to research what you'll really need and what it'll cost before getting started.
5. Use Assets To Purchase What You Want
Once you've either invested in your education or in building your business, and you've started earning more income, you can then start reinvesting your earnings to make more money.
One way to do this is by purchasing income-producing assets or putting it in toward other investment vehicles. Alternatively, you could continue improving your education or scaling your business to make it more lucrative.
And once you get to the point where you can start regularly investing $1,000 on a regular basis — daily, weekly, or monthly –, you'll begin seeing more significant growth. It's bound to take some time, so try to be as consistent as possible about it. By doing this, you'll be able to start truly building wealth and the lifestyle you want.
More From GOBankingRates