Jaspreet Singh Says Young People Should Do These 2 Things To Invest Successfully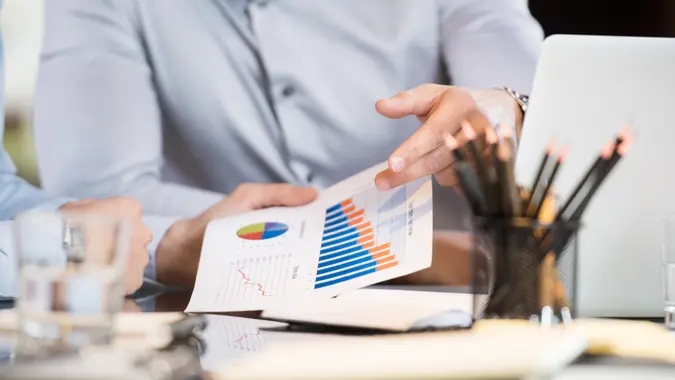 Ridofranz / Getty Images/iStockphoto
Popular financial personality Jaspreet Singh often tailors his advice to younger generations, both because they are the most in need of assistance and because they are the ones that can reap the biggest rewards from starting to invest early.
Check Out: Jaspreet Singh Shares 5 Ways To Grow $10K to $100K in 3 Years
Learn: 3 Things You Must Do When Your Savings Reach $50,000
In a Q&A with GOBankingRates, Singh, the CEO of Briefs Media & host of "The Minority Mindset Show," discussed the two primary things that young people should do to invest successfully. Here's a look at the advice that Singh offered, along with a deeper dive into the ramifications of his message.
Continuously Study Your Investments
Now more than ever, Singh says it's critical that investors continuously study their investments, as a wide variety of factors make investing today far different than it was 30 years ago.
Much higher stock exchange volumes, the rapid dissemination of information, the rise of no-commission stock trading, high-frequency trading and the spread of artificial intelligence in general are all factors that make the investing landscape far different than it was decades ago. For this reason, investors choosing individual stocks have to pay much closer attention to their investments than before, in Singh's eyes. 
Also: Robert Kiyosaki Shares 7 Steps To Reach Your Financial Goals
Another reason Singh says you must keep a close eye on your stocks is that consumer, economic and societal trends are also changing faster these days. As Singh says, 20 years ago, some of the strongest companies in America were Sears and Bed Bath & Beyond. Today, both of those companies are now bankrupt.
Sears even used to be in the 30-member Dow Jones Industrial Average, a blue-chip market index that contains only industry titans. Its fall from grace is a glaring reminder to investors that they have to keep tabs on what they own. There is no longer such a thing as a "set-it-and-forget-it" portfolio, even of supposed blue-chip stocks.
Popular market leaders of today like Apple, Nvidia and Chipotle seem like they will stand the test of time, but so too did Sears back in its heyday. Even when current trends are favorable, Singh stresses that investors must constantly review and research their holdings if they want to be successful.
Invest in ETFs, Mutual Funds and/or Index Funds
Of course, not all investors have the time, ability or inclination to devote all that attention to their portfolios. In that case, rather than simply buying stocks and letting them run wild, Singh recommends that investors purchase mutual funds, index funds and/or exchange-traded funds. This gives you access to typically hundreds of stocks in a single investment, which lowers your risk through diversification.
In fact, Singh notes, owning an ETF, index fund or mutual fund can also complement your portfolio of individual stocks by providing that same diversification in a single additional investment. 
While investing in these types of funds might not require the level of ongoing research as owning individual stocks, this doesn't mean you don't still have to do your homework. An index may be more diversified than an individual stock, but that doesn't necessarily mean it's appropriate for your portfolio or "safe."
If the index you choose is all small-cap biotech stocks, for example, or emerging market equities, it might be more volatile than one of your individual stocks, even though the index tracks 30 or more. Even a relatively stable and traditional index fund, such as one that follows the S&P 500, should be monitored as to its tracking performance and expense levels. 
Other Singh Recommendations
Beyond the Q&A Singh held with GOBankingRates, he has offered extensive advice for young people on his "Minority Mindset" YouTube channel, which has more than 1.7 million followers.
Some of his biggest recommendations for young people on that channel revolve around investing for cash flow. In Singh's view, that is the best path to financial freedom. By increasing your cash flow over time, ultimately you may be able to earn enough to cover all of your expenses, with some left over for discretionary spending. According to Singh, this is the very definition of financial freedom and the purpose behind all investing.
To that end, Singh believes in dividend-paying stocks and mutual funds. Stock dividends from solid companies tend to be reliable and increase over time. But at the same time, you also might enjoy capital appreciation.
However, Singh recommends you steer away from high-risk, speculative stocks or other hot fads like cryptocurrency. Simply continue to increase the amount of money you save and continually invest it. Over time, your assets and income are likely to grow.
Singh is also a big believer in earning passive income from real estate investments. Cash flow from rental properties is immediate and can be used to purchase even more properties over time, exponentially increasing your cash flow. Just as with high-quality stock dividends, rental income is also likely to increase over time, as rents typically rise as often as annually and rarely, if ever, decline. 
Jaime Catmull contributed to this article.
More From GOBankingRates