Investing Latina's Jully-Alma Taveras Shares a Simple Rule for Figuring Out Which Investments To Avoid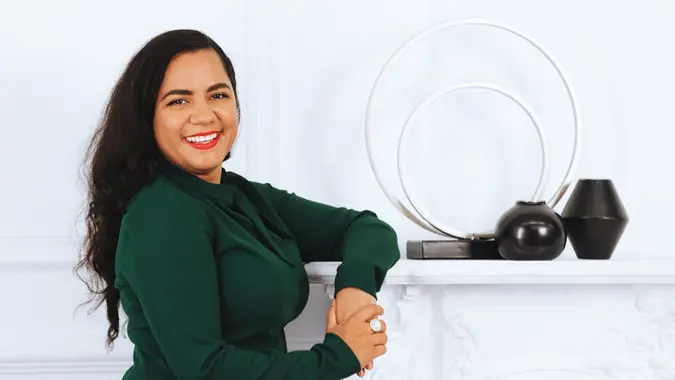 Mike Dawkins / Jully-Alma Taveras
Jully-Alma Taveras is a Dominican-American personal finance influencer who runs the Investing Latina website, where she provides financial advice to women of color. She also has a YouTube channel under the same name. She writes, produces and creates digital content to inspire women to invest and become financially powerful.
See Our List: 100 Most Influential Money Experts
Learn: How To Build Your Savings From Scratch
Recognized as one of GOBankingRates' Top Money Experts, here Taveras shares the investments that investors should be focusing on and avoiding in 2023.
Want to vote for Taveras as your favorite money expert? Click here to go to her page.
What do most people not know about investing that you wish they knew?
Investing is much simpler than it seems, especially these days, with so many simplified approaches. It doesn't take a lot of money to get started, which is the biggest misconception. You can start with just $15! 
Take Our Poll: Who Has Given You the Best Money Advice You Have Ever Received?
What should everyone be doing to build their wealth, no matter how much money they currently have?
Everyone should be thinking about and implementing the small financial actions that will be required to build wealth over the long term. For example, consistency helps develop a habit — letting go of fear — which helps in managing moments when the market goes down. [Letting go of fear develops] the optimism [needed] to pursue big dreams like retiring early.
What should investors be focusing on in 2023 to make the most of their money?
Investors should be focusing on building their foundation of diversified funds, while also reading about and learning about growing sectors. I always recommend that people start by reviewing the companies that they are most interested in, and then going from there.
What investments should they avoid?
It's important to avoid investments that you are not familiar with or that have a very limited track record or history of proven concepts. Although it's important to take risks, make sure that you know enough about an industry or category before investing in it.
Jaime Catmull contributed to the reporting for this article.
More From GOBankingRates