Kevin O'Leary Says AI Craze Is Like the Early Internet, So How Should You Invest In It?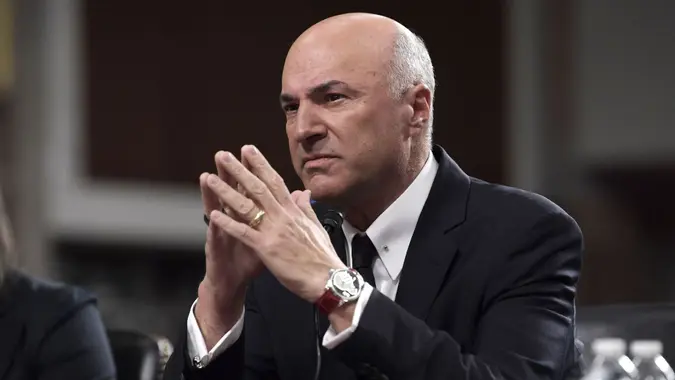 LENIN NOLLY/EPA-EFE/Shutterstock / LENIN NOLLY/EPA-EFE/Shutterstock
Famed investor (and "Shark Tank" star) Kevin O'Leary said that while a year ago it was all about the Web3 craze, now, "The hot new ticket in venture is AI, but nobody's making any money."
"So you have to bet on all kinds of different players. Meanwhile, for the guys that are selling the picks and shovels, that's Nvidia. I'll go there," O'Leary said during an appearance on Fox News.
Nvidia, the recently crowned AI darling, released blowout earnings on Aug. 23. Some analysts called the report a "drop the mic moment that will have a ripple impact for the tech space for the rest of the year."
The company reported revenue up a whopping 88% from the first quarter, and 101% from a year ago, according to the earnings report.
On Sept. 7, shares of Nvidia were up 229% year-to-date.
Generative AI May Still Have Investment Legs
Yet, some experts noted that the AI craze expands beyond Nvidia, as the industry is only in its nascent stages.
"Mr. Wonderful takes a narrow view of where the opportunity lies for investors seeking to tap into the growth of Generative AI," said Peter Cohan, associate professor of management practice at Babson College.
According to Cohan, while Nvidia is an amazing company with tremendous growth potential, it is a "hedge fund hotel" since May, when Nvidia posted eye-popping revenue guidance adding $250 billion to its market capitalization. Per Cohan, big money is parked in Nvidia and the stock — at 36 times sales — is fully priced.
"There are many other companies that will profit from Generative AI — such as Accenture — which is hiring 40,000 people and investing $3 billion to help companies use Gen AI," he added.
Another below-the-radar player is Arista Networks, he said, an extremely well-managed networking software firm helping companies build and operate systems to train large language models.
"There is a broad generative AI ecosystem of which Nvidia is the tip of the spear. Investors should look beyond Nvidia to find opportunity," Cohan concluded.
I'm a Self-Made Millionaire: Here Are 5 Stocks I'm Never Selling
AI Craze Distinct From Dot-com Mania
Meanwhile, other experts also underscored the differences between the AI craze and dot-com mania.
According to Peter C. Earle, economist at the American Institute for Economic Research, it's important to remember that "pure plays are often the bleeding edge of investment sentiment, but that the real application of new technologies tends to have its biggest impact in mundane firms over a very long period of time."
"Sure, there were lots of dot-com stocks that went public, saw their valuations explode, and then crashed and burned while the real beneficiaries of internet technology were staid brick and mortar companies over a period of 10 or 15 years," said Earle. He added that while there will be direct AI investments, in the long run the economic impact of those innovations will be most effectively applied by companies we already know and engage with daily.
"There are likely to be a handful of AI firms that come out of nowhere and become industry leaders, but consider where the majority of the dot-com stocks are today," he added.
More From GOBankingRates