Kevin O'Leary Says Warren Buffett Selling $8 Billion Worth of Stock Is Almost Meaningless and Won't Crash the Stock Market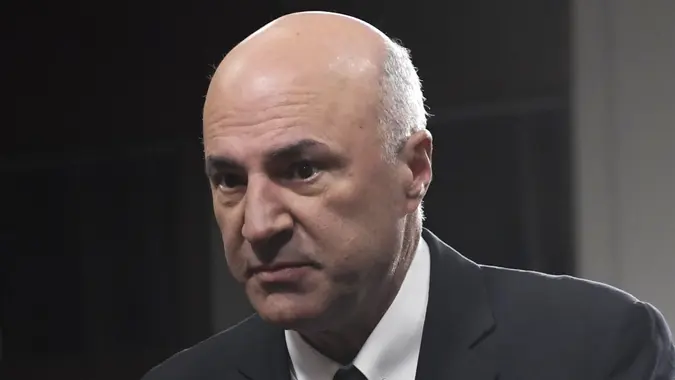 LENIN NOLLY / EPA-EFE / Shutterstock.com
When 2023 second quarter earnings revealed that Warren Buffett's Berkshire Hathaway had sold $8 billion worth of stock, financial experts and investors were quick to declare the move as a safety cushion against a forthcoming recession — and a potential market crash tipping point.
Find: ChatGPT Was Given $20K To Invest in Stocks and Crypto — Here's How It Made $2,000 in a Month
See Our List: 100 Most Influential Money Experts
Steve Hanke, professor of applied economics at Johns Hopkins University in Baltimore, told Business Insider Berkshire's recent actions "are consistent with the anticipation of a recession and the fact that stocks are currently pricey."
"It's also consistent with his long track record of piling up cash in anticipation of storm clouds ahead with the capacity to pounce on bargains once the storm hits," said Hanke.
Kevin O'Leary Offers His Take on Buffett's Stock Sale
However, not all pundits see Buffett's maneuvers as a sign of future market unrest. Kevin O'Leary, Canadian businessman and "Shark Tank" star, foresees trouble for the U.S. economy, but thinks it'll come through soaring interest rates rather than stock sales by "The Oracle of Omaha."
"Warren Buffett selling $8 billion worth of stock is a rounding error in his portfolio," O'Leary posted on X, the platform formerly known as Twitter. "He's just trying to stay diversified which is why the market doesn't care that much about it."
Speaking to Fox News, O'Leary elaborated, saying Buffett selling $8 billion is "almost meaningless." "My bet is that sale is actually one of his new managers just trimming a portfolio."
However, with the Federal Reserve not ruling out further interest rate hikes this year, O'Leary is predicting "chaos" for the U.S. economy.
"What I anticipate is going to happen here, while we still have full employment which is remarkable, and you don't put any capital into the small business sector, which is 60% of the jobs in America, you're going to start to see some real chaos come September, October, November," O'Leary told Fox's Larry Kudlow.
"A trillion for the big boys, nothing for the small guys," he added. "And the small guys, they run America, so it has to be rebalanced somewhere."
In addition to Berkshire selling a net $8 billion of stocks last quarter, the conglomerate bought back only $1.4 billion, down from over $4 billion in the first quarter. Berkshire grew its cash pile by 13% to a near-record $147 billion, the second-highest figure it's ever reported, according to Insider.
More From GOBankingRates