Mass Layoffs Could Soon Unravel the Economy, Warns Expert — How It Could Impact Your Investments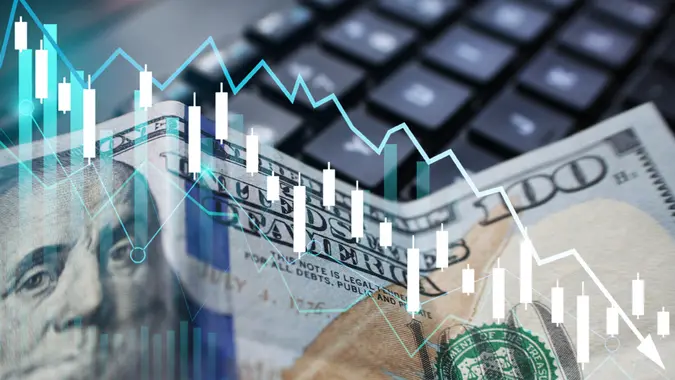 Darren415 / Getty Images/iStockphoto
By almost any measure, the U.S. job market is humming along in high gear and has been for quite a while. The unemployment rate has hovered below 4% for nearly two years, according to U.S. Labor Department data, and nonfarm payroll employment rose by 336,000 in September 2023.
But a string of layoffs at large companies this year has raised fears that jobless claims will soon move higher — and stocks and other investments could take a hit because of it.
On Monday, LinkedIn became the latest high-profile employer to announce layoffs when it said it would cut about 668 jobs, or roughly 3% of its workforce, The New York Times reported. That news followed an earlier announcement of 716 LinkedIn layoffs in May.
Among the other large employers to announce hundreds or thousands of layoffs in 2023 include CVS, T-Mobile, Qualtrics, General Motors, Cisco and Alphabet, according to talent search company Mondo.
At least one leading economist — Torsten Slok of Apollo Global Management –  worries that mass layoffs will soon be reflected in key economic data that could negatively impact investor portfolios, MarketWatch reported.
According to Slok, data collected in accordance with the Worker Adjustment and Retraining Notification Act (WARN Act) has shown an increase in companies giving advance notice to employees about pending plant closures and layoffs. Those layoffs might soon be reflected in a rise in weekly jobless claims data.
"Running a regression using WARN notices to predict unemployment shows that initial jobless claims in October will rise over the coming weeks to a level between 250K and 300K," Slok wrote in an email to MarketWatch.
Wall Street Wary of Mass Layoffs
As MarketWatch noted, such an increase "would be difficult for Wall Street to ignore," adding that "any sign that layoffs are beginning to mount could materially impact investors' expectations about where the U.S. economy is headed, which in turn could impact markets, particularly the markets for Treasurys and stocks."
Layoffs in and of themselves don't necessarily hurt stock prices. In fact, in some cases layoffs can temporarily lift individual stocks if investors read them as a sign that companies are getting their financial houses in order.
But as Money reported earlier this year, past studies have found that layoffs "tend to depress stock prices" overall — and might not even produce the short-term boost companies hope for.
"Layoffs often do not increase stock prices, in part because layoffs can signal that a company is having difficulty," Jeffrey Pfeffer, a professor at the Stanford Graduate School of Business, told the Stanford News in an interview last year. "Layoffs do not increase productivity. Layoffs do not solve what is often the underlying problem, which is often an ineffective strategy, a loss of market share, or too little revenue."
Historical data also shows that layoffs "tend to snowball once they get going," MarketWatch reported, citing the "Sahm Rule" developed by Federal Reserve economist Claudia Sahm.
According to the Federal Reserve, the Sahm Rule "identifies signals related to the start of a recession when the three-month moving average of the national unemployment rate rises by 0.50 percentage points or more relative to its low during the previous 12 months."
In other words, if a continued string of mass layoffs leads to an ongoing rise in unemployment, then a recession could be in the cards — and stocks are likely to take a hit.
For now, many analysts remain hopeful that the economy (and investments) will remain resilient, especially investments in U.S. Treasury bonds.
As MarketWatch reported, Mark Haefele, chief investment officer at UBS Global Wealth Management, said in a recent note to clients that a "soft-ish" landing for the U.S. economy — combined with the expectation that the Fed will cut interest rates in 2024 — could spark a "powerful rebound" in Treasurys.
More From GOBankingRates