More Boomers Use AI for Financial Advice Than Gen Z — 3 Ways ChatGPT Can Earn You Money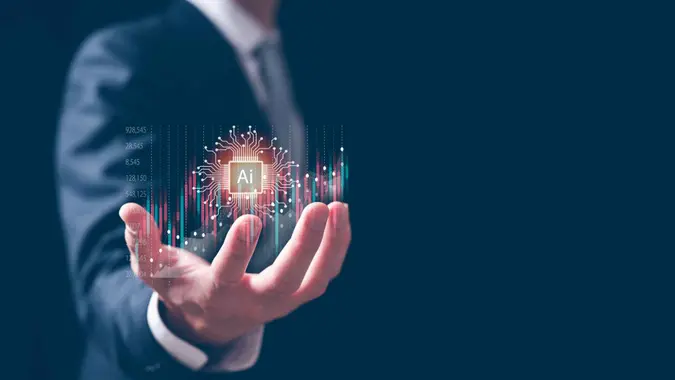 cherdchai chawienghong / Getty Images/iStockphoto
In a surprising finding, a new survey from the Certified Financial Planner Board of Standards (CFP Board) found that American boomers and Gen Xers are happier with their experience using AI tools for financial advice as compared to their younger peers.
Said data from the CFP Board found that 62% of Gen X and Boomer investors are satisfied using generative AI tools for advice, compared to just 38% of Millennial and Gen Z investors.
Young Americans More Skeptical of Tech-Derived Advice
According to Darin Myman, CEO of DatChat, as the younger generation grew up in a digitally native environment, they're probably more adept than their elders when it comes to being cautious about technologically derived advice.
"They've seen all the tricks and all the scams and all the glitches since their childhood. They didn't have to make this somewhat difficult translation from an analogue to a full-on digital world like the boomer generation has," said Myman. "So I imagine this discrepancy in trusting AI for financial advice is rooted in this generational dynamic of going from analogue to digital."
Yet, investors say they have more confidence in advice from both generative AI and social media after they've vetted that advice with a financial planner. A full 52% of polled investors said they are comfortable acting on that advice — once it's been vetted — compared to 46% of investors who are comfortable acting on verified financial planning advice from social media, the survey found.
"Financial planning is about people. Artificial intelligence, while advancing, is not a replacement for personal relationships," said CFP Board CEO Kevin R. Keller, CAE.
Keller added that consumers are recognizing tools such as ChatGPT and Bard are a starting point for education, but also aren't a substitute for the holistic financial planning that a CFP professional provides.
As for implementing advice derived from a generative AI tool, investors of all ages are cautious, the survey found. Only one in 10 investors under age 45 — 8% — said they would be very comfortable in doing so, while 15% of older investors said the same.
"I hope those 8% and 15% have a lot of money to burn!" said Phil Siegel, founder of CAPTRS. Siegel added that specific advice is going to be bad because the models don't have current information.
"For example, if you asked an AI bot about NVidia it might have good generic information on the company but it wouldn't have this week's earnings — or probably even last quarter's — and even if it did, it would probably generate a mostly consensus view from its dataset," he added.
A 'Time-Saver and Money-Maker Rolled Into One': How Can ChatGPT Earn Money For You?
Frank Hu, COO of ByteTrade Lab, noted that younger generations might not trust ChatGPT for financial advice because "Gen Z folks probably expect there to be glitches in this new and emerging technology."
"So, again, it's not about not inherently distrusting technology or anything like that. It's probably more about having a better understanding of how technology works and, thus, they understand that early versions of AI and other tech suffer from glitches and errors. And when those glitches and errors get ironed out over time — which they will — then you would probably see younger people using AI not just for financial advice but a whole host of other endeavors," he added.
While on the personal finance advice front, the technology might have ways to go to provide sound and actionable information, there are endless opportunities to generate money with AI.
Christine M. Haas, CEO at Christine Haas Media, said AI tools are like a digital gold mine if people understand how to champion the technology. For instance, it can craft articles, write scripts and even develop marketing materials.
"People are making money by using this tool to enhance their content creation, without heavy lifting. It's a time-saver and a money-maker rolled into one," she said, adding that many entrepreneurs, such as herself, are launching AI automation agencies to serve business owners with more precision (and enhanced customer experiences).
"Imagine you've got a full crew of video editors and writers on a fishing boat, and you're trying to catch the big fish, which is your perfect content," she said. "Now, you switch to ChatGPT, and it's like trading that whole crew for one expert fisherman who knows exactly where to cast the line. It's not just about removing the need for multiple roles; it's about efficiency."
More From GOBankingRates