Passive Income in 2023: Are These 7 Investments Worth Considering?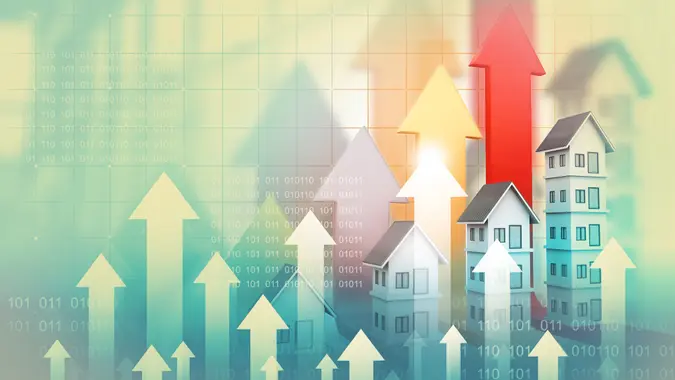 Mohammed Haneefa Nizamudeen / Getty Images/iStockphoto
You work hard for your money, but you'd probably like to do less of that. Specifically, you might want to find at least one way to earn passive income, so you can relax while your money works for you.
There's no shortage of passive income strategies to choose from, but you're surely looking for the right fit for you. Of course, you also want to feel confident you'll see a handsome return on investment.
"To achieve meaningful appreciation in investments, it is essential for every investor to have passive income strategies, which include diversifying their portfolio," said Sundip Patel, CEO of AVANA Companies, a comprehensive lending and asset management platform. "By having a balanced investment portfolio that is diverse, investors can strategically manage the risk and rewards of their assets."
He said diversification is crucial to generate passive, risk-adjusted returns and promote financial health.  
Knowing which passive income strategies are a good idea and which aren't can be a challenge. GOBankingRates spoke with several financial experts who highlighted these seven investments.
Fractional Investing in Commercial Private Credit Debt
A relatively new approach to earning passive income, fractional investing in commercial private credit debt can be a great idea, Patel said.
"This offers investors the opportunity to fund large-scale commercial projects that align with their investment tactics, providing a range of projects to choose from that can help grow their portfolio," Patel said. "Unlike traditional investments that can come with greater risks, fractional investing on fully funded, commercial private credit investments offers more security as investors receive monthly returns tied to a loan made in their community or a cause that resonates with them." 
He said conscious investing gives you a sense of ownership over your chosen project, while also benefitting you financially.
"In a time of financial volatility in the stock market," Patel said, "investors can support equitable and sustainable energy projects in their community through their investments."
For example, he said, AVANA's EqualSeat platform allows accredited investors to diversity their portfolios based on duration, loan type and geography, while they enjoy reliable passive monthly returns.
Yield Chasing
"Yield chasing, the practice of selecting investments solely on the basis of the highest dividend [and/or] income payout, is incredibly dangerous in this part of the economic cycle," said Herman "Tommy" Thompson Jr., CFP with Innovative Financial Group in Atlanta. "An investment with an excessively large dividend usually possesses a disproportionately large risk."
He said these risks may include illiquidity, insolvency and volatility.
CD Ladders
"Certificate of Deposit (CD) ladders are a tactic to add illiquidity to your investments without adding incremental yield in the current market," Thompson said. "As the Federal Reserve has continued to raise short-term interest rates, money market funds and high-yield savings accounts have offered yields that are competitive with long-term CDs."
He said this can make a CD ladder not the best option right now.
"Typically, the advantage to a CD ladder is adding incremental yield while preserving some liquidity," he said. "With liquid investments offering similar yields to longer dated CDs, an investor could be merely adding illiquidity without receiving excess returns."
Short-Term Treasuries
"The easiest trade of 2023 is to buy short-term Treasuries," said Curtis Congdon, president at XML Financial Group. "After over a decade of near-zero yield on cash, it feels like a relief to make 4% on near risk-free assets."
He said buying short-term Treasuries is comforting, but it also suggests this might be a poor decision.
"As an asset class, international developed markets are trading at a near two standard deviation discount from their historic averages and paying attractive yields," he said.
For example, he said IDV — iShares International Select Dividend — has a yield that is higher than its price-to-earnings ratio.
"Income investors are enticed by high yields on many closed-end funds but don't fully understand the price volatility, cost and impact of leverage within many closed-end funds," he said. "If looking for a stable source of retirement income this year, I would be cautious of many closed-end funds."
CDs and Money Market Funds
Daniel Milan, managing partner at Cornerstone Financial Services, recommended this type of short-term security, along with CDs and money market funds.
"The shorter-term debt instruments for income are so attractive right now because the two- and 10-year yield curves are inverted," he said. "This means that the yield decreases the further out the maturity date is on the debt instrument."
Therefore, he said, short-term instruments are fairly popular among investors right now.
"Some examples would be the three-month Treasury bill rate of 4.66% or the six-month treasury bill rate of 4.82%," he said. "We are seeing some money market funds around the 4.5% range as well, which is attractive. In the CD market, we are seeing three- to nine-month CDs ranging from 4.6% to 4.85%."
Multi-Family Real Estate
Christopher Stout, principal at StoutCap, said his company has been purchasing multi-family real estate for the past 11 years — and will continue to do so. However, he said lately these properties have been increasingly difficult to acquire, as interest rates have fallen, then risen.
"While interest rates were low, groups were able to buy multi-family [properties] at higher prices that may have not made sense," he said. "When interest rates rose, it created a frozen market."
Since no one wants to sell property at a loss, he said owners are holding onto them.
"Some operators will feel some pain in the upcoming months due to floating rate debt being placed on these assets," Stout said. "At this point, we are not expecting a large fallout."
Build-to-Rent Land
Right now, Stout said his team is concentrating on purchasing land. Specifically, they're focused on areas that fit the build-to-rent (BTR) model.
"We know there is a huge shortage of homes for rent in this country," he said. "Most of the current rentals available are apartments or scattered homes."
He believes there's a market to offer something different.
"There is a very limited amount of community style homes available for rent," he said. "People are looking for a rental home that will not be sold out from under them."
He said his company sees BTR as the next institutional investment class and plans to capitalize on it in the near future.
More From GOBankingRates