3 Reasons Copying Warren Buffett's Investments Can Make You Money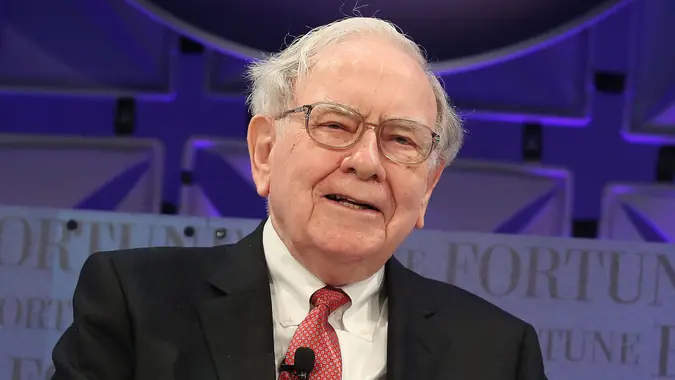 Krista Kennell / Shutterstock.com
Warren Buffett's name stands as an enduring symbol of success in the world of investing. With a net worth that ranks among the top in the world, Buffett's remarkable journey from a young boy delivering newspapers to the chairman and CEO of Berkshire Hathaway has captivated the financial world for decades. While many hedge fund managers and investment gurus closely guard the secrets of their strategy, the Oracle of Omaha has always been open about his style of investing. 
As the CEO of a publicly traded company, to some extent, he is required to report his investments, but Buffett has famously gone above and beyond those requirements to openly discuss his decisions as the capital allocator of Berkshire. Because of these reporting requirements, and Buffett's transparency, it has become fairly easy to duplicate his investment moves — a practice known as copy trading. There are even apps that can automate the process for you. Here's a look at whether or not this is something you should consider.
Will Copy Trading Buffett Make You Money?
It may seem like an obvious yes, but many of Buffett's famous trades are out of reach for the average investor. So is copying him a good idea? Robert Johnson, professor of finance at Creighton University's Heider College of Business, says it is. Johnson hasn't just followed Buffett's career as an academic — he's also been a Berkshire Hathaway shareholder since the early 1980s. Buffett has guest lectured Johnson's class in portfolio management, and Johnson's book "Strategic Value Investing" was on the Berkshire annual meeting reading list for several years.
"In most fields, plagiarism will get you in trouble. In the field of investments, it can make you rich. You don't have to have an original thought to succeed in investments. Following the moves of Warren Buffett and his lieutenants at Berkshire Hathaway is a sound investment strategy," Johnson said. Professor Johnson outlined several reasons why copying Buffett can make you money.
1. You're Trading Less Frequently
A classic Buffett quote indicates that he is no fan of day trading: "If you aren't willing to own a stock for 10 years, don't even think about owning it for 10 minutes." This emphasis on holding a position for the long term means a very low level of trading activity. That's a good thing — there's a large body of research indicating that those who trade the most tend to underperform.
Johnson cites a number of studies, but perhaps the most striking is one from 2002 in the Journal of Finance. "A 2002 study by Barber and Odean… found that of 66,465 households with accounts at a large discount broker during 1991 to 1996, those that traded most (during this bull market period) earned an annual return of 11.4%, while the market returned 17.9%," Johnson said.
2. You're Investing In Quality
Another classic Buffett quote is in regard to the type of stocks he invests in: "Whether we're talking about stocks or socks, I like buying quality merchandise when it is marked down." Berkshire Hathaway isn't interested in chasing trends or gambling on meme stocks. The great thing about quality companies is that they limit your downside — they may not go up like a rocket, but they're very unlikely to blow up like one either.
"What this means for investors following Buffett is while they may not have the same entrance and exit points as Buffett, they will have quality stocks (merchandise) which protects you from huge downside surprises," Johnson said.
3. You Have a Margin of Safety
Buffett is best known for being a value investor — that means looking for conservatively valued companies rather than high-flying growth companies. Value investors focus on calculating a reasonable value for a stock — hence the name — and buying it under that fair value. Johnson explains that the "margin of safety" is the investor's estimate of how much of a discount the stock is selling for relative to its true, or intrinsic, value.
"Value investors do not take the concept of margin of safety lightly. They do their homework, only investing when there is a sufficient discount of price to intrinsic value to create an adequate margin of safety," Johnson said.
To Copy Buffett, Prepare To Be Patient
If you haven't figured it out already, copy trading Buffett is not a strategy for those who want to get rich quickly. Warren Buffett is one of the richest people in the world, but 99% of that net worth was created after he turned 50 years old. Value investing is a long-term strategy, and while growth stocks have significantly outperformed value over shorter periods of time, there is ample evidence that value stocks will reward the patient investor.
"From 1927 through 2019, according to the data compiled by Nobel Prize laureate Eugene Fama and Dartmouth Professor Kenneth French, over rolling 15-year time periods, value stocks have outperformed growth stocks 93 percent of the time," Johnson said. The data is clear — it may not be easy, and it requires a long-term perspective, but following in the footsteps of one of the greatest investors of all time can indeed be a lucrative strategy.
More From GOBankingRates