3 Ways To Reduce the Fear of Investing in an Uncertain Economy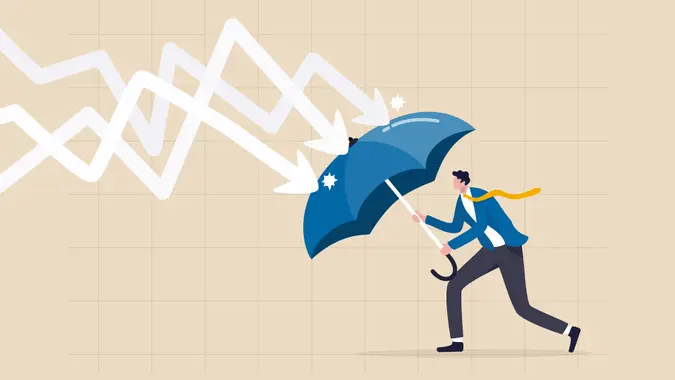 Nuthawut Somsuk / Getty Images/iStockphoto
According to The Conference Board, the February 2023 Consumer Confidence Index, which provides insight into what spending and saving behaviors may look like in the near future, showed that Americans feel less optimistic about their finances for the second month in a row.
See: $2,000 Quarter? Check Your Pockets Before You Use This 2004 Coin
Find: 3 Things You Must Do When Your Savings Reach $50,000
The Expectations Index (a segment of the overall index focusing on jobs and income) dropped more than six points from January, to 69.7. Historically, any score below 80 indicates a possible recession in the next year.
Current economic uncertainty understandably causes some consumers to hesitate to invest. Fortunately, if you're part of that group, there are ways to reduce your fear.
Work On Your Mindset
Fear is an emotion, and emotions can be managed. Try these strategies to take control:
Remember your "why": Think about what motivates you to invest. You may want to send a grandchild to college or enjoy a luxurious retirement traveling the world. Keeping your reason for investing in mind will help you stay the course — even when times are hard.
Do some research: We fear the unknown. So, learn more about how investing works and specific investment types. The more knowledge you have, the less scary investing will feel.
Commit to the process (and your future): Investing is a long game. So, strengthen your resolve to fund the future you want.
Take Our Poll: What Do You Plan To Use Your Tax Refund For?
More: 13 Toxic Investments You Should Avoid
If investing in stocks scares you, check out these various investment options other than the stock market.
More From GOBankingRates