You Can Now Buy Gold Bars at Costco, But They Are Selling Out Fast — Are They Worth Tracking Down?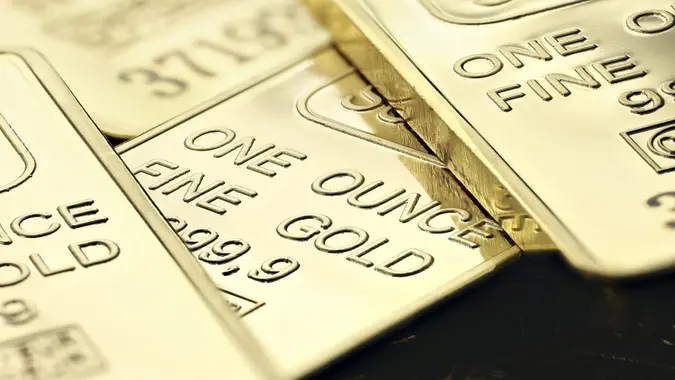 Bjoern Wylezich / iStock.com
If you have a sudden need for gold bars — along with a 10-pound jar of peanut butter and 30 paper towel rolls — look no further. Costco has you covered. But act fast, as they are selling like hotcakes.
"I've gotten a couple of calls that people have seen online that we've been selling one-ounce gold bars, yes, but when we load them on the site, they're typically gone within a few hours and we limit two per member," Richard Galanti — Costco director, executive vice president and CFO — said in earnings call on Sept. 26, according to a transcript.
This resulted in a phenomenon some Redittors called "a true you snooze you lose" situation. Tips on how to go about scoring the bars are legion on Reddit, such as one posted by user G-nZoloto: "One person kept one in his cart even though it was sold out the first time. He would just hit checkout once in a while. When it showed up the second time he just hit checkout and had it."
Another bonus, you have options. You can buy one-ounce gold bars of 24-karat gold from South Africa's RAND Refinery, or a Swiss-made PAMP Suisse Lady Fortuna Veriscan, according to the description on Costco's website.
How Much Do Gold Bars Cost at Costco?
So how much are these? While the price is available for members only, according to Insider, they retail at $1,949.99 and $1,979.99, respectively.
For Andrew Latham, certified financial planner and director of content at SuperMoney.com, the prospect of buying gold bars at Costco is "intriguing."
"The interest in gold, though, is nothing new or surprising. Gold has been historically considered a 'safe haven' asset that is valued during financially volatile times, particularly when there are concerns about inflation," said Latham.
Latham noted, however, that like any investment, there are pros and cons. On the plus side, gold can act as a portfolio diversifier, potentially offsetting losses in other asset classes. On the downside, physical gold poses risks, including the threat of theft. Owners often have to bear additional costs for safe storage or insurance, further denting potential returns, he added.
"Investors who are interested in gold may want to go with established gold dealers because they usually have transparent pricing structures based on the global spot price of gold," he added. "In contrast, retail environments might have mark-ups that aren't immediately apparent."
Another option is to invest in gold exchange traded funds (ETFs), and gold mutual funds, which allow investors to track the price of gold without holding the physical asset, added Latham.
"These financial instruments can be bought and sold like stocks, offering the benefits of gold investment without the challenges of storage, insurance, and liquidity," he said.
Gold Buying: A Testament to Americans' Financial Savvy?
Given that historically, gold sales are strong in periods of high uncertainty — and with stubborn inflation, softening labor markets, and other signs of a slowing economy persisting — it would be more surprising if Americans were not seeking some sort of protection, said Peter C. Earle, economist with the American Institute for Economic Research.
"A store like Costco being unable to keep physical gold in stock is a great sign of the increasing financial savvy of Americans," added Earle. "But it's probably not a positive omen for the health of the U.S. economy in the coming year or two."
Why Do Gold Bars Make Sense in the Current Economic Landscape?
According to Collin Plume, founder and CEO of Noble Gold Investments, gold always makes sense in any economic climate because it serves a very unique role in your portfolio.
"I like comparing it to building a sports team. Each player has a specific role, shooter, defense, point guard, and others," said Plume. "Gold is your last line of defense. When all your offensive players can't seem to sink that ball, all you have is that defensive guy to stop everyone else in the other team from burying you deep."
Plume also noted that gold moves against the dollar and the market.
"When the economy is having a meltdown, you have one steady asset that you can count on. Is it going to make you a millionaire in a year or two, probably not — but it will store the value of your wealth until things pick up again," he said. "A hedge, that's what gold is."
According to him, if you are nearing retirement, gold is "an asset that has no counterparty risk, is outside of the government's control and is just as valuable here as it is in any part of the world."
As for the Costco gold bars, Plume believes they aren't worth tracking down unless you are in it for the excitement.
"That's a retail store, imagine the markup," he said.
More From GOBankingRates