You Have $500 To Invest: Can It Be Turned Into $100K?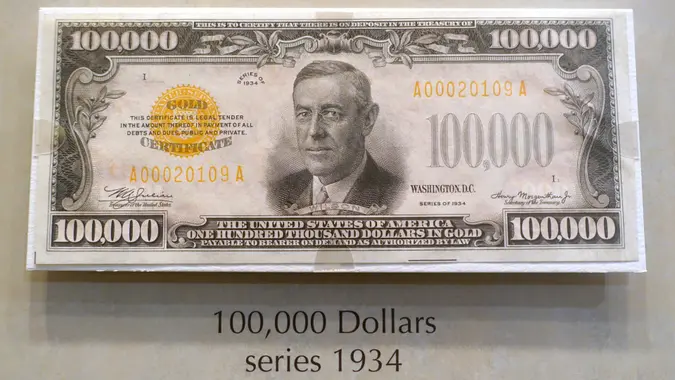 Daderot / Wikimedia Commons
If you have $500 that you hope to turn into $100,000, congratulations — you are an optimist with lofty goals. But to make your dream a reality, you'll have to earn gains of 19,900%.
Those kinds of stratospheric returns require a lot of risk, a lot of time, a lot of luck or, more likely, some combination of all three.
If you have $500, you can buy an alternator for a Porsche Taycan 4 Cross Turismo. Here are a few potential paths to growing it until you can buy the whole car.
The Slow Way to 19,900% Takes Most of a Lifetime
Early Bitcoin investors who sold at the 2021 crypto peak earned 20,000% and then some. But unless you have the foresight to spot a virtually unknown asset class that's poised to emerge as the next big thing, you'll probably look to the stock market.
If that's the plan, start young.
"While it's technically possible to turn $500 into $100,000 through investing, it's not a realistic or reliable goal for most people," said Wall Street strategist Josh Dudick, CEO of wealth and investment site Top Dollar. "The stock market, for example, has historically delivered an average annual return of around 10%. If you invested $500 and earned a 10% return each year, it would take over 55 years to turn that initial investment into $100,000."
Take Our Poll: Are You Planning To Buy or Sell a House This Year?
The Fast Way to $100,000 Is Also the Fast Way to $0
If you can't wait until the late 2070s to get your hands on your cash, you'll have to speed up the clock — and the only way to do that is to dial up the risk.
"Achieving a 200-fold return on a $500 investment is possible through derivative investments, such as options or futures," said June Jia, a quantitative researcher at GF Securities and owner of Canny Trading.
"Compared to traditional assets like stocks or ETFs, options and futures can provide significant leverage, sometimes reaching several hundred or even thousands of times, which may result in a rapid increase in portfolio value."
The Potential for Colossal Gains Carries the Risk of Total Loss
Derivatives trading was a little-known niche in the investing world before it blew up the global economy in 2008. Those responsible for the reckless investments that triggered the Great Recession were blinded by the potential for magnified gains like those that Jia describes.
You would be wise to avoid the same mistake with your $500.
"The potential for high returns comes with a corresponding level of risk," Jia said. "To effectively manage risk, investing only a small portion of portfolio funds each time and diversifying investments to mitigate risk exposure is advisable."
No matter your risk-mitigation efforts, be prepared to wave goodbye to any portion of your $500 that you bet on leveraged investing.
"Derivative products are only recommended for sophisticated investors who understand the risks and possibility of losing their entire principal," Dudick said.
Day Trading Is More Familiar Than Derivatives, But Nearly as Risky
While derivatives trading is alien to the average investor, the concept of buying stocks, selling them at a profit and harvesting the gains is not — and if you're good, you can get to $100,000.
"Plenty of investors have made this goal possible with day trading," said financial expert Matt Roberts, COO and co-founder of My Choice Insurance.
The SEC has warned since at least 2005 that day trading is not actual investing and it is a path to significant losses for nearly all who try it. Nearly two decades later, little has changed.
"Day trading isn't for the faint-hearted or people who are new to investing," Roberts said. "This takes a deep understanding of different markets, so it isn't something beginners should be doing. However, if you do learn how market forces play, the goal is possible. Just make sure that you understand the risks involved in it before you start day trading or before you get too aggressive with it."
Between Fast and Slow Is Steady: $500 as an Initial Investment
Aviva Pinto, managing director of Wealthspire Advisors, is aware that you'd need more than half a century to realize 19,900% gains — and she reminds investors that 10% annualized returns are no guarantee.
The key to shortening that timeline is to treat your $500 merely as a down payment on your future financial freedom.
"If you start with $500 and add $100 a month, assuming an interest rate of 5%, you would have $111,142.38 at the end of 35 years," Pinto said. "If we assume you can get an annual 7% return, you would have $117.159.07 after 30 years."
Also, you could lighten the load by breaking up your overall objective into more achievable milestones. 
"Instead of immediately targeting a $100,000 goal, start with a $1,000 goal," Roberts said. "Once you hit that $1,000 goal, your new goal is to turn it into $2,000, then $3,000 and so on. Continue this mini goal-setting until you reach $100,000." 
More From GOBankingRates