Ford, Mazda and 8 More Car Companies Offering 0% APR on Memorial Day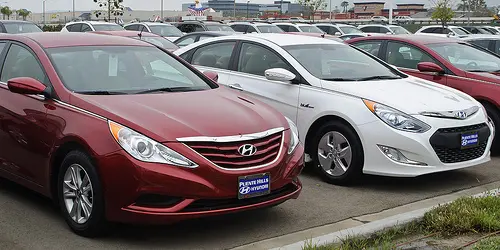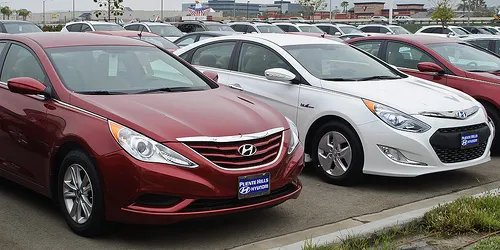 In gambling, there's that lucky number that everyone hopes to land on, like a double-six or an ace card. In the world of lending, that magic digit is the 0% APR — the lowest interest rate possible on an auto loan.
In the spring and summer, zero-interest offers are abundant for car shoppers, with a wealth of Memorial Day sales, followed by Fourth of July and Labor Day specials. Memorial Day is this Monday, and this weekend is when most auto manufacturers roll out their zero-interest offers and discounted promos. Read on to see if your favorite car brand is included.
Related: How to Convince Your Dealership to Give You Its Lowest Auto Loan Rate
Memorial Day Deals at Major Car Dealerships
1. Ford

The Blue Oval is offering up several 0% interest incentives on everything from economy to utility vehicles. Purchase a Mustang, Flex, Fusion or Taurus, and in some instances also get bonus cash on top of the zero interest, starting at $1,000.
2. Mazda
This efficient Japanese automaker gives back stylish deals this spring in time for Memorial Day. For the 2014 Mazda2, Mazda5 and CX-9, 0% APR financing is available for qualified buyers, in a deal that's good through June 2.
3. Chevrolet

Expiring June 2, customers can receive a 0% APR when they finance a 2014 Chevy Suburban, with the addition of a $1,000 cash bonus or a $2,500 cash allowance. The Tahoe, Traverse and Volt also have 0% financing deals.
4. Buick
Like its stablemate, Chevy, Buick is another General Motors brand getting in on the Memorial Day savings. The brand's simple 0% APR and 60-month financing on the Encore, LaCrosse and Verano, among others, are sometimes combined with bonus cash. The model is offering cash-back deals, but these cannot be combined with financing offers.
5. Toyota
Known for rolling out reliable cars, Toyota follows through with a reliable seasonal sale that also ends June 2. Regionally, most of the cars in the Toyota lineup — from the Camry, Avalon, Prius and 4Runner — are up for grabs at 0% interest.
6. Nissan
Another automaker known for its stable of stylish-yet-affordable vehicles is Nissan, which is also taking advantage of Memorial Day sales in 2014 with 0% financing on nearly every vehicle in its lineup. On some cars, the zero-rate deal is only good on financing up to 36 months, but there are a variety of NMAC cash or cash-back offers available, as well.
Related: 0% APR Versus Instant Cash Back
7. Volkswagen
German craftsmanship can also be had for 0% APR for a limited time. According to U.S. News & World Report, customers who purchase models like the Jetta or Passat won't pay any interest for the first five years, plus receive cash back starting at $500. Other VW models are also being offered with the slightly higher APR of 0.9%.
8. Hyundai

Zero percent financing is rare for 48 or 60 months, but when it's offered for a 72-month (six-year) period, it's too good to pass up. Korean car maker Hyundai is giving this deal in May to potential buyers of the mid-size Sonata; you can also opt for the $2,000 cash-back offer and go with a regular APR.
9. Subaru
While incentives vary by region, Subaru is offering select 2014 models at 0% APR. If you've been considering the 2014 Tribeca or the Outback, or even some leftover stock of other select new models from 2013, you might want to take advantage of this deal before it ends June 2.
10. Dodge
The Detroit-based automaker won't be dodging the holiday spirit this spring — and is offering some 0% financing to customers. You have through June 2 to finance a Dart, Grand Caravan or Journey for 60 months, or an Avenger, Charger or Durango for 36 months. The deal also includes several cash-back offers, depending on the model.
Because most of these offers come straight from the manufacturer, your car dealer should have them available on its showroom floors. Check first, and see if there are any other local or regional deals not listed here; many car dealers come up with their own APR and cash reward financing packages. And if you miss out on Memorial Day car deals, remember: Independence and Labor Day deals are right around the corner.
Photo credit: InSapphoWeTrust