5 Ways Buying a Used Car in Austin Can Save You Money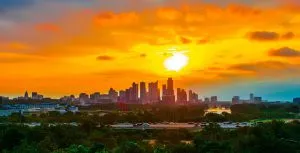 This content is brought to you by Air Force Federal Credit Union, a not-for-profit financial cooperative owned entirely by its members and operated for the benefit of all who belong. From the time of its inception, the credit union has taken great pride in serving the financial needs of our military and their families. 
The Cadillac Escalade EXT was revealed to be the most popular car in Texas in 2015, based on an IHS Automotive survey. Although the Escalade EXT is an impressive looking truck, the price of a new one are well over $70,000. If the sticker shock is not enough, the luxury vehicle also only gets an average of 13 to 18 mpg, according to FuelEconomy.gov.
With that price and average mileage, Austinites are going to have a costly commute to work. But buying a used vehicle in Austin can save you money at the dealership and on your daily work commute. Here are five ways you'll save if you buy used instead.
Read: 30 Biggest Dos and Don'ts When Buying a Car
1. More Flexibility
When it comes to new cars, your budget will be limited. For example: If you have a budget around $25,000, and you're looking for a new minivan, your costs will vary from $22,000 for the 2017 Ford Transit Connect to $28,000 for a 2017 Chrysler Pacifica. When you shop for a used vehicle, however, your budget can go further, and you will be able to shop across more makes and models.
2. Luxury Options for Less
Adding on different options and packages or opting for the luxury model of a certain vehicle will raise the price of your auto purchase. Although these packages add value to the car and make the resale value higher, they are much more affordable when attached to a used vehicle — allowing you to get more perks for less.
3. Lower Overall Cost
When you compare the cost of a used vehicle with the same make and model of a new vehicle, there is going to be a huge difference. Not only will you save money at the dealership, but you will also save money on interest for the life of your used vehicle loan since you will take less time to pay it off due to the lower price. Air Force Federal Credit Union, for instance, offers auto loan rates for as low as 1.74% APR for up to 36 months.
4. Avoid High Rates of Depreciation
"Transportation is a necessity in life, but cars depreciate [and] do not hold their value," said Danny Sanchez, vice president of marketing at Air Force FCU. "In fact, they depreciate quickly. According to Edmunds.com, the minute you drive off the car lot your new car will depreciate 9 percent. After the first year it increases to 19 percent."
This is definitely costly if you sell your new vehicle after five years of use, your car will have decreased about 63 percent in value than when you first purchased it, according to data from Trusted Choice. But with a used car, you can avoid losing out on so much value.
5. Cheaper Insurance
Insuring used vehicles can be less expensive, especially if they have the latest safety features. Of course, insurance rates range depending on car models and the driver's age and driving history, so be sure to get an insurance quote on a few vehicles before deciding which used car is right for you. You will also be less likely to need GAP insurance with a used vehicle, since you are not battling depreciation of the value of your vehicle.
There are so many used vehicle options available. Along with their loan rates, be sure to use Air Force FCU's vehicle pricing guide to make sure you get the best deal on your next used car.