Avoid Buying These 10 Cars That Will Lose Value in Less Than 10 Years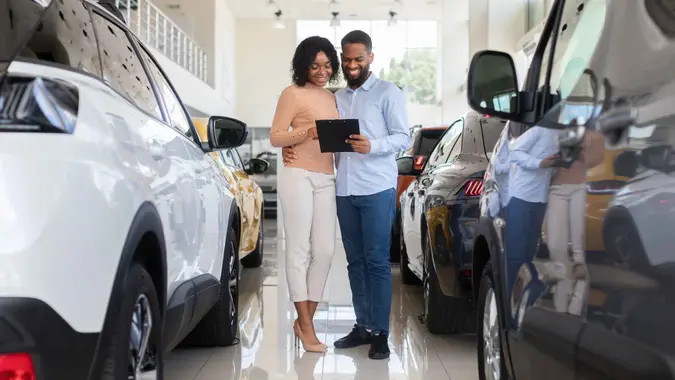 Prostock-Studio / Getty Images/iStockphoto
America loves its cars, and it loves products that retain their value over time. Unfortunately, these two things are largely mutually exclusive. The truth is: No matter how low you keep its mileage and how well you maintain it, a new car loses value very quickly.
According to auto authority Edmunds, a new car loses around 11% of its value the moment you leave the lot and 15% to 25% each of its first five years of ownership. After five years, your still-spunky car will be worth just 37% of what you paid for it. After 10 years, you'd be lucky to get a buyer to pay 10% of the original price.
When Zutobi updated its 2023 Motoring Depreciation Report last June, it found that the Kia Sorento, the Chevrolet Trax and the Mercedes GLE-Class lost the most value among U.S. vehicles, dipping 55.16%, 50.31% and 48.85%, respectively.
However, that study tracked three-year depreciation rates. When looking at car values over five years, iSeeCars, an auto search engine, found that luxury-brand cars and larger vehicles tend to depreciate more rapidly than moderately priced, non-luxury models.
"Just as higher gas prices increase demand for fuel-efficient vehicles, they also decrease demand for full-size SUVs like the extra-large Cadillac Escalade ESV and Lincoln Navigator," said Karl Brauer, executive analyst for iSeeCars.
Additionally, luxury-inclined drivers are likely willing to pay a premium and want to drive new cars, while many used-car buyers simply want affordable, dependable transportation.
10 Cars That Will Lose the Most Value in Less Than 10 Years
When shopping for a new car, depreciation down the road isn't a high priority. But it isn't something to neglect either. Cars are always expensive, so buying a replacement sooner than you'd like is something you want to avoid, as are these 10 cars that lose their value the fastest, according to iSeeCars research.
Ford Expedition
Average five-year depreciation: 50.7%
Volvo S90
Average five-year depreciation: 51.4%
Audi 6
Average five-year depreciation: 51.5%
Lincoln Navigator
Average five-year depreciation: 51.9%
Mercedes-Benz S-Class
Average five-year depreciation: 51.9%
Cadillac Escalade ESV
Average five-year depreciation: 52.3%
Infiniti QX80
Average five-year depreciation: 52.6%
Jaguar XF
Average five-year depreciation: 54.0%
Maserati Ghibli
Average five-year depreciation: 56.3%
BMW 7 Series
Average five-year depreciation: 56.9%
More From GOBankingRates