Looking for a Cheap Auto Loan? Don't Rule Out Vehicles Damaged by Sandy Flooding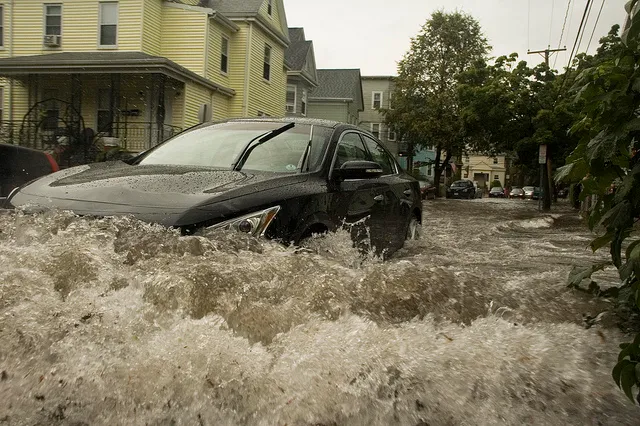 Purchasing a used vehicle is always tricky business. Though you may benefit from acquiring a cheap auto loan, you run the risk of being sold a lemon, even when you're dealing with a well-known dealership.
But what would you do if you've found the vehicle of your dreams — only to learn that the car has a salvaged title. Even more challenging is what if you learn that the vehicle fell victim to the extreme flooding conditions of Hurricane Sandy? Is it ever a good idea to purchase one of these vehicles?
Salvage Title Vehicles: The Not-So-Common Cheap Auto Loan
Individuals on the prowl for a cheap auto loan have a number of options to consider. The most common option is finding a vehicle with a low sticker price. Next, is finding a financial establishment that offers a low auto loan rate. Finally, the buyer should come to the table with a great credit score to actually qualify for the low rate.
While taking these steps helps car buyers acquire a cheap auto loan, this is not the only way to do so. Some prefer to take unique routes to purchase vehicles at a lower price, including buying cars through private lenders, or even purchasing salvage title vehicles.
According to Carfax, a salvage vehicle is a car that has been issued a title by a state motor vehicle agency, because it may not be road-worthy after being damaged in an accident, flood, fire or other event.
The salvage title is issued when a vehicle is so damaged that the cost of repairs exceeds 75 percent of its pre-damaged value.
While in many cases, the salvage title indicates a car has been wrecked, this is not always the case. In fact, in some states, a car may be issued a salvage title if it was stolen. It's for this reason that some car buyers opt to purchase these types of cars.
Risks of Flood Damaged Cars for Sale
Before running away from salvage title cars for sale, it's good to understand a bit more about them, including the types that are out there. Some salvage title cars in the market include theft recovery, hail damage and vandalism.
It's also possible to find flood-damaged cars for sale. Flood-damaged cars should, at the very least, have a salvage title. Some states even go as far as requiring that cars call out flood damage specifically on the car's title.
A flood-damaged car could entail a number of things, depending on how badly the vehicle was impacted by flood waters. If the water level was deep enough, it could eventually wreak havoc on the car's electronics. Also, the automobile could end up with severe rust and corrosion issues, particularly if it was submerged in salt water.
Another problem separate from the condition of the vehicle that buyers of flooded cars could run into is the trade-in issue.
Many franchise dealers aren't interested in taking a salvage-title vehicle as a trade-in. As a result, you may be forced to sell it privately or to an independent dealership, neither of whom are likely to give you much money in return.
How to Buy a Hurricane Sandy-Affected Car
Warnings issued last year revealed that, as with previous hurricanes, many cars flooded by Hurricane Sandy could end up back on dealership lots within months, making the purchase of used vehicles a risky bet.
And, as predicted, cars have already started making their way onto auction blocks, such as that of the Manheim car auction where some vehicles that were damaged by sea water during Hurricane Sandy were expected to be purchased and shipped to states where flooded cars may not be required to carry salvage titles.
If you find a vehicle that was properly labeled as a flooded vehicle with a salvage title, would it be worth the purchase?
The answer is yes — and no; it truly depends on a few factors:
What shape is the vehicle in? Is the car in very questionable condition? Is there water or condensation in the headlights or taillights? Do you see water in the spare tire well in the car's trunk? Is there corrosion in the vehicle's undercarriage? All of these issues are signs that the car may have been submerged deeply and could cause problems in the future.
How much work do you want to put into the vehicle? If you do find that the car is not in the best shape, how much money are you willing to pay to cover future costs? In other words, is this cheap car loan affordable enough to leave you money left over for unknown repair issues that could arise?
How do you want to use the vehicle? Are you purchasing the vehicle as a second option to your primary mode of transportation, or will this be your primary vehicle? Do you only need a car for a year or two to make it through college? Making these determinations will help you decide whether acquiring a car loan on the vehicle is worth it.
To answer the first question above, you want to find out the real condition of the vehicle (salvage title or not). Edmunds.com recommends taking a few steps to accomplish this goal:
1. Get the vehicle inspected: You could either bring a mechanic with you or drive the car to a body shop to have it inspected. A professional could help you determine whether potential future repairs will be worth the cost of the car.
2. Buy from a reputable repairer: Another option to consider is purchasing the car from someone with a reputation for making quality repairs. Check online reviews of the facility selling the car before showing up.
3. Ask for the original repair estimate: Take time to locate the original repair estimate. This document will show which parts have been replaced and how serious the flooding and other issues are.
Another way to improve your odds of finding a flood-damaged car that isn't in bad condition is to seek a rebuilt salvage title. This title shows that the vehicle you are seeking has been repaired and restored so it can legally and safely return to the road.
Taking these additional steps will make it much easier for you to determine just how badly damaged a flooded vehicle is, and will ultimately help you decide whether it is worth taking on a car loan for a salvage title car. If all of your research checks out — and you're okay with the potential risks — you may score a fantastic vehicle (flood damage and all) at a price that is simply too amazing to pass up.
(Image: chef Matt rock)