More Americans Want Electric Cars — But How Will They Afford Them?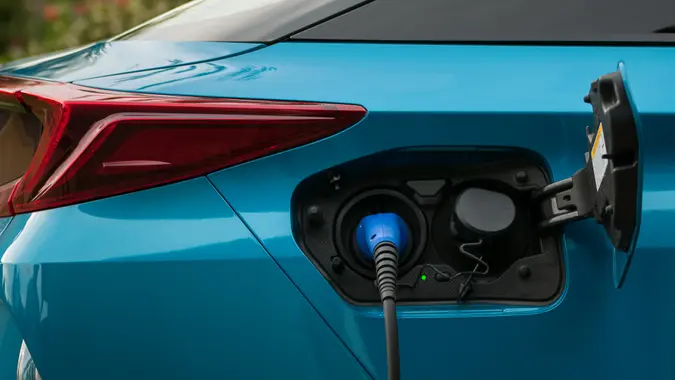 ©Shutterstock.com
The EV revolution is in full swing, and more drivers are considering going electric than ever before.
The 2023 J.D. Power U.S. Electric Vehicle Consideration Study found that 61% of shoppers are likely to consider purchasing an EV, the highest share ever and the first time it topped 6 out of 10.
Cost, however, is still a primary consideration.
"When it comes to electric vehicles, a lot of shoppers have questions about their affordability," said Matt Smith, deputy editor at CarGurus. "Particularly when shopping for an EV, it's essential to see beyond the initial purchase price. You'll want to consider the ongoing maintenance costs that span the lifetime of the vehicle, because while it's true that the upfront cost of an EV tends to be higher — even after factoring in federal tax credits and state incentives — an EV's total cost of ownership over time can end up significantly lower."
In 2023, going electric can be more affordable than you might think. Here's how you can lower the cost of getting behind the wheel of a clean, quiet car that you plug in overnight.
Buy a Model That Qualifies for All Available Tax Credits
The newly revised tax credit standards can reduce the MSRP of today's lowest-priced EVs by one-quarter, so narrow your shopping list to make sure you don't leave money on the table.
"For new electric cars, a tax credit of up to $7,500 is available, broken down into two parts: battery and sourcing requirements," said Rodney Yo, an electric vehicle expert and founder of Best Online Traffic School in California, which leads the nation with a 21.1% EV adoption. "Each requirement accounts for $3,750 of the credit, so if the vehicle meets both, you're eligible for the full amount."
The full credit knocks the price of the four least expensive 2023 models — Mini Cooper SE hardtop, Nissan Leaf, Chevrolet Bolt EUV and Chevrolet Bolt EV — down into the low $20,000s or even the high teens.
But a lower MSRP is not the only reason to focus on inexpensive models.
"The credits also come with price caps on vehicles," said Yo. "New electric vehicles like vans, SUVs and pickup trucks must have an MSRP of $80,000 or under, while other vehicles, including sedans and passenger cars, are capped at $55,000. It's also important to note that to qualify, the vehicles must have had their final assembly in North America."
Double Your Savings With a Used EV Approved for Credits
According to Cox Automotive, used EV sales are projected to top 1 million for the first time in 2023 as falling prices push the previously owned electric market to record highs. By buying used, you can cash in twice — first with the depreciation the original owner paid on your behalf and second through updated federal incentives.
"Used electric vehicles also qualify for tax credits in 2023," said Yo. "You can receive up to $4,000 off a used EV, limited to 30% of the car's purchase price."
Yo noted specific requirements for used cars, such as having a minimum 7 kWh battery, a purchase price of $25,000 or less, being a model that's at least two years old and weighing under 14,000 pounds. So here, too, it pays to target your shopping to qualified vehicles.
"Also, remember that you can only claim this credit once every three years," said Yo.
Or, Pick Any EV You Like and Exploit the 'Lease Loophole'
Leasing offers pros and cons worth weighing for anyone looking to save money on a car, no matter how it's powered.
"In general, leasing provides a lower monthly payment, while less money is needed upfront for a down payment," said Carl Anthony, managing editor of Automoblog. "Leased cars will always be under factory warranty, too."
But there's an added bonus to leasing an electric car — at least for now.
"Although the list of new EVs that qualify for the $7,500 tax credit via purchase is lower, leasing a new EV acts as a bit of a loophole since they will be classified as commercial vehicles," said Anthony.
The so-called "lease loophole" grants the full $7,500 credit to lessees, even for EVs that wouldn't qualify if the buyer had purchased the car outright, giving you a much wider selection to choose from. The catch is that the credit goes to the dealer, not the lessee, so the payoff would have to come in the form of a dealer rebate or reduced lease price, which you can negotiate.
But the good news is that since you don't receive the credit directly, the income limits on the credit don't apply.
Don't Have the Cash Upfront? Wait a Year
The current tax credits are not deductions. They lower your tax bill on a dollar-for-dollar basis, but they're nonrefundable — and you can't cash in until you pay your taxes the following year.
If you're light on cash and can't wait that long, consider holding out for a few more months.
"Starting in 2024, you will have the option to transfer the credit to the dealer at the point of sale," said Yo. "This effectively lowers the price of the vehicle by the corresponding credit amount instantly, rather than having to wait until you file your taxes."
Double Up With State Incentives and Utility Rebates for Home Charging
Federal tax credits are the most obvious way to offset the price of an electric car, but depending on where you live, your state might tack on even more savings.
"If you're in an EV-friendly state, you can stack state rebates ranging from $2,000 to $5,000 on top of that federal credit," said Steve Birkett, senior EV editor at Find The Best Car Price. "This could yield savings that stretch into five figures and offset the higher upfront cost of an EV."
Many localities also offer utility rebates for the purchase and installation of home charging hardware.
"It typically costs homeowners $400 to $2,000 to install Level 2 charging equipment suitable for charging a fully electric car overnight," said Michael Kim, co-founder of EVchargerReviews. "But homeowners in some areas can apply for bill credits or rebates for home EV charging."
Kim's site maintains a list of all available charger purchase and installation incentives in every state.
More From GOBankingRates