New Study Suggests EVs Would Cost $48,698 More To Own Without Incentives — Can Americans Really Afford To Switch?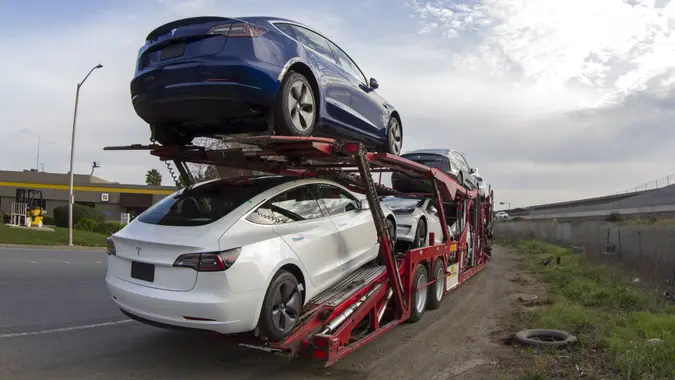 hapabapa / Getty Images
Electrical vehicle prices have been falling this year as more models compete for business and dealers offer discounts to clear excess inventory off their lots. But those prices would be a lot higher if not for government incentives and other perks handed out to the EV industry, according to a new study — and some people are not happy about it.
A study released this week by the Texas Public Policy Foundation (TPPF), a conservative think tank, found that the average model year 2021 EV would cost $48,698 more to own over a 10-year period without $22 billion in "government favors" given to EV manufacturers and owners. Those favors include regulatory credits, hidden costs and subsidies.
The TPPF's Jason Isaac and Brent Bennett — who co-authored the study — have few kind words to say about the EV industry. They claim that it has mainly benefited from the Biden administration's "continued push for electrification" as well as efforts by "leftist" states like California that have enacted policies to reduce the number of gas-powered cars on the road.
"Electric vehicle owners have been the beneficiaries of regulatory credits, subsidies, and socialized infrastructure costs totaling nearly 50 thousand dollars per EV," Isaac said in a press release. "These costs are borne by gasoline vehicle owners, taxpayers, and utility ratepayers, who are all paying a hefty price for someone else's EV."
Bennett criticized EV proponents for "falsely" claiming that EVs will soon cost less than gas-powered cars.
"This study shows that EVs are still a long way from being competitive without massive subsidies," Bennett said.
For now, there's no question that EVs cost more than gas-powered cars, though the gap is closing. According to data from Cox Automotive, the average transaction price for electric cars was $53,469 as of July 2023. That compares to $48,334 for gas-powered vehicles. Market leader Tesla contributed to a "substantial drop" in EV prices since late last year due to price cuts.
There's also no question that EVs have benefited from government subsidies. As Cox subsidiary Kelley Blue Book noted, the U.S. federal government offers qualified buyers electric car incentives of up to $7,500 for select new fully electric, plug-in hybrid, and fuel-cell vehicles.
But the EV industry isn't alone in getting government incentives. The fossil fuels industry does as well — to the tune of at least $20 billion a year, according to a 2019 analysis from the Environmental and Energy Study Institute. Of that total, about 80% goes to the natural gas and crude oil industries — the latter of which earns a lot of its money from the gas-powered auto industry.
Interestingly, the TPPF study didn't mention oil and gas industry subsidies — perhaps because the TPFF itself is funded by oil and gas interests. A Texas Observer article from a decade ago noted that the TPFF's donors included ExxonMobil, ConocoPhillips, Chevron and Devon Energy. ExxonMobil was also mentioned as a major TPPF contributor by the DeSmog website.
Meanwhile, the TPFF's claim that EVs would cost $48,698 over a decade without incentives is hard to verify because so much of it is based on the authors' subjective interpretation of indirect costs. For example, to come up with the $48,698 figure, the study mentioned the costs EV owners "impose" on the grid for the generation, transmission and distribution of electricity.
The study also mentions "federal and state taxes imposed on every gallon of gasoline compared with tax rebates for EVs, as well as the indirect subsidies created by the federal Corporate Average Fuel Economy (CAFE) standards and the Environmental Protection Agency's (EPA) greenhouse gas (GHG) emissions standards."
Whether the TPFF study does anything to change the automotive landscape remains to be seen. In the meantime, consumers interested in buying an EV can get some very good deals right now.
More From GOBankingRates