New Car Market: Ford, Tesla Drop Prices by Up to 20% Thanks to Millions of Unwanted EVs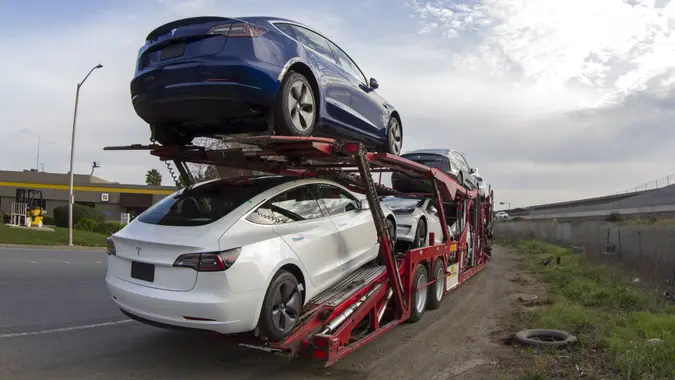 hapabapa / Getty Images
Nearly 100,000 unsold Electric Vehicles (EVs) are sitting on dealer lots right now. That's great news for consumers who've been considering going electric for their next car purchase. To meet lowered demand, manufacturers including Ford and Tesla have dropped prices significantly. 
In early 2023, Tesla cut prices by 11% on the Model 3 and 20% on the more expensive Model Y. Just yesterday, Ford released news on price cuts to the F-150 Lighting pickup by nearly $10,000-A decrease of up to 16%. 
Price Cut Factors
Ford credits an increase in production and decreased raw material costs for their price drops. Elon Musk, however, cited a goal of selling more vehicles at lower prices as Tesla shifts focus toward service, software and its full self-driving system. Tesla also seems to be leveraging its market advantage as an EV price leader to constrict emerging competition. 
The growing inventory of EVs at the nation's dealerships is a contributing factor as well. By the end of June, Most electric car models closed at over 100 days' supply compared to 38 days' supply for gas-powered cars. 
Why Aren't People Buying?
Although the Federal Government incentivizes new EV buyers with a $7,500 tax credit, many consumers still can't fit the cost into their budget. In a June Survey by Cox Automotive, 51% of consumers were considering an electric vehicle — up from 2021's survey results of 38%.
If record numbers of consumers want an EV for their next car, then why are these cars stuck on the lot? Tax credits aside, 43% of surveyed consumers reported affordability as the main barrier to buying. 
Make Your Money Work for You
The average transaction price (how much it sold for) for an EV was $53,438 in June compared to an average of $48,808 for gas-powered cars according to Kelley Blue Book. That's a 20% drop from last year's average. Even with prices on the decline, the cost of buying an electric car is more closely aligned with the price of luxury gas-powered vehicles. 
Electric vehicles are highly desired by most consumers, but the luxury price point still scares off potential mid-phase EV adopters. Despite government incentives and manufacturer price cuts, many consumers may wait until prices drop further before buying an electric car. 
More From GOBankingRates