Who Pays Employees Better — Elon Musk or Mark Zuckerberg? Or Jeff Bezos?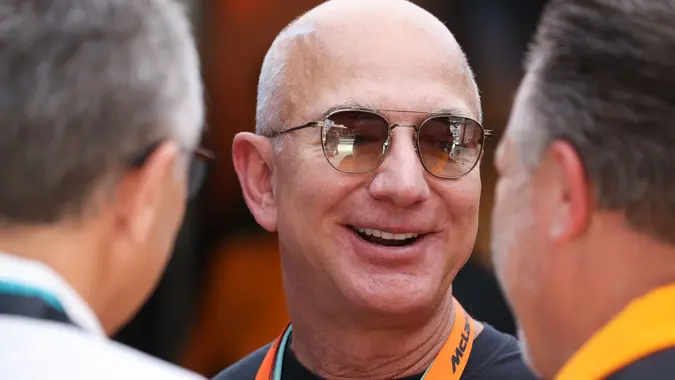 ANTONIN VINCENT / DPPI / Shutterstock.com
You often hear about the "top 1%" wealthiest people in the world, a group which includes billionaire business owners Elon Musk, Jeff Bezos, and Mark Zuckerberg in the first, third, and ninth spots, respectively.
With net worths of roughly $248 billion, $159 billion, and $112 billion, you may think they have plenty of cash to pay workers at their respective companies fairly. But are workers under these magnates earning a living wage? Who pays their employees better?
As in any company, it depends on the job position you hold. Engineers and executives earn top dollar at these companies, while warehouse workers and interns earn less.
Average Pay Ranges at Amazon
Glassdoor shows average salary ranges at Amazon from just over $35,000 for warehouse workers up to $769,000 for a senior vice president. The pay for warehouse workers at Amazon is slightly lower than the mean annual wage for laborers and freight, stock, and material movers nationwide, according to the Bureau of Labor Statistics. The mean annual wage is $37,510, with the lowest paid workers earning just $27,610, and the those at the top end of the pay scale earning $48,560.
Software development engineers at Amazon earn a median pay of $216,186 per year. Based on statistics from Indeed, most Amazon engineers make more than the average base salary of $115,326 for software engineers nationwide, and many are at the high-end of the range for software engineering jobs.
Make Your Money Work Better for You
Average Pay Ranges at Meta
Meta — the parent company of Facebook, Instagram and new platform Threads — offers a salary range from $41,000 for a janitor up to $644,537 for a senior vice president, per Glassdoor. Software engineers at Meta earn an average of $232,021 per year, according to Glassdoor statistics.
However, the Washington Post recently reported that Meta offered virtual reality programmers upwards of $600,000 to $1 million, which experts say is "significantly more" than equivalent positions might garner at most gaming companies.
Average Pay Ranges at Elon Musk's Companies
At the low end of the range, janitors at Tesla earn just $39,419, on average, less than at Meta.
Tesla software engineers earn less than they might make at Amazon or Meta, bringing in an average of $185,785 per year. But executives also earn less, with the average salary topping out at $584,673 for a senior vice president, according to Glassdoor statistics.
SpaceX salaries skew even lower, with the median pay for an engineer sitting at $153,787. On the high end, rocket engineers can earn as much as $197,000, with the lowest salary at $122,000. These salaries are still higher than the national average. According to BLS data, aerospace engineers earn a median annual wage of $127,900.
Final Thoughts
At businesses owned by all three billionaires, there is obviously a wide range from the top of the pay scale to the bottom, with engineers earning a mid-range salary and c-suite executives receiving high six figures.
The tech industry is highly competitive and all three companies, along with companies like Apple and Netflix, seek to bring in the best of the best.
Make Your Money Work Better for You
While Amazon's lower-end wages for warehouse workers are less than the median pay for these types of jobs, Tesla and Meta compensate laborers like janitors better than the national average. According to BLS data, janitors can expect to earn median pay of just $29,760 per year.
More From GOBankingRates