Is This Ford Electric Vehicle Worth It for $10K Less?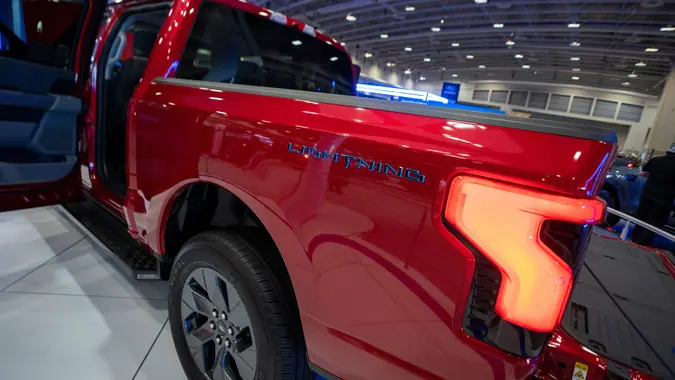 SHAWN THEW / EPA-EFE / Shutterstock.com
There's little doubt that electric vehicles will eventually take the automotive industry by storm, if they haven't already. From 4% in 2020 to 14% in 2022, the share of electric cars is expected to reach 18% of the overall global car market this year, per the International Energy Agency.
Future growth for EVs is assured, but prices are going to have to become affordable at some point as competition heats up. According to Cox Automotive, the average transaction price for electric vehicles was $53,438 in June 2023, compared with $48,808 for gas-powered cars.
Citing "increased plant capacity, continued work on scaling production and cost, and improving battery raw material costs" as the reasons behind the price cuts, Ford is aiming to increase its stake in the EV market dominated by Tesla by making its already popular F-150 Lightning pickup more affordable.
Ford tipped its hand to competitors as it slashed prices on its F-150 Lightning electric trucks, including a 17% — a hair under $10,000 — cut for the base model, per Reuters. The base Pro variant of the Lightning has a suggested retail price of $49,995, down from $59,974, while the higher-end Platinum model will cost $91,995, about 6.2% less than its prior price.
As Kelley Blue Book noted, dealers currently have an oversupply of EVs after companies like Ford overestimated growth in demand. Regardless of previous price hikes and industry motives, now might be the time to purchase an electric F-150.
Although there are concerns about its range when towing, the Ford F-150 Lightning has been positively reviewed by all the major automotive outlets — including Car and Driver, MotorTrend and Edmunds.
Make Your Money Work for You
With an EPA estimated range of between 240 and 320 miles depending on model and battery, the Lightning is similar to its F-150 internal combustion counterpart in looks and performance. For Lightnings equipped with a larger, extended range battery, acceleration is considerable. Car and Driver testers had the trucks jumping from zero to 60 mph in 4 seconds.
While Kelley Blue Book's test driver found the F-150 Lightning had "more than enough muscle for most requirements, even for work trucks," the official maximum towing capacity of the production model is 10,000 pounds. However, only trucks with the optional extended range battery will be able to tow that much.
This might be the time to pounce on a deal for the 2023 MotorTrend Truck of the Year while its available. Purchasing an F-150 Lightning, which Ford first introduced in April 2021, comes with an additional bonus: It is one of only eight EVs eligible for a full $7,500 tax credit, per CBS.  
Ford has cut prices on all F-150 Lightning variants, including the XLT 311A ($54,995 [-$9,479]), the XLT 312A ($59,995 [-$8,479]), the XLT 312A Extended Range ($69,995 [-$8,879]), the Lariat 510A ($69,995 [-$6,979]) and the Lariat Extended Range ($77,495 [-$8,479]).
More From GOBankingRates