Electric Vehicles 2023: EVs Are Now Affordable as Sales Skyrocket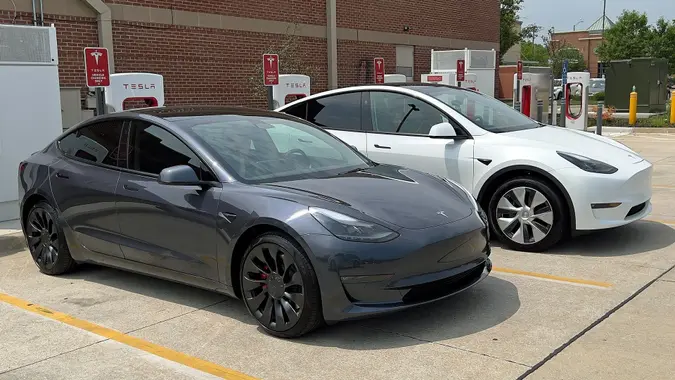 Mark Reinstein / iStock.com
If you've been pondering whether to buy an electric vehicle (EV), now might be the right time. In June, the average price for an EV was down nearly 20% year-over-year, according to a Cox Automotive report released July 12.
This comes as sales for EVs hit a record high in the second quarter. Nearly 300,000 new EVs were sold in the U.S. during that timeframe — a whopping 48% increase over the second quarter last year.
It comes as no surprise that Tesla, once again, was the largest seller of EVs in the U.S. Tesla sold more than 175,000 units, an increase of 34.8% quarter-over-quarter, per the report.
Following Tesla, Chevrolet took the No. 2 spot for the most EVs sold. Ford and Hyundai ranked third and fourth, respectively.
In terms of which models are most in demand, one of every three EVs sold last quarter was a Tesla Model Y, making it the leading EV in the country.
Tesla Delivery Numbers Looking Strong
Earlier this month, Tesla announced its highly anticipated second quarter delivery numbers. Said deliveries beat expectations, and prompted Wedbush Securities analyst Dan Ives to say in a client note: "Tesla continues to play chess while other EV players are playing checkers and this was another trophy case quarter for Musk & Co. despite much skepticism from the Street the last few months."
One factor that also came into play for Tesla is the price cuts it implemented early in 2023. These cuts "have paid major dividends for Musk & Co. as demand appears to remain very strong," Ives wrote.
In terms of how the sector will fare in the coming months, the report also noted that "hard-growth days are ahead" for EV companies.
"Building EVs is one thing, and many in the industry are proving excellent at that skill. Selling EVs is something different altogether. Yes, EV sales records will continue to be set, and EV growth will continue to outpace overall industry growth, but the days of 75% year-over-year growth are in the rearview mirror," the Cox Automotive report read, in part.
Beyond an increasingly competitive landscape, another reason the sector may face headwinds could be a gap between growing interest and actual purchases.
"Education for both consumers and dealers remains a critical factor in driving widespread confidence and adoption of electric vehicles," Kayla Reynolds — manager of research and market intelligence, Cox Automotive Mobility — stated in a June report. "For dealers specifically, preparation is paramount, and our findings emphasize the urgency of equipping dealers with EV sales and servicing capabilities to meet the needs and demands of EV buyers."
More From GOBankingRates