5 Best Places To Find the Electric Vehicle You Want as Dealerships Run Low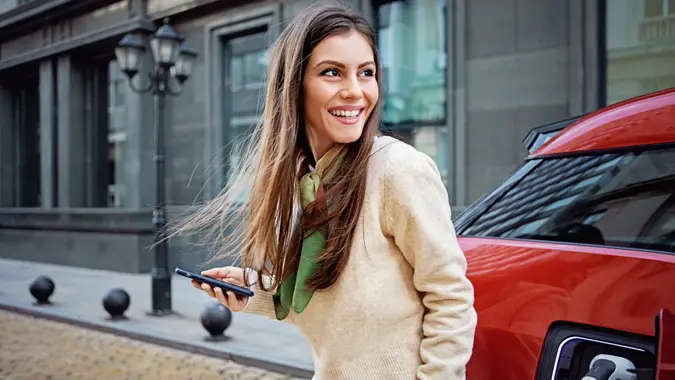 praetorianphoto / Getty Images
There is a shortage of electric vehicles (EVs) for sale at car dealerships around the U.S.
There are several reasons for this, including supply chain issues and high demand, as well as an unwillingness from some dealers to adopt EVs. This unwillingness stems from the fact that dealers make a large amount of profit from repairs and maintenance, and EVs simply don't come with as many costs as gas-powered vehicles.
So, where can you find an EV for sale, anyway?
We've dug into a recent report by SierraClub that details where you can find EVs, and where they are scarce. This report showcases how dealers are handling EV sales and the overall availability around the country. Here are five places you can buy EVs today:
Southeastern U.S.
According to the study, the U.S. region with the most EV availability at dealerships is the Southeast. This includes states such as Kentucky, Virginia, Georgia and Florida. 
The data shows that 41% of dealers offered an EV for sale in the Southeast, which is higher than most other parts of the country. But of the dealers without an EV for sale, 45% of them said they would not offer them, even if they were available.
All told, over 150,000 EVs were sold in 2022 at dealerships in the Southeast. Current availability suggests this is the best place to find one today.
Make Your Money Work for You
California
California is unique in that they are the home to Tesla and also have some of the most forward-thinking policies around EVs and climate change. California's Zero-Emission Vehicle (ZEV) program incentivizes automakers to sell more electric vehicles and increases the requirements for car emissions.
While there seems to be a shortage of EVs in the West in general, California accounted for 33% of all EV sales in the U.S. This means that EVs continue to fly off the showroom floor, and there are more EVs sold here than anywhere else.
Southwestern U.S.
Outside of the Southeast, the Southwest has more available EVs at dealerships than anywhere else. According to the study, 38% of dealers had an available EV for sale, while 62% of dealers did not. But of the 62% without an EV, most said they would offer them if they were more readily available.
States like Texas, Arizona and New Mexico cover the Southwest region, and Texas itself is home to several EV production facilities, including the Gigafactory for Tesla.
Online
While the EV shortage at local dealerships is hampering consumers from accessing EVs over regular gas-powered vehicles, this doesn't mean that Americans can't buy EVs at all. In fact, over 800,000 new EV car sales happened in 2022 according to a Kelley Blue Book report, which is an increase of 65% from the previous year.
Many of these sales are happening online, with manufacturers like Tesla leading the way. With Tesla, you can choose your car specs and pay online, with car delivery to your doorstep as part of the cost. This makes the car-buying process much simpler, and may even save you money over paying dealer markups.
Make Your Money Work for You
There are some state-level restrictions of online sales, however, with 17 states outright banning online vehicle sales. Many more have other restrictions, making it hard for consumers to buy EVs online.
Zero-Emission Vehicle (ZEV) Program States
California's ZEV program has been adopted by other states in the U.S., with 15 states following suit. Colorado, Connecticut, Maine, Maryland, Massachusetts, Minnesota, Nevada, New Jersey, New Mexico, New York, Oregon, Rhode Island, Vermont, Virginia and Washington all have committed to selling cleaner vehicles, EVs included.
In total, 31% of states have joined the ZEV program, but those states accounted for 61% of the nation's total EV sales, which showcases how well this policy is working.
A higher standard that has been released is the ACC II program, which commits 100% of car sales to be EVs by 2035. While this program has only been adopted by a handful of states (Massachusetts, New York, Oregon, Washington and Vermont), these states will likely have more EVs for sale in the near future than others
Buy From These Car Manufacturers
In addition to finding the best places to locate EV inventory for sale, there are specific car manufacturers that offer more EVs at their dealerships than others. These car manufacturers have at least one EV vehicle for sale in at least 40% of their dealership locations:
Mercedes: The Daimler AG group that sells Mercedes vehicles has more EV availability (per dealership) than anyone else. Over 80% of their dealerships offer an EV option.
BMW: BMW Group also has high availability of EVs at dealerships, with at least one EV available at over 75% of dealerships.
Hyundai: According to the study, Hyundai has sold more EV vehicles through their dealerships than any other manufacturer, and also has EV options at nearly 50% of all of its dealerships.
Make Your Money Work for You
Ford: Ford is starting to ramp up EV production and availability, but currently only has availability at just over 40% of its dealerships.
Volkswagen. Volkwagen also offers EV options at around 40% of its dealerships.
Bottom Line
EVs are here to stay, but supply chain issues have caused a shortage around the U.S. Add to that an unwillingness of manufacturers to adopt EVs at their dealerships, and the shortage will continue for some time.
However, if you can secure a vehicle online or pick one up in the Southeast, you have a better chance at finding the car you want. Just remember, as supply chain issues are resolved and more and more states adopt EV standards, there will be more vehicles available in the near future.
More From GOBankingRates