How to Get the Best Business Loan Rates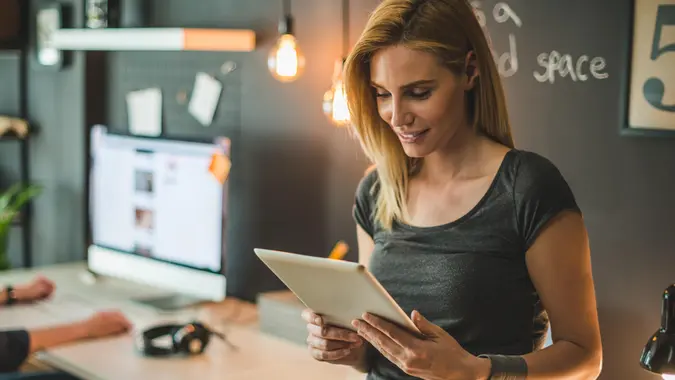 Georgijevic / Getty Images
Starting your own business, or even just maintaining your current business, can be an intimidating process — especially if you want to get a business loan. In addition to the size of the loan, you also need to consider the business loan interest rate.
An interest rate refers to the amount of money that a bank collects from a borrower on a loan's principal. The lower the interest rate, the more you could potentially save. So before you decide on a loan, compare your options and take steps to qualify for the best small business loan rates.
Click here to read about money lessons learned from the restaurant business.
How to Qualify for the Best Business Loan Rates
If you want to qualify for the best rates, there are some things to keep mind. Below are a few factors that lenders will want to know when you apply for a business loan:
Your credit score/report
The age of your business
Revenue (if any)
Tax returns
Bank statements
These are some of the most common factors and documentation that will help lenders determine the type of loan and interest rate you qualify for. But one of the most important ways to increase your chances of getting a business loan with the best rates is to work on your credit score.
Find Out: What Is a Business Line of Credit and How Does it Work?
3 Tips to Getting the Best Business Loan Rates
Generally, you can be considered for the best small business loan rates if you have a strong credit score and credit history. If your credit score is low, take these steps to increase it before you apply for a business loan:
1. Check Your Credit Report for Errors
Before you apply for a business loan, get a copy of your credit report. You can access your free credit report once every 12 months at AnnualCreditReport.com. When you review your credit report, check for errors. If you notice any errors that might be pulling your score down, reach out to the credit bureau or lender and dispute the errors.
2. Pay Your Bills on Time
Your payment history accounts for 35 percent of your FICO score, which is the most widely used credit score. Lenders want to know that you can make your credit payments on time. Whether you have a mortgage payment, a car payment or household bills, aim to make those payments on time.
3.  Reduce the Amount You Owe
If a high percentage of your available credit is being used, you might have a hard time paying your bills on time — and late payments can ultimately hurt your credit. Additionally, the amount you owe on your credit accounts makes up 30 percent of your FICO score. So to improve your credit and increase your chances of getting approved for the best business loan rates, work toward lowering the amount you owe.
Learn More: How Your Credit Utilization Rate Is Affecting Your Credit Score
Although your credit score can be a major factor in helping you get the best small business loan rates, it's not the only factor. Keep in mind that different lenders might have other requirements you must fulfill. Always check with your lender to see what you need to do in order to qualify for those rates.
Find the Best Business Loan Interest Rates
You can find the best business loan interest rates through big banks, small banks and online lenders. Below is a list of some of the best financiers for different business loan types and interest rates:
Options for the Best Business Loan Rates
Loan Type
Lender
Loan Minimum
Loan Maximum
Terms
APR/Fees
Business Line of Credit
Wells Fargo
$5,000
$100,000
No collateral
Prime Rate + 1.75%
Unsecured Business Loan
Wells Fargo
$5,000
$100,000
No collateral
6.5%-22.99%
SBA Backed Loans
Wells Fargo
Huntington
JPMorganChase
Varies across different
SBA loan types
Varies across different SBA loan types
Differs among loan type and applicant
6%-13%
Equipment Loans
Currency
$5,000
$2 million
3-24 months
Monthly repayment
8%-36%
Accounts Receivable Financing
Fundbox
$1,000
$100,000
100% Advance Rate
.5%-.7%/wk
Before you delve into the process of getting the best business loan rates, first understand the different types of business loans, the fees that come along with them, as well as other pros and cons. Discuss your options with your lender and perhaps even consult a professional.
Get Started: Here Are 5 Banks That Make Starting a Small Business Easier
Sydney Champion contributed to the reporting for this article. 
Editorial Note: This content is not provided by Chase. Any opinions, analyses, reviews, ratings or recommendations expressed in this article are those of the author alone and have not been reviewed, approved or otherwise endorsed by Chase.