Best Home Equity Line of Credit Rates for September 2023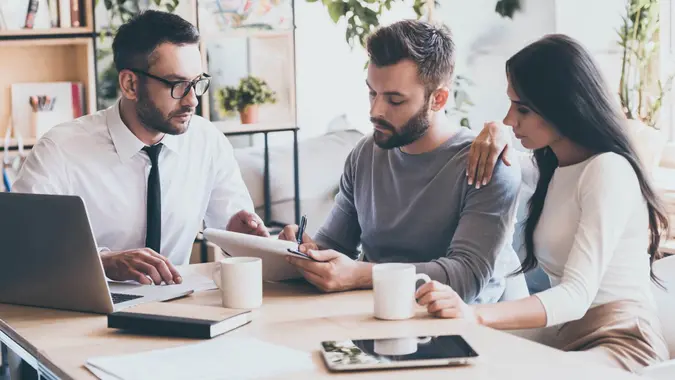 The last few years have not been the friendliest housing market to shop for your dream home. However, if you own your home, the record-high pricing could work in your favor if you are looking to tap into some home equity. Whether you are looking to consolidate high-interest debt or want to do some home improvements, a home equity line of credit could be the right move to make.
6 Best HELOC Rates
If you are looking to borrow money against your home's value, make sure you research what the current HELOC rates are and which is the best for you. Here are six great HELOCs to consider:
Bethpage Federal Credit Union: 6.99% APR
Fifth Third Bank: 8.50% APR
Commerce Bank: 2.99% for six months, then 9.50% APR
Regions Bank: 8.875% APR
Alliant Credit Union: 8.75% APR
US Bank: 8.80% APR
1. Bethpage Federal Credit Union 
Bethpage Federal Credit Union offers a fixed 6.99% annual percentage rate for the first 12 months of the loan. After that, the rate will increase to a variable rate based on the U.S. prime rate. The current minimum variable rate is 8.50% as of Aug. 31. The minimum initial draw for this rate is $25,000, with the balance maintained for 12 months and payments made via auto transfer from a Bethpage personal savings or checking account.
2. Fifth Third Bank 
Fifth Third Bank offers an Equity Flexline with rates ranging from the prime rate, which is 8.50% APR as of Aug. 31, to 16.40% APR. For a $95 fee, you can lock in your fixed rate on all or a portion of your balance. This HELOC also has no closing costs.
3. Commerce Bank 
Rate: 2.99% APR for six months, then 9.50% APR 
Commerce Bank structures its introductory HELOC rate differently than most banks. The rate starts at a low 2.99% APR and then increases to the regular rate of 9.50% APR to 11.00% APR after six months. The 11% APR is lower than other banks on this list charge at the high end, so customers who don't qualify for the best rate still get a great deal on their loan.
4. Regions Bank 
Regions Bank offers a variable-rate HELOC that lets you lock in some or all of your credit line at a fixed rate. The current rate range is 8.875% APR to 15.75% APR. Closing costs can run anywhere from $150 to $4,000, but Regions will pay them on your behalf as long as your credit line is $250,000 or less and you keep the line open for at least 24 months.
5. Alliant Credit Union 
Alliant Credit Union offers you the opportunity to access funds as needed as it has a 10-year draw period. This period is interest-only and will be followed by a 20-year repayment period for both principal and interest. There are no closing costs or appraisal fees if your line of credit is $250,000 or less.
6. US Bank
U.S. Bank offers a range of rates — currently 8.80% APR to 12.55% APR — for home equity lines of credit. To qualify for the lowest HELOC rates you will need a credit limit of $50,000 or more, a FICO score of at least 730 and a U.S. Bank personal checking account. Keep in mind that U.S. Bank may charge a $90 annual fee after the first year unless the borrower has a U.S. Bank Platinum Checking package.
Home Equity Line of Credit: What To Know
A home equity line of credit is a second mortgage. The loan-to-value ratio is based on the estimated value of your home, which is put up for collateral. This lets you borrow cash to use as needed against your home.
Here are key takeaways you should know about the draw and repayment periods of your loan amount:
You typically have a 10-year draw period to withdraw cash from your HELOC while repaying just interest. After that, you will have 20 years to repay the principal plus interest.
The HELOC can have a fixed rate for a portion or the entirety of the loan period, but most have a variable rate. This means your rate will likely change over the years based changes on the U.S. prime rate. HELOC variable rates typically consist of the prime rate plus a margin, such as 2% or 3%.
Your credit card usage will be a factor. Your credit score and ratio of debt to income affect whether you'll get the loan, how much you can borrow and whether you qualify for a prime rate.
Once you subtract what you owe on your loan, you are generally allowed to borrow up to 85% of the value of your home from most lenders. 
HELOCs are best used for expenses that will build your wealth.
The lender can freeze your credit line if the value of your home declines or your financial situation changes.
Be aware you risk losing your home if you don't repay this loan.
Final Take
If you're not sure the exact amount you need, or you'll need the money periodically over a long period of time, a HELOC may be a smart move. Though most come with variable rates, which makes payment amounts unpredictable, if you find the right lender with the right rate, a HELOC can help you finance an ongoing expense and stretch payments out over 20 years.
FAQ
Here are answers to frequently asked questions about the best home equity line of credit rates.
What is the current HELOC rate?

The HELOC rate will vary from lender to lender or bank to bank. Currently, factoring in many national banks and credit unions, the average HELOC rate is around 8.00%.

What is the monthly payment on a $50,000 HELOC?

The monthly payment on a $50,000 HELOC will vary depending on what rate you are locked in on. For example, for 10 years on a $50,000 home equity line of credit at a 7.50% interest rate, your monthly payment would be an estimated $593.51.

Is a HELOC a good idea right now?

A HELOC might be a good idea for you if you know the exact amount you need to borrow and you can lock in a good rate.

Will HELOC rates go down in 2023?

Though HELOC rates are not increasing as rapidly as they have been in the last few years, unfortunately, they are still predicted to go up as the Federal Reserve is still battling inflation.

What is the difference between home equity loans and HELOCs?

Home equity loans are on fixed rates which offer more stability and predictable monthly payment. HELOCs come with variable rates, which make them less predictable as they can change based on market conditions.
Daria Uhlig contributed to the reporting for this article.
Data is accurate as of Aug. 31, 2023, and is subject to change.
GOBankingRates is a personal finance and consumer interest rate website and an online marketing company serving top-tier banks, credit unions and other financial services organizations. Some companies mentioned in this article might be clients of GOBankingRates, which serves more than 100 national, local and online financial institutions. Rankings and roundups are completely objective, and no institution, client or otherwise, paid for inclusion or specific placement. Any opinions, analyses, reviews or recommendations expressed in this article are those of the author alone and have not been reviewed, approved or otherwise endorsed by the companies included in the article. All fees and rates are subject to change at the issuers' discretion. Some interest rates might be short-term or promotional offers only, and it is possible additional terms and conditions must be met to obtain the interest rates listed. Rates and availability might vary by region. Verify terms and conditions before opening an account.
GOBankingRates bases its assessment of "best" and "top" products on the above-stated parameters to create a baseline for comparison. This assessment is an approximation of "best" and "top" designed to help consumers find products that might be appropriate for them. There could be other options available as well. Consumers should consider various options appropriate for their circumstances.
Our in-house research team and on-site financial experts work together to create content that's accurate, impartial, and up to date. We fact-check every single statistic, quote and fact using trusted primary resources to make sure the information we provide is correct. You can learn more about GOBankingRates' processes and standards in our editorial policy.