PNC Mortgage Review: Customer-Focused Banking and Investing Products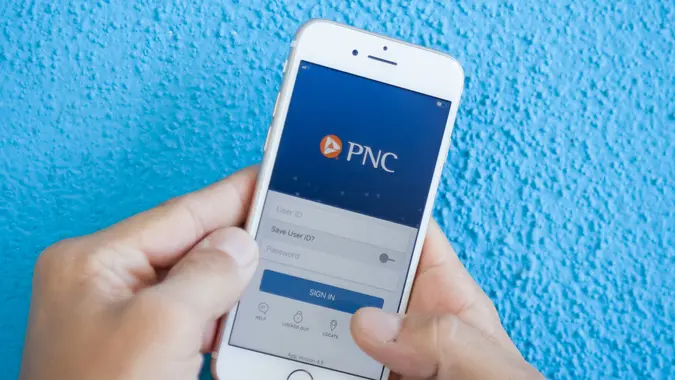 ©GOBankingRates
PNC Bank, which prides itself on providing customer-focused solutions to banking and investing, offers a variety of financial products and services, including mortgages. The bank's efforts must be paying off, as evidenced by over 8 million consumers and small businesses — all of which have made the choice to bank with PNC.
Take a look at what PNC Bank has to offer, so you can decide if it's the answer to your search to find the best mortgage lender.
PNC Mortgage Review
Individuals, small businesses, corporations and government entities can benefit from PNC's offerings. From deposit and lending to cash management and investment services, PNC offers a full range of options.
PNC has 2,600 PNC branches and 9,000 ATMs spread across 19 states and the District of Columbia. Residential mortgage loans are offered within the bank's branch network and across the nation.
Check Out: Average Mortgage Rates in the US
PNC Mortgage Products and Services
PNC offers a variety of loan options including refinancing. Plus, you can easily initiate the loan process online or over the phone, seven days a week, with one of the bank's mortgage loan officers.
Here's what you need to know about PNC Mortgage loan offerings:
PNC Fixed-Rate Mortgage
PNC's fixed-rate mortgage loan falls into the conventional loans category; applicants with average or better credit history have the best chance of qualifying. This loan offers fixed PNC mortgage payments and interest and has terms ranging from 10 to 30 years, depending on your budget. Single-family loan amounts are available up to $453,100, and down payments can be as low as 3 percent.
PNC Adjustable-Rate Mortgage
For borrowers who desire a lower initial interest rate and plan to sell their home after a few years or refinance, an ARM might be an option. ARMs are set up for one to 10-year periods at a locked-in rate, followed by one-year periods where the rate will fluctuate with the market. As PNC's mortgage rates go up or down, the amount of your monthly payment will adjust accordingly. Typical fees for this type of loan range from 3 to 5 percent.
Tips: How to Make a PNC Mortgage Payment
PNC Jumbo Loan
When buying a home valued over $453,100 and up to $5,000,000, you'll need this special type of loan. Jumbo loans with 15- to 30-year terms are available with fixed rates; ARMs are available in one-, three-, five-, seven- or 10-year terms. Fees are generally between 3 and 5 percent of the loan amount.
Good to Know: Million-Dollar Mortgage Requirements
PNC FHA Loan
FHA loans, backed by the government, are often a good option for first-time home borrowers or those who have credit challenges. They are available in both fixed and adjustable rates and offer more flexible credit requirements and lower down payments than conventional loans provide. Up to 6 percent of the purchase price can be put toward closing costs by the seller, and funds for down payment or closing costs can be a gift. Fees typically range from 3 to 5 percent.
PNC VA Loan
Active military, veterans, reservists or national guard members can qualify for VA loans, which are guaranteed by the Department of Veterans Affairs. These loans carry fixed — between 15 and 30 years — or adjustable-rate terms and require little to no down payment. Although no private mortgage insurance is required, a VA funding fee is. Fees range from 3 to 5 percent of the loan amount.
Learn: How to Get Your VA Home Loan Approved
Pros and Cons of PNC Mortgage
Just as with any mortgage lender, PNC Mortgage has its own set of pros and cons, and it's worthwhile to consider them before entering a lending relationship.
Here's a quick look at the major advantages and drawbacks:
PNC Mortgage Pros
One of the biggest advantages of taking out a mortgage loan with PNC is the personalized customer service you'll receive:
An experienced PNC Mortgage loan officer will help guide you through the entire loan process, including determining the best type of loan based on your needs and finances.
PNC also offers an online Home Insight Tracker, which allows prospective borrowers to upload documents, view loan details and monitor the progress of their PNC Mortgage application.
Mortgage loan officers are available for your questions every day of the week.
PNC Mortgage Cons
Although few, PNC Mortgage does have drawbacks:
PNC Mortgage loans are available nationwide, but bank locations are only in 19 states in the eastern part of the U.S., which can limit your ability to speak with a loan officer in person.
Unlike with some other lenders, you cannot complete the entire mortgage loan process online.
PNC's loan fees might not be the best that you can find.
IS PNC Mortgage a Good Choice for Me?
With a solid 160-year history and a full suite of mortgage loans, PNC Mortgage could be a good pick for your lending needs. As long as you can get past the limited PNC bank locations and the requirement to work directly with a loan officer on many steps of your loan, this lender has much to offer — especially in the way of personalized customer service. But before you commit, compare things like mortgage interest rates, down-payment assistance and fees to make sure you're getting the best deal.
In a Rush? Check Out: Mortgage Loan Tips to Get a Home Fast
More on Loans and Mortgage
This content is not provided by the companies mentioned. Any opinions, analyses, reviews or recommendations expressed in this article are those of the author's alone and have not been reviewed, approved or otherwise endorsed by PNC Bank.