How to Pay Down Debt With a Discover Personal Loan
Pay down revolving debts faster with a debt consolidation loan.

Brought to you by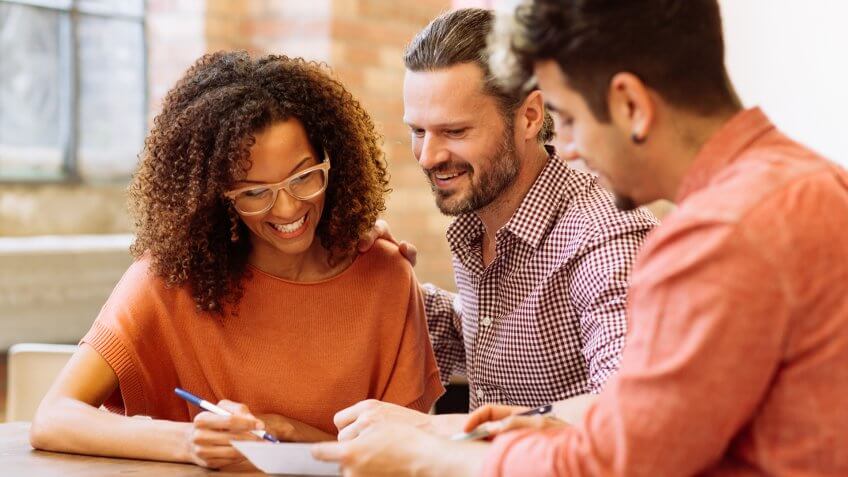 As you're on your journey to pay off high-interest debt, it's important you look for ways to save money along the way. One option is to consolidate high-interest debts with a personal loan, with a reputable lender like Discover Personal Loans. You can combine multiple bills into one easy payment at a fixed interest rate, potentially at a lower monthly interest payment. With lower monthly payments, and no prepayment penalties, you could pay off your debt sooner while saving on interest.
The Discover Personal Loans application process is straightforward and fast — if you qualify and accept the terms of the loan, you could get your funds as soon as the next business day. On top of that, Discover Personal Loans specialists can help answer any questions you might have, seven days a week, to ensure your experience is smooth and easy.
As with any loan, you should evaluate all of the features, benefits and costs of the personal loan before you apply. Here's a look at how to pay off high-interest debt using a personal loan from Discover, along with a review of Discover Personal Loans.
How to Apply for a Discover Personal Loan for Debt Consolidation
You can apply for a Discover debt consolidation loan online or speak directly with a Discover Personal Loans specialist at 866-248-1255. Either way, you might have to provide basic personal and financial information, such as your employment history, to begin the process. To speed up the application process, be prepared with these documents, just in case:
Your driver's license or state-issued identification card
Household income information like pay stubs and bank statements
Employment history
Bank account number and routing number
Balances and account numbers for creditors
Your contact information
Rates, Terms, Fees and Loan Amounts
Discover Personal Loans offers flexible terms and fixed rates, meaning your interest rate will never go up. Discover Personal Loans annual percentage rates range from 6.99% to 24.99%. As with most loans, the higher your credit score, and the stronger your overall financial picture, the more likely you are to get a lower interest rate. You can choose a loan repayment term of 36, 48, 60, 72 or 84 months so you can pay your loan back on your timeline. Discover Personal Loans doesn't charge early repayment penalties, so you won't be hit with a fee if you want to pay off your loan early. Loan amounts range from $2,500 to a maximum of $35,000.
Unlike some other lenders, Discover Personal Loans come with no origination fees or prepayment penalties, so you receive the full amount that you applied for without any fees taken off the top, and it's clear what you need to repay on the loan from the start. If you change your mind after agreeing to the loan, you have 30 days to take advantage of Discover's money-back guarantee. Whether you apply online or over the phone, the process is simple and quick. In terms of customer service, Discover Personal Loans offers a 100 percent U.S.-based customer service team.
Uses for a Personal Loan From Discover
A personal loan from Discover can be used for nearly anything. If you're using the personal loan to consolidate debt, Discover will send money directly to your creditors, but you can also simply receive the money in your bank account, to be used as you see fit. As long as you pay back the loan according to its terms, you can use it for multiple financial needs.
Debt consolidation is a common use for a Discover personal loan. You can use your funds to pay off credit card balances, a car loan or nearly any other debt you have. You can also use your loan funds for big purchases — such as emergency repairs, home remodeling or new appliances. You can also use the loan to pay for major life events, such as weddings, vacations and honeymoons.
See: Can I Use a Personal Loan for Anything?
How Does a Personal Loan From Discover Work?
Once you apply, you can receive a decision as soon as the same business day. You can receive your funds as early as the next business day, assuming your application is in order and you accept the terms of the loan on a weekday. In some cases, the process can take up to seven days.
These loans are unsecured, meaning you do not need to put up collateral to cover the loan as you would with a car loan. The application process involves a review of your personal credit history, including your credit score.
Discover personal loan specialists are available to answer any questions you have by phone 8 a.m. to 11 p.m. EST Monday through Friday and 9 a.m. to 6 p.m. EST on weekends.
How to Pay Down Debt Using a Discover Personal Loan
If you're using the loan to consolidate your debt, Discover will send the money straight to your creditors — at least 70 percent of your loan funds will go straight to your creditors. You can also choose to receive a check, or have the money go straight to your bank account if you're using the personal loan to pay for expenses like a wedding or home renovations.
After the transfer, you'll make regular payments on your loan, rather than to your former creditors. However, unlike traditional unsecured debt, such as a credit card, your Discover Personal Loan has a term. You must continue to make regular monthly payments until the end of the term, be it 36 months, 48 months or longer. By the end of the term, your entire loan will be paid off. If you want to pay your loan off faster, you can do so at any time without being charged a penalty.
How Does Discover Stand Out From Competitors?
Discover Personal Loan reviews are glowing. One of the prime advantages Discover Personal Loans has over some competitors is its nearly no-fee structure. Discover offers personal loans with no origination fee, but some competitors, including Prosper and LendingClub, charge as much as five and six percent, respectively. The company is also unique in that it offers a 30-day money-back guarantee. If you decide you don't need the money, you can return the money you borrowed without any charges. Depending on the results of your credit review, your interest rate might be better than other debt consolidation loan rates.
Discover Personal Loans' interest rates are more favorable than that of some other top lenders. Avant, for example, is a private lender that offers personal loan amounts with interest rates ranging from 9.95% to 35.99% APR as well as administration fees ranging from 1.50 percent to 4.75 percent. Additionally, Avant's loan terms are limited to 24 to 60 months, giving you less time to repay your loan.
Is a Discover Personal Loan Right for You?
Discover Personal Loans can help you get a handle on your outstanding debt by consolidating it into one loan, with one monthly payment.
To determine if a personal loan from Discover is a cost-effective option for you, first use their debt consolidation calculator to get an estimate on how much you might save on interest and how long it might take you to pay off the debt. After you apply for your Discover Personal Loan, compare the total cost of the loan with the amount you're currently paying on your outstanding debt. Remember that the shorter the term on your loan, the higher the monthly payment — but the important figure is the total amount of fees and interest you'll be paying over time.
A Discover personal loan might be right for you if you can reduce or eliminate your outstanding higher-interest debt while saving money on overall interest. When looking at other options for paying off higher-interest debt, factor in the convenience of Discover Personal Loans, along with the lack of origination and prepayment fees. If the whole package meets your financial needs, Discover Personal Loans might be key to your debt payoff journey.
All information is sourced from Discover Personal Loans and is accurate as of June 22, 2018.