Is Refinancing an Auto Loan Worth It?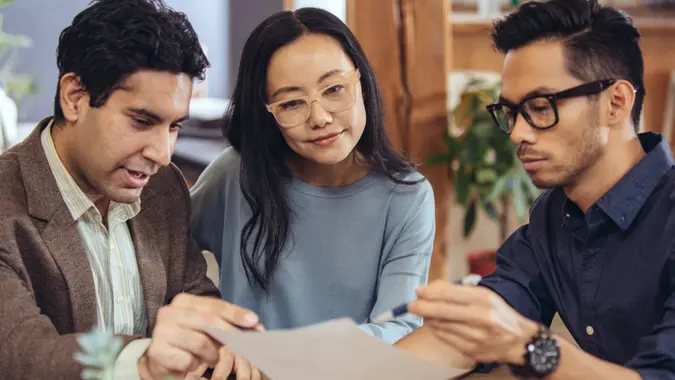 Weekend Images Inc. / Getty Images
Refinancing a mortgage isn't uncommon. Even if you've never done it, you surely have a friend or relative who has been through the process. By refinancing, the homeowner will achieve a financial goal, such as reducing the monthly loan payment or the number of years left to pay – or both.
With interest rates on a new mortgage reaching the 7% range in February, according to The Wall Street Journal, we are bound to see a refinancing wave on homes bought in the past few months when interest rates tumble. While refinancing an auto loan isn't talked about as much as a mortgage refinancing, it's done, and it follows the same principle. And maybe it's a good idea for you.
Read on to learn more about why you might refinance your auto loan and how to do it.
Why You Would Refinance an Auto Loan
The reasons for refinancing an auto loan mirror those for refinancing your home loan.
A Lower Annual Percentage Rate
What you pay to borrow money for a car or truck is dictated by the annual percentage rate or APR. The higher the APR, the higher the interest you will pay over the life of your loan.
Maybe when you took out your five-year loan two years ago, you didn't have a great credit score. The lower the credit score, the higher interest you'll pay over the life of the loan and it could amount to thousands.
For example, the credit bureau Experian generalizes that you could finance your new auto at a 3.99% APR over 60 months if you have a good credit score. But with a poor one, you could pay 15.99% because you're considered a worse risk.
Using one of the many loan calculators online, you can do the math. If you borrowed $25,000 with the lower rate, you'd pay $460 per month for five years. At the higher APR, your vehicle would cost $608 per month.
So how much does that $25,000 loan cost you under each scenario? The person with good credit will pay $2,618 in interest over the life of the loan. The bad credit? That's $11,469 – a difference of almost $9,000.
Lower Monthly Payments
Maybe you've turned the corner with your credit score and it's now much higher than the day you bought the car. You can check in to qualify for a better interest rate, which would lower your monthly payment and the total interest paid.
Reviewing the amortization schedule on the calculator of Navy Federal Credit Union, you can see just what, as a borrower, you've paid at a 15.99% APR halfway through the loan. After 30 months, the remaining balance of the original loan is $14,950. But if you're able to swap that loan for a new 30-month, $14,950 loan at 7.99% interest, given your improved credit score, your monthly payments would fall to $551 and save you $57 per month. That's just over $1,700 in savings.
Reduce the Term of the Loan
It's also possible to refinance your auto loan to cut the number of monthly payments remaining. Your payment amount likely will go up – if you refinanced that $14,950 loan at 7.99% APR for 24 months, you'd pay $676 per month instead of the $608 per month in the 30 months left on your original loan. That would save you about $3,000 over the original loan with the new lower interest rates.
How To Refinance Your Auto Loan
One of the worst parts of the car-shopping experience is sitting in that small room, watching the finance manager run your credit and then crunch numbers to find out whether you qualify for a loan and how much you'll pay per month. It's nerve-wracking for sure.
But with refinancing, you're shopping for the loan – not the car – and you don't need to walk into the dealership to do it. You can test drive the financing at home and apply from one of your devices.
Several banks and credit unions – Capital One, Bank of America, Ally and Navy Federal Credit Union among them – offer auto refinancing. Typically, the bank will prequalify you, then show you the terms available before applying online.
The banks' websites provide you with other information, too, such as how much you could save by refinancing or whether you'll pay an application fee. Ally, for example, says its refinancing customers save $129 on an average monthly car payment and $2,526 in total interest. When it comes to monthly payments and interest, 74% of Ally customers save on both, per the Ally website.
Final Thought
If you're interested in refinancing, check the websites of several financial institutions, and also inquire at your bank branch about its rates. An improved credit score should give you better interest rates and put more money into your pocket. So will a shorter loan term in the end. Who doesn't want to save money?
More From GOBankingRates