$3.5 Million in Refund Checks Are Coming to These Student Loan Borrowers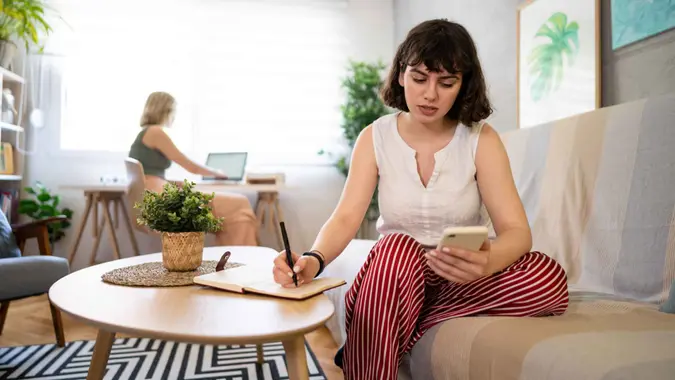 SrdjanPav / iStock.com
More than 7,100 student loan borrowers will receive $3.5 million in refund checks after a consumer protection agency said they were scammed by a student debt relief company in renegotiating, settling, reducing or altering the terms of their federal student loans.
On July 6, the Consumer Financial Protection Bureau (CFPB) said the checks will be sent in the mail, after Timemark Solutions — a student-debt-relief company — violated the Telemarketing Sales Rule, according to a statement.
Discover: All of the States That Will Pay Off Your Student Loans
Under the Telemarketing Sales Rule, it's illegal for a telemarketer to request or receive fees for debt-relief services before the consumer has made at least one payment using the new arrangement.
"From 2016 through October 2019, the company used telemarketing campaigns to convince people with federal student loans to pay up to $699 in fees to file paperwork to reduce or eliminate their monthly payments, through loan consolidation, forgiveness, or income-driven repayment plans," the CFPB said in the statement. "The U.S. Department of Education, however, offers these options to student loan borrowers for free."
The agency added that to market its student-loan debt-relief services, Timemark used two websites, timemarksolutions.com and loan-counselors.com, created and posted YouTube videos and placed Google Ads.
The CFPB said that payments would be sent on July 6 through Epiq Systems. If you do not receive a check and believe you are eligible for funds, you can submit a claim by visiting this page on the CFPB website.
Following the Supreme Court's 6-3 decision to strike down President Biden's student loan relief program, the Federal Trade Commission (FTC) issued a warning to borrowers, urging them about a surge in scams.
"If you have federal student loans, you've probably heard about the Supreme Court decision and know that repayments are restarting in October. But you might also be hearing from scammers who take advantage of confusion around big news like this," the FTC said in a statement. "Scammers are likely to start blasting out robocalls and texts about 'helping' you with your loans."
The FTC offered a few tips, including:
Never pay for help with your student loans.
Don't give away your Federal Student Aid ID login information.
Don't trust anyone who contacts you promising debt relief or loan forgiveness, even if they say they're affiliated with the Department of Education.
"Scammers try to look real, with official-looking names, seals, and logos. They promise special access to repayment plans or forgiveness options — which don't exist. If you're tempted, slow down, hang up, and log into your student loan account to review your options," the FTC added.
More From GOBankingRates