All the States With the Fewest Ways To Forgive Your Student Loans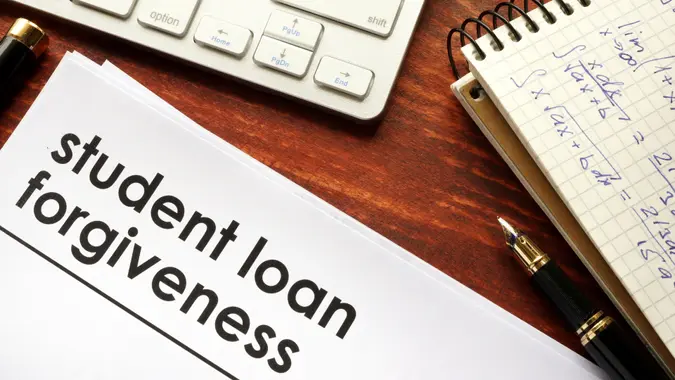 designer491 / Getty Images/iStockphoto
The U.S. Supreme Court is expected to rule this week on the legality of President Joe Biden's federal student loan forgiveness plan, which aims to forgive up to $20,000 per borrower. Most legal experts expect the court to rule against the plan, which means borrowers may soon have to repay their loans in full after a payment pause that first went into effect in March 2020.
"If they rule on the merits, I think there's more than a 50-50 chance that the court will rule against the Biden administration," student loan expert Mark Kantrowitz told CNET. "It really is an expansive reading of the law that goes beyond any precedent or established authority."
No matter what happens, the U.S. Department of Education has confirmed that interest on student loans will resume on Sept. 1, 2023, CNET reported, and payments will likely be due starting in October.
If the SCOTUS strikes down federal loan forgiveness, cash-strapped borrowers will have to investigate other debt relief alternatives. Among the options are to look at loan forgiveness programs at the state level.
As previously reported by GOBankingRates, all 50 states and the District of Columbia have at least one program available to forgive or reduce your student loan debt. Many of these programs are tied to jobs, meaning you can have your loan forgiven if you commit to a certain number of years working in fields such as education and healthcare.
Some states offer multiple forgiveness plans, including these five that offer five or more options: Georgia (five), Illinois (six), New Jersey (five), New York (10) and Texas (seven). If you live in Minnesota, you have no less than 17 different options to choose from.
On the other end of the spectrum, 19 states list only one forgiveness option. Of these states, eight rank among the worst states for paying off student debt based on factors such as employment opportunities, average income and cost of living, CNBC reported. These states often have among the highest student loan default rates as well.
Here's a look at eight states with both the fewest options to forgive your student loans and the biggest risk of default without relief.
Arkansas: Its one forgiveness option is the State Teacher Education Program (STEP), which offers yearly loan repayment grants to current educators teaching in a subject or geographic shortage area in an Arkansas public school. Arkansas was rated the second-worst state for paying off student debt.
Delaware: Its one option is a State Loan Repayment Program (SLRP) that provides financial assistance up to $100,000 for verifiable educational loans to qualified dental, behavioral/mental health and primary care professionals for meeting certain work requirements. Delaware was rated the fourth-worst state for paying off student debt.
Indiana: Its one SLRP is a workforce retention program that provides student loan repayment to health professionals at practices located in federally designated health professional shortage areas (HPSAs). Indiana was rated the 10th-worst state for paying off student debt.
Kentucky: With its SLRP, participants receive tax-free student loan repayment in exchange for service commitments. Kentucky was rated the seventh-worst state for paying off student debt.
Louisiana: Its one option is an SLRP for healthcare professionals serving in HPSAs across the state that repays government or commercial educational loans to people who serve in rural and underserved areas. Louisiana was rated the sixth-worst state for paying off student debt.
Michigan: Its one option is the Michigan State Loan Repayment Program (MSLRP), which helps employers recruit and retain primary medical, dental and mental healthcare providers by providing loan repayment to those entering into service obligations. Michigan was rated the eighth-worst state for paying off student debt.
Mississippi: Its only forgiveness option is the Winter-Reed Teacher Loan Repayment program, which helps new traditional route teachers repay their undergraduate student loans. Mississippi was rated the worst state for paying off student debt.
West Virginia: Its one option is the West Virginia State Loan Repayment Program, which helps medical professionals pay off education debt. West Virginia was rated the third-worst state for paying off student debt.
More From GOBankingRates