Can You Have More Than One Student Loan Cosigner? Experts Weigh In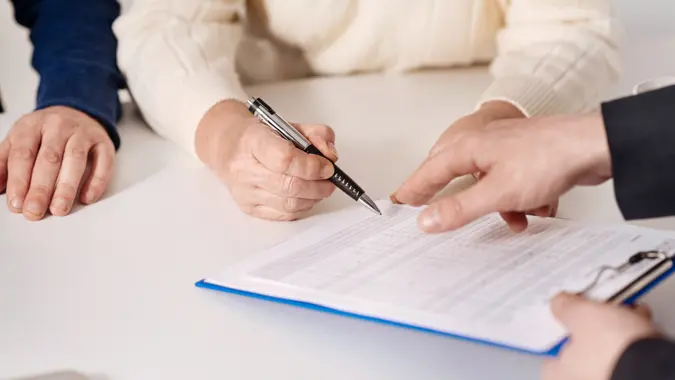 Zinkevych / Getty Images/iStockphoto
If you're a student or the parent of someone pursuing higher education, the thought of paying for college is never far from mind. How will you or your child come up with enough money to fulfill that longstanding educational dream?
After scholarships, grants and earnings from jobs, students generally turn to federally backed student loans through the U.S. Department of Education. Once you fill out the application for federal student aid, you'll find out how much you or your child can receive via a federal student loan to pay for college.
But what if it isn't enough? Many students and families turn to private student loans that are offered through banks, credit unions or other lenders. They might need some help in the form of a cosigner. Or two.
Private Loan Basics
Federal loans, with their government backing, do not require you to prove your creditworthiness. Private student loans, however, resemble personal loans, such as those used to buy cars — and you'll need to show you can pay back the money.
Applying for a private student loan requires a check of a student's credit history. Because many young adults have limited experience with credit, they might not qualify for loans. That's where a cosigner becomes necessary.
A cosigner will take responsibility, along with the student, for repaying the loan. It's a legally binding agreement stating that the cosigner is willing to share the responsibility of repaying the loan on time and in full. A cosigner may commit to guaranteeing a loan for either undergraduate studies or a graduate degree.
Cosigners do not have to be parents. In fact, Sallie Mae, a bank that has private student loans among its offerings, reported that 28% of those who cosigned for the bank's Smart Option Student Loan product were people aside from parents. Options for cosigners often include guardians, other relatives, spouses or even friends.
But they can't be on the same loan. Even if both Grandma Betty and Grandpa Bill want to help with your education, only one of them can.
"Only one person can cosign for a private student loan," said Todd Stearn, the founder and CEO of The Money Manual. "The reason is your cosigner is responsible for repayment of the full loan amount if you can't pay it back. The lenders don't want any confusion about who ultimately must repay the loan.
"Now, if your goal is to get a better rate, you can submit separate loan applications with different cosigners to see which results in the best rate for your student loan."
How To Use Multiple Cosigners
Although you can have only one cosigner per loan, that doesn't mean you can't have two private loans with two different cosigners.
If you need a $10,000 loan, for example, Grandma Betty and Grandpa Bill each could cosign on a separate $5,000 loan. Both grandparents can assist you that way, and it reduces their liability in case you default.
"Cosigners play a vital role in helping students qualify for loans, often helping secure lower interest rates," said Sammie Ellard-King, a personal finance advisor and founder of Up the Gains. "Their creditworthiness provides a safety net for the lender, making it easier for the student to access necessary funds. However, it's a serious commitment. If the student fails to make the loan repayments, the cosigner is legally obligated to step in. This means a missed payment could negatively affect the cosigner's credit score."
Ellard-King said a private loan shouldn't be the first choice, even with a cosigner. "Students should exhaust federal student loan options first, as these do not require a cosigner and often have more flexible repayment terms."
Releasing Cosigners From Loans
At some point during the life of the loan, you could release your cosigner from the obligation.
Sallie Mae said some lenders will allow borrowers to apply to remove cosigners from their loans. To get approval for that, you likely will be out of school, have made on-time payments and have built up a suitable credit history.
Final Thoughts
Any questions about student loans? The financial aid office at your prospective or current school is the best place to start, according to the Consumer Financial Protection Bureau.
A financial aid officer can arm you with information about aid programs at the campus, as well as both federal and private student aid options. You also could receive an estimate of how much financial aid the school will offer to give you a full picture of the financial cost of college.
The CFPB said the financial aid office might have a list of possible lenders, but you aren't required to stick just with that list. Shop around with your personal bank or credit union to compare terms, as well as other lenders you find, if you need a private student loan.
More From GOBankingRates