Gen Z Is Delaying Purchasing These 3 Things — and It's Because of Student Loans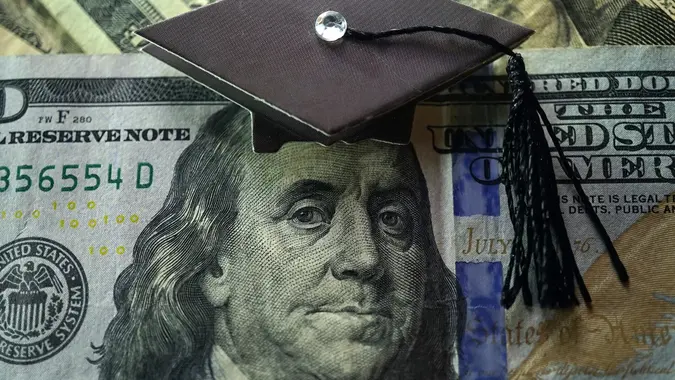 Kameleon007 / iStock.com
With the student loan pause ending in October, a large portion of Gen Z will have to resume paying off their student loans.
What does this mean to Gen Z? It may mean that they will have to delay making big purchases like cars, houses and even pricey weddings. Here's a closer look at how the resumption of student loan payments can affect this generation's finances.
Key Statistics
According to a recent survey conducted by ScholarshipOwl, 46% of Gen Z are planning to delay buying a car to pay off student debt. In addition, 25% are planning to hold off on marriage for the time being and 50% plan to delay buying a home.
These are big-ticket items that can drastically change a person's life. These milestones are essential to personal growth and wealth building — and a large portion of Gen Z is putting off these purchases.
Gen Z is saddled by debt, and though the student loan pause provided some relief, it will not be easy for Gen Z moving forward.
Why Is Gen Z Struggling?
Years ago, when college was priced more reasonably than it is today, people could feasibly earn a living off of a single income and make payments on cars and homes. The times have changed, and it is harder than ever for Gen Z to establish themselves in an inflated economy.
"Gen Z is basically walking on a financial tightrope right now," said Taylor Kovar, CEO of Kovar Wealth Management. "They're having to carefully balance between starting careers, often with reduced salaries, and the heavy weight of student loan payments."
In the coming fall, it will be even more difficult for Gen Z to balance paying off student loans and beginning their careers.
What Should Gen Z Do?
Once payments resume, Gen Z will need to manage their budgets accordingly.
"They will need to readjust their budgets, often reducing discretionary spending or savings," Kovar said.
Many members of Gen Z will cut back on their entertainment budget. Some will opt out of streaming services. Maybe they will skip their morning coffee and invest in a coffee machine. The key is to get the loans paid off as quickly as possible, even if that means slashing the budget in other areas.
Though resuming the repayment of loans this fall may seem like a huge setback for Gen Z, paying off the loans will free up their budget. Once fully repaid, Gen Z can focus on buying their dream car or dream house.
More From GOBankingRates