Experts: How You Can Build an Emergency Fund While Paying Student Loans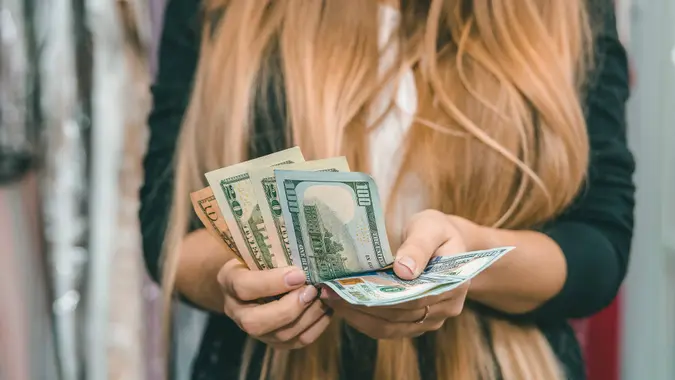 alfexe / Getty Images/iStockphoto
As millions of borrowers prepare to resume federal student loan payments this October, some may question how they can financially manage this monthly payment and work on building an emergency fund at the same time. 
The good news is you can do both. Chris Cohen, chief innovation officer at Kasasa, spoke to GOBankingRates about steps you can start taking now to balance student debt while creating an emergency fund. Follow this simple formula to reach your emergency fund savings goal.
Evaluate Your Income, Expenses and Debt Obligations
Take a moment to review your current income, expenses and debt obligations, including any student loan payments. After doing this, Cohen said, you can determine a realistic amount of money to put aside for an emergency fund after each pay period.
Most emergency funds are designed to include three to six months' worth of living expenses. Cohen said you can create a budget using this goal as a framework. As you start to budget accordingly, keep an eye out for any unnecessary expenditures. Instead of spending this money on things you may not need, put it towards your fund as a cushion.
Set Up Auto Transfers
After creating an emergency fund specific budget, you can begin setting up automatic transfers to your savings account.
To help build your emergency fund, Cohen recommends conducting an audit of your existing savings or checking accounts. Do some research to determine which account works best for you and your financial situation and where you can find the highest rate of return.
Prioritize Paying Off High-Interest Debt First
If you have any high-interest debt, like credit cards, focus on paying down this debt first. Doing so, Cohen said, means you can save more effectively and allocate more money toward your student loan statements and emergency fund.
Increase Your Income
Do you have any hobbies or interests you can monetize? If you do, Cohen said you may consider working a paid side hustle or part-time job. The money earned through this side gig can be put towards your emergency fund and allows you to increase your income while engaging in a passion project you naturally enjoy.
Save Unexpected Money
Did you recently receive some money you were not expecting, like a bonus at work or a tax refund? Instead of spending this money, Cohen recommends putting it towards boosting your emergency fund.
Avoid Lifestyle Creep
One of Cohen's best pieces of advice for those who want to pay off their student loans and save for an emergency fund is to avoid lifestyle creep.
Lifestyle creep is defined as spending that increases when your income rises. For example, you may feel like you should move to a new apartment even though you like your current place, because the new apartment is in a nicer neighborhood or offers luxury amenities. The best possible thing to do is to resist this urge and put any excess money towards reaching your financial goals, both short- and long-term.
To do this, Cohen recommends visualizing your future self. What do you want your life to look like at certain milestones?
"Consider what it will take to achieve this and set your financial goals to make this a reality," said Cohen. "Be flexible and kind to yourself along the way."
Continue Reviewing Your Budget
Even after creating a budget that allows you to save for an emergency fund, you can keep returning to it for additional reviews. Keep looking for more opportunities where you can save and find other cost-effective alternatives to your purchases.
More From GOBankingRates