I Come From a Wealthy Family: Why I Still Had To Take Out Student Loans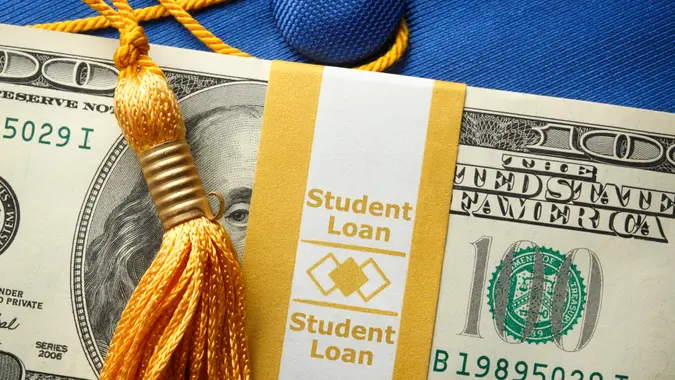 DNY59 / Getty Images/iStockphoto
Growing up in a well-heeled family has its perks, but a lifetime of free educational expenses isn't necessarily one of them. It's easy to assume kids from affluent families graduate from school with zero debt. While this is the case in many families, it certainly isn't a given for everyone.
Even the Wealthy Sometimes Need Student Loans
Gene Caballero, co-founder at lawn service app GreenPal, was raised with money, but he still funded part of his education with student loans. "While I was fortunate growing up, with my dad owning the largest propeller factory in South America, my financial journey had its unique twists and turns, and I learned a lot of lessons about money," he said.
The value of hard work and self-reliance were among the financial lessons his businessman father taught him.
"He committed to covering every expense through my undergraduate years," he said. "But there was an implicit understanding — for further education or other endeavors, I would take the financial responsibility."
A major life lesson, he said embracing this challenge taught him the importance of autonomy and financial discipline. "I took out $25,000 in student loans," he said. "To some, it might not sound substantial, but for me, it was a significant investment in my future, as my first base salary was only $28,000."
If he had to go back and do it again, he said he would've taken some time before diving back into school.
"Gaining more real-world experience before returning to academia would have been invaluable," he said. "But lessons learned shape our journeys."
Paying Down the Debt
After landing his first corporate sales job, Caballero got to work paying down his student debt. "Within two years, I wiped out the entire amount," he said. "It required sacrifice, but it was a commitment I had made to myself, and I stuck to it."
Ultimately, he said taking out student loans was a valuable learning experience.
"Facing these financial challenges not only deepened my understanding of money, but also instilled an entrepreneurial spirit that later became instrumental in building GreenPal," he said.
The Price To Pave His Own Path
As the first son in a wealthy family, Akash Karia, a keynote speaker, high performance coach and best-selling author, was born with a sense of responsibility and expectations.
"While I acknowledge the privileges that come with it, I often felt like I was not living for myself," he said. "My dad would always tell me that I have to carry on the family legacy."
His father inherited a massive business from his own father, so it was assumed Karia would take the reins one day — despite having zero interest in that path.
"For the first time in my life, I wanted to live for myself, I wanted something different for myself, and it caused quite a stir," he said. "My family wanted me to have a degree in business management, but I really wanted to study arts."
He decided to go against their wishes, so they cut him off, thinking he would change his mind when he ran out of money. "It was at this point I had to take a student loan to finance my education and get through school," he said.
In total, he borrowed about $9,200 in student loans.
"I was able to pay everything off exactly one and a half years later, and I did it independently," he said.
Paying for College
Whether students come from wealthy families or not, college isn't cheap.
In total, families spent an average of $28,026 on college last year, according to a 2023 survey conducted by Sallie Mae and Ipsos. Half — 50% — of those costs were paid with family income and 29% by scholarships and grants.
Even when student loans are taken out, there's often confusion over who will pay them. More than half — 61% — of families who borrowed always planned to do so, but only 44% of discussed who would be responsible for the student loan repayment.
This conversation is a must-have, because repaying student loans is a major financial commitment.
As of the 2021-22 school year, the average cost of tuition at a public, four-year college was $9,700 per year, according to the National Center for Education Statistics. Substantially more, private nonprofit institutions average $38,800 per year.
Clearly, it's important for all families — including those with wealth — to have an open dialogue about college finances. This includes how much the family will be willing to cover, if anything, and if any strings are attached to the financial assistance — i.e., declaring a certain major or working for the family business upon graduation.
When everyone is on the same page from the start, the student is able to know exactly where they stand and plan accordingly.
More From GOBankingRates