I'm a Millennial With Student Loans, and I Don't Want Student Loan Forgiveness: Here's Why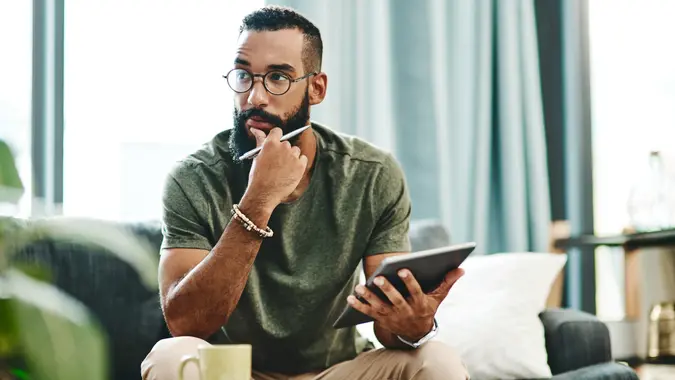 katleho Seisa / Getty Images
By the end of June 2023, the Supreme Court will have made its decision on the Biden administration's student loan forgiveness plan.
Millions of student loan borrowers, especially the millennial generation, struggle with student loan debt. While many are in favor of full student loan forgiveness, others are not even as they juggle debt of their own. GOBankingRates spoke with two millennial borrowers to find out why they do not want student loan forgiveness — and their reasons might surprise you.
Here's why these two millennials with student loans don't want student loan forgiveness.
"It is my decision to take on this debt and my responsibility to pay it back."
In May 2020, Neil Gallagher graduated from his undergrad university without student loans. Gallagher previously served in the Marine Corps Reserve and used a partial G.I. Bill along with money earned working a full-time job and several side hustles to graduate without any student debt. 
Gallagher hopes to start law school next fall and plans to take out a sizable loan. However, he does not expect anyone else to pay for his education. 
"It is my decision to take on this debt and therefore it is my responsibility to pay it back," Gallagher said. "Just as I would not feel right having someone else pay my debt, I wouldn't want my money going to pay others' debts."
Gallagher, who is the vice president and co-founder of Brighterway Solar, said he feels student loans and universities can be predatory on prospective students who should be better educated on financial literacy. One example Gallagher uses is reevaluating unsubsidized loans and looking at the amortization schedule to find a solution.
"I don't believe they should be able to offer loans that begin gaining interest while the student is still studying," Gallagher said. 
And More: Will You Need to Begin Paying Your Loans Now?
"Biden's executive order only addresses some of the symptoms of student loans. It doesn't address the problems."
Hunter Garnett has about $8,700 in student loans from his last year of law school. Garnett, who is a personal injury lawyer at Garnett Patterson Injury Lawyers, went to college and graduate school for seven years. 
Cost was the most important factor to Garnett when he was choosing a major, university and law school. He said he chose to study agricultural economics at Mississippi State and law at Cumberland School of Law in Birmingham, Alabama, because of scholarship money.
The reason Garnett doesn't want student loan forgiveness is because he said Biden's executive order only addresses some student loan symptoms and not the problems.
"One of the problems is colleges are not properly incentivized to educate students about loans, help students choose majors or help students find gainful employment," Garnett said. 
What needs to happen, in Garnett's opinion, is colleges need some skin in the game. 
"Colleges should be co-signers on student loans. That would encourage colleges to educate students about loans and push students towards solid careers," Garnett said. "I'd like to see loan forgiveness legislation that overhauls the entire system to address the absurd cost of college. Unless that happens, we will be in the same situation again in ten years except worse."
Student Loans: Reaching a Good Middle Ground
While Gallagher and Garnett are both committed to paying off their student debt, they agree it's possible for student loan forgiveness to reach a good middle ground. 
Gallagher believes one available opportunity is loan forgiveness for public service. "If the student agrees to a term of public service, like the military, medical or teaching, then a portion or all of their loans could be forgiven."
Garnett said he would like to see some student debt forgiven because most debtors are ages 18 to 22 years old when they decide to take on student debt. "I'd like to see more undergraduate debt forgiven and less graduate debt."
More From GOBankingRates