6 Myths About Paying Back Your Student Loans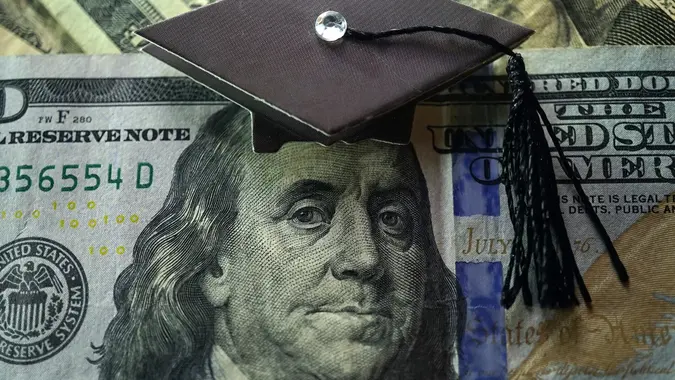 Kameleon007 / iStock.com
Student loans account for 96% of education debt in the U.S. As people look for ways out of this debt — especially those with high debt amounts — pervasive and damaging student loan myths can emerge.
In this article, GOBankingRates spoke to Caroline Diarte Edwards, co-founder of Fortuna Admissions and gatekeeper to the world's best business schools. She shares the most common myths she encounters with student borrowers below.
Myth No. 1: You don't have to start repaying your student loans until you graduate. 
This is only true for federal student loans. Private student loans, on the other hand, do not offer the same in-school deferment period as federal loans. Some private lenders may allow interest-only payments while enrolled, but full repayment generally begins right after graduation. Ensure to cross-check the specific terms of any private loans you take out, as you may be required to begin repayment sooner than you expect. 
Myth No. 2: You can get out of paying your student loans if you declare bankruptcy.
While bankruptcy can discharge certain types of student loan debt, getting rid of your student loans through bankruptcy is exceptionally rare. Federal and private student loans are both hard to clear through bankruptcy, but private student loans are the least likely to be discharged. Only about 0.5% of student loan borrowers have succeeded, so don't count on it.
Myth No. 3: You can get student loan forgiveness if you work in public service. 
There are several student loan forgiveness programs available, but they have eligibility requirements that you need to meet — it's not an automatic reward for all public service workers as commonly believed. For example, the Public Service Loan Forgiveness (PSLF) program requires you to work full time for a qualifying employer for 10 years and make 120 qualifying monthly payments. So, your public service job alone will not forgive your student loans.
Myth No. 4: The interest rate on your student loans is fixed.
This is not always the case. The interest rate on your student loans can be fixed or variable. A fixed interest rate means that the interest rate on your student loans will stay the same for the life of the loan. A variable interest rate means that the interest rate will change over time based on market conditions.
Federal student loans usually have fixed interest rates, but private student loans often have variable rates, so check your loan terms to understand which type you have. If you're considering lenders, compare current rates and projections of where rates are headed. Your loan type plays a major role in determining just how "fixed" your interest rate is.
Myth No. 5: You can't refinance your private student loans. 
Refinancing is an effective way to take control of your private student loan repayment. By refinancing, you can lock in a significantly lower interest rate and reduce your monthly payments. 
You can, in fact, refinance your private student loans, but you'll have to meet some eligibility requirements. Refinancing is a major advantage private loans have over federal loans. Take the time to compare offers from multiple private lenders to ensure you get the best deal. Weigh the pros and cons, as you can lose certain federal protections with refinancing.
Myth No. 6: Private student loans have lower interest rates than federal student loans.
This is not always the case, as interest rates on private student loans can be higher than interest rates on federal student loans. But, private student loans can offer benefits that give you the chance to defer payments or get a co-signer. 
However, federal loans typically have more favorable terms and conditions than private loans. This means that they generally have lower interest rates, longer repayment terms and more flexible deferment and forbearance options. You do not need a credit check for most federal student loans (except for PLUS loans), which means that you can get a loan even if you have bad credit. Federal student loans can help you build a good credit history, which can be helpful in the future when you apply for other loans or credit cards. Private student loans may require an established credit history, so if you don't have one, you may have a hard time getting approved for a private loan. The cost of a private student loan will depend on your credit score and other factors, so it's important to shop around and compare offers before you choose a lender.
More From GOBankingRates