Quarter of Student Loan Borrowers Will Need To Dip Into Savings To Make Payments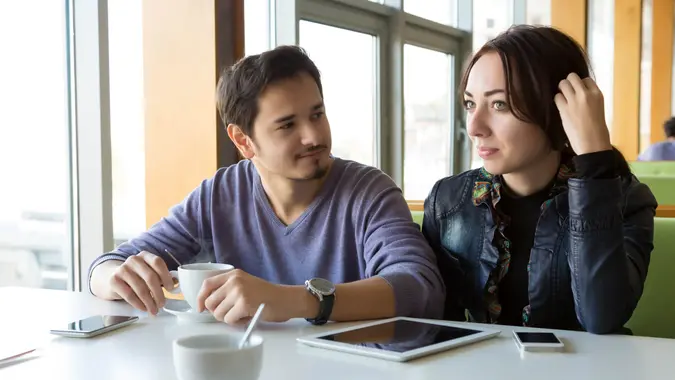 ©Shutterstock.com
On June 29th, 2023, the United States Supreme Court ruled against letting President Biden fulfill his promise of student loan forgiveness under the Biden-Harris administration's Student Debt Relief Plan. It's estimated that 40 million borrowers would have been eligible for student loan forgiveness of up to $20,000, dependent upon income and financing that was borrowed.
A recent GOBankingRates survey found that 25% of student loan borrowers will need to dip into savings to make payments. With inflation and current job market conditions, savings are more crucial now than ever before. Yet, student loan payments resuming may reverse borrowers' security when it comes to their finances. 
Experts Aren't Shocked
Jack Wang, a college financial aid advisor from Innovative Advisory Group, isn't shocked by this survey result. He's also not surprised. "There is much anecdotal evidence that when loan payments were paused, people spent that money on other things instead of building savings."
This is true. While some may have spent it on frivolous items, others took this time to purchase a new home, buy a new car or give into overall lifestyle inflation some other way. 
Tiffany Grant, MBA, AFC, SHRM-CP and financial wellness curator at Money Talk With Tiff, isn't shocked either and is in the same boat as many others. "I also have student loans, and after three years of not having to make payments, they're no longer factored in my budget. It's true for others as well." She expresses that others like her must adjust their budget or lifestyle since their expenses may have changed over the past three years. 
Mixed Feelings About Student Loan Payments
One of our survey's most interesting findings was the participants' mixed responses regarding their thoughts on student loan repayment affecting our economy. Nearly 60% of those surveyed with current student loans feel that the resuming of payments will affect the economy negatively compared to just 51.42% of those who do not carry this type of debt.
Both Wang and Grant agree that it's hard to envision or feel something when it's not directly affecting them, hence why less of those without student loans debt would think it will affect the economy negatively. This leads to disregarding the experiences of others and how hard it will be for them to make these payments.
"Economically speaking, paying off student loans means less money circulating, which could reduce prices as the demand for goods and services decreases," Grant explains. It can also negatively impact the market and economy if people cannot pay their bills or other loans. Time will eventually tell if it's a positive or negative impact. 
How Can Student Loan Borrowers Make Payments Without Dipping Into Savings? 
Affording any bill or debt (including student loans) is about your cash flow. It's considered a positive cash flow if your income covers your expenses. If your income falls short, then it's a negative one. There are a few ways to align your cash flow to cover your student loan payments.
If a student loan payment is more than you can afford, look for student loan repayment options already available. "Consider strategies such as changing repayment plans or refinancing to lower monthly payments," Wang advises. While this will add a few years to your debt repayment, you must ensure you can still provide for everyday things, like housing and transportation.
Grant adds that other strategies to tackle your student loan payments include cutting back on unnecessary expenses, working additional hours or taking up a side hustle. Side hustles can include driving for a ride-share, shopping for groceries for others, or pet-sitting. You can also do side gigs from home, and some you may have never even considered. 
Practicing better money management, being realistic about how much money you can afford to pay per month, and creating additional income are all ways to pay back your student loans without dipping into your savings account. Of course, that's all easier said than done, so you have to have the fortitude to make it happen.
More From GOBankingRates