Student Loan Debt: Throngs of Americans Have Started Making Payments — Here's How Much They're Saving in Interest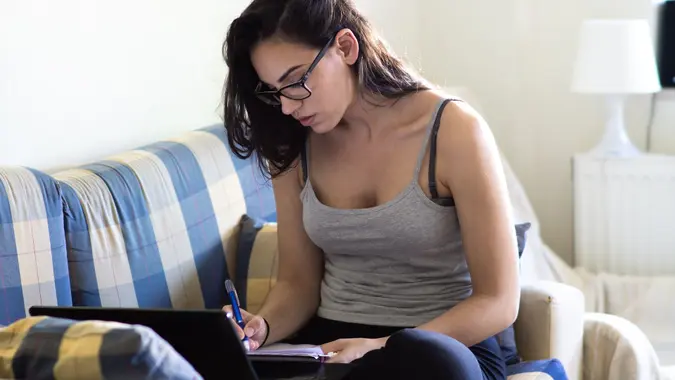 Yannis Sfetkos / iStock.com
It seems that some federal student loan borrowers have gotten an early start on the resumption of payments following a three-and-a-half year pause that began early on in the COVID-19 pandemic. Although payments don't officially resume until Oct. 1, the U.S. Treasury Department has seen an uptick in deposits from the Department of Education.
As MarketWatch reported, Education Department deposits during the final week of August were "blowing past" the usual deposit rate during the pandemic, according to a recent note from Bank of America. Deposits in August alone surpassed $6 million — much higher than the $1.2 billion average over the last year.
Those deposits aren't only from student-loan payments, but Bank of America researchers said loan payments are "the main driver of the uptick in payments in August" and added that "student-loan payments have already begun in earnest."
Goldman Sachs analysts noticed a similar pattern, citing a "surprising jump in payments" in a recent report.
The Education Department hasn't commented on the increase. However, the most likely reason some borrowers began making payments in August was so they could pay down principal before interest began accruing in September, according to Goldman Sachs.
In other cases, borrowers have refinanced their federal loans with private lenders to score better interest rates and/or repayment terms, Bank of America researchers noted. In a refinance, the federal loan balance is paid in full by the private lender, which then takes over the account.
Refinancing works best for borrowers with good credit scores and steady income because they can get the best rates and terms. However, some private lenders offer discounts on student loan interest rates if you meet certain criteria.
As previously reported by GOBankingRates, here are four student loan interest-rate discounts that can help lower your monthly payments:
Automatic Payment Discounts. Borrowers can cut 0.25% off their federal direct loans by signing up for autopay, according to Money Crashers. However, many private lenders match or exceed this discount — including PNC, which offers a 0.50% discount for automated payment if you meet certain conditions.
Loyalty Discounts. You might get an interest-rate discount at your bank if you have an active checking or savings account. At Citizens Bank, for example, student loan borrowers will be eligible for a 0.25 percentage point interest-rate reduction on their loan if the borrower or cosigner has a qualifying account at the bank.
On-Time Graduation Discount: As College Raptor noted, graduating from college within the stipulated time frame might qualify you for a private student loan discount. The reason is that borrowers who graduate on time are less likely to default on their loans. Students who qualify could get a 1% or 2% reduction on the loan.
On-Time Payment Discounts. Some lenders offer rate discounts when you pay your loans on time over the course of a few years.
More From GOBankingRates