I'm a Student Loan Expert: 5 Reasons You Might Be Denied Loan Forgiveness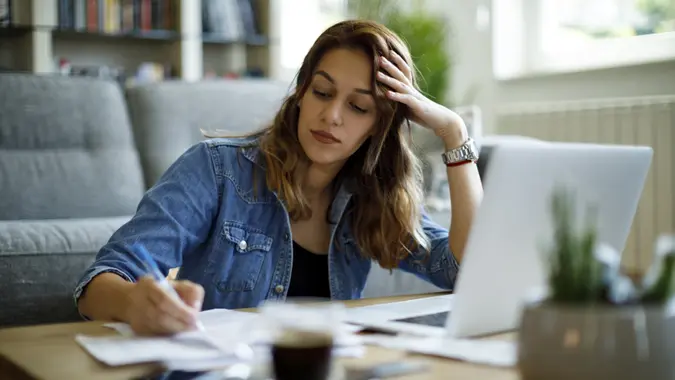 damircudic / Getty Images
In October, student loan repayments resumed after years of being paused in wake of the pandemic. Consequently, for millions of Americans, the pressure to pay down their student loan debt is back with a vengeance.
For many, the amount owed on this debt is hardly chump change. According to the Department of Education, as of June 2023, the average student loan debt for federal loans was roughly $37,650.
To help lessen or eliminate these payments, many of the indebted are flocking to apply for student loan forgiveness. Various professionals may qualify for some degree of debt cancellation, including teachers, government employees and people with an eligible disability, to name some examples.
It can't hurt to try to get student loan forgiveness, but keep in mind that there are several reasons why you may be denied. To get a comprehensive understanding of the reasons for rejection, GOBankingRates consulted with student loan experts. We also looked at potential ways to get around these obstacles that can result in denial.
Incomplete or Inaccurate Paperwork 
Tony Aguilar, founder and CEO of Chipper, an app that helps borrowers lower their monthly payments and get loan forgiveness, told us that one out of every four applicants is denied forgiveness. "Before the Public Service Loan Forgiveness (PSLF) program was overhauled in the last two years, only 2.7% of applicants were approved for PSLF," he said.  
Unfortunately, one of the principal reasons behind denial of forgiveness came down to something that could have possibly been avoided: inaccurate or incomplete paperwork. 
"The process of enrolling in forgiveness program applications requires meticulous attention to detail," Aguilar said. "Errors, even as minor as spelling mistakes, can cause rejections. For PSLF for example, borrowers must thoroughly fill out an Employer Certification Form (ECF) with all of their previous employers, their Federal Employer Identification Numbers, tax status, and other details. It also requires getting a signature by an 'authorized official' of each organization, which can be a challenge."
If you're looking to have your student loan forgiven, embark on the application process immediately and, if able, leverage resources to handle the ECF submissions and collect signatures from your employer on your behalf, per Aguilar's recommendation.
Incorrect Loan Type
Only federal direct loans are eligible for forgiveness programs. This is important to know. If you do not have this type of loan, it will not be forgiven.
"If a borrower has Federal Family Education Loans (FFEL) program loans, they most likely won't be able to qualify for some federal student loan relief programs unless they consolidate into a Direct Consolidation Loan," Aguilar said. "The FFEL Program includes Subsidized Federal Stafford Loans, Unsubsidized Federal Stafford Loans, Federal PLUS Loans (also known as FFEL PLUS Loans), and Federal Consolidation Loans (also known as FFEL Consolidation Loans)." 
Note though that some borrowers can obtain an income-driven repayment (IDR) waiver. "[This] provides a unique opportunity for borrowers to receive credit for past payments that would not typically qualify for other forgiveness programs. However, this waiver has a firm deadline of December 31, 2023 and is only strictly for direct loans and new loans."
Insufficient Payments History
How much you've already contributed to paying off your student loans matters — a lot. 
"Borrowers must make 120 payments at a qualifying employer (the equivalent of 10 years) to be eligible for forgiveness," Aguilar said. "Borrowers can check their eligibility by using online calculators to verify eligibility, track progress and apply for forgiveness."
Working Part Time 
If you're not working full-time, you may get denied for student loan forgiveness. But this doesn't necessarily mean you have to work a full 40 hours a week. 
"The 'full-time definition' for qualifying for forgiveness is somewhat flexible," Aguilar said. "A borrower must meet their employer's definition of 'full-time,' or work at least 30 hours per week, whichever is greater."
Being a Contracted Employee for a Nonprofit 
If you work for a nonprofit organization, you may qualify for student loan forgiveness. But there is a caveat — you can't be a contracted worker. 
"We see this a lot with healthcare workers," said Joseph Reinke, CFA, FitBUX. "For example, Kaiser is a nonprofit hospital; however, their DPTs, OTs, etc., do not qualify for PSLF because they technically work for a for-profit entity that is contracted with Kaiser."
More From GOBankingRates