Student Loan Forgiveness: 53% of Borrowers Say Future Financial Stability Rides on the $10,000 Reprieve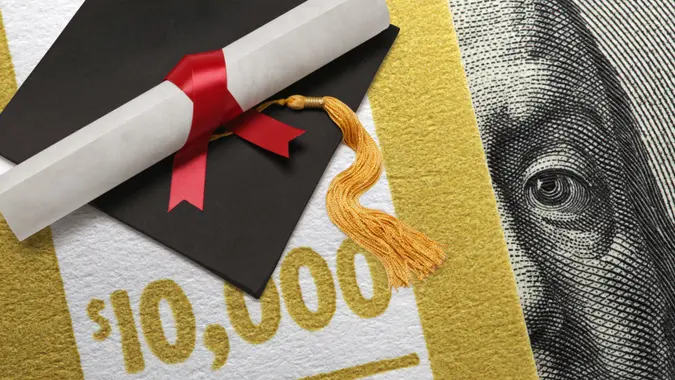 DNY59 / Getty Images/iStockphoto
The fate of millions of student loan borrowers hangs in the balance as the Supreme Court will hear arguments concerning President Joe Biden's debt relief program at the end of the month. Meanwhile, 53% of consumers with outstanding federal student loans said their financial stability depends on their student loans being forgiven, according to a study conducted by Qualtrics on behalf of Credit Karma.
Student Loan Forgiveness: Republican Lawmakers Petition Supreme Court To Stop Biden's 'Political Gambit'
Student Loan Forgiveness: Biden Administration Makes It Easier for Those Misled by Schools to Have Debt Erased
In addition, the study noted that 56% of respondents said their financial stability is dependent on not having to make payments as long as the forbearance period remains intact.
Borrowers are not only faced with student loans, but also have to deal with stubborn inflation as well as rising interest rates. Indeed, in January, the consumer price index (CPI) decreased just 0.1% to 6.4% on an annual basis, which was higher than anticipated, as GOBankingRates previously reported.
In turn, the study found that 26% of borrowers said they weren't able to save any money — even while federal student loan payments are paused.
Facing multiple lawsuits and injunctions, the Biden administration announced that the student loan payment pause, which was set to end Dec. 31, 2022, will be extended to the end of June 2023, as it awaits the Supreme Court's review of the program. Payments would resume 60 days after that. Said timeline could be abbreviated under a number of circumstances, however.
"Federal student loan payment relief has served as a financial lifeline for millions of Americans who have grappled with a lot of uncertainty over these last three years. With payments set to resume this summer, or potentially sooner, borrowers should start budgeting now," Courtney Alev, consumer financial advocate at Credit Karma, stated in a Feb. 8 press release.
Alev recommended looking back at the past six months and determining how much you now need monthly for necessities such as groceries, rent and utilities.
"Then, factor in your student loan payments and other bills such as your car payment," Alev added. "You may need to reallocate funds and dial back in your 'wants' category until inflation trends down, you make headway on your student loans and eliminate or reduce payments, or your income increases."
Take Our Poll: What Are Your Financial Priorities in 2023?
More: Student Loans: What Happens If You Stop Paying?
According to White House data, 26.3 million student loan borrowers have applied or were deemed automatically eligible for relief under the forgiveness program, and there are 16.5 million fully approved applications sent to loan servicers for discharge.
More From GOBankingRates