Student Loan Forgiveness: Dems Want Accused Colleges To Foot Bill, Not Taxpayers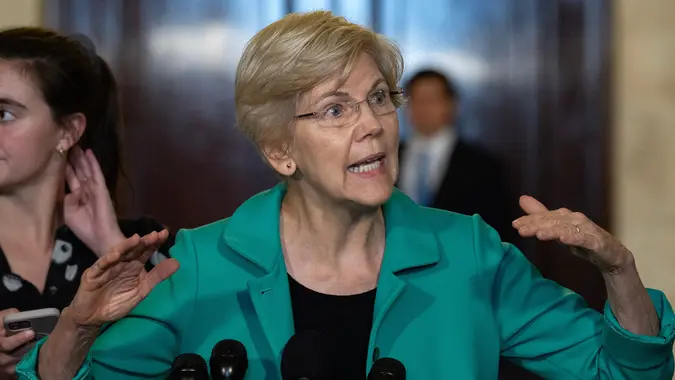 ©Shutterstock.com
Over the past few years, thousands of student loan borrowers defrauded by the universities they attended have seen significant student loan forgiveness.
So far, a total of $109 million in debt was forgiven for 3,500 student loan borrowers after they were "cheated'" by their schools, according to Business Insider. In fact, the Education Department reported that as of October 30, 2023, a collective $22.5 billion in student loan relief was granted to more than 1.3 million borrowers cheated by many different schools.
Which Schools Are In Question?
Students who attended Ashford University and the University of Phoenix received student loan relief after the Education Department accused the two schools of defrauding students. Now, top Democrats in Congress, like Sen. Elizabeth Warren (D-Mass.), want relief for taxpayers, too. They're requesting that the Education Department recoup the $109 million in relief funds from these two institutions in order to provide relief to taxpayers who have to shoulder the cost.
Recently, Rep. Rosa DeLauro (D-Conn.) and Sen. Dick Durbin (D-Ill.) led a group of Democrats including Warren and sent a letter to the Biden Administration-appointed Education Secretary Miguel Cardona. They requested that the department get the relief funds from these two for-profit schools that were accused of fraud. According to the Education Department, this included $37 million in relief for 1,200 borrowers who were "deceived" by the University of Phoenix, and another $72 million for 2,300 borrowers "cheated" by Ashford University.
Lawmakers Are in Support of Forgiveness for Defrauded Borrowers
These lawmakers indeed support the loan relief for said borrowers, but they want to see those schools held accountable and ultimately pay up.
"Today, we are urging @usedgov (the U.S. Education of Department) to recoup funds to send a strong warning signal to other predatory for-profit colleges that there are serious repercussions for defrauding students," said Durbin on X (formerly Twitter) in a Nov. 6 post.
In addition, lawmakers want to see access to borrower defense repayment for more borrowers who were cheated by both universities in question. But, with the stipulation that these schools are on the hook for money.
Also, they're asking the Education Department to review whether Ashford or University of Phoenix should even remain eligible for federal student aid at all — their federal aid for the 2021-22 school year was $183 million and $616 million, respectively. These sums accounted for 64% and 79% of the schools' total revenues.
James Kvaal, the current Under Secretary for the Department of Education, said "Congress gave the Department the authority to make college owners and operators personally responsible for these losses in certain circumstances and we are going to use that authority to hold them accountable, defend vulnerable students, protect taxpayer dollars, and deter future risky behavior."
Last year, the Education Department pursued DeVry University to recoup the $24 million that it allegedly defrauded borrowers. DeVry sued the Education Department to block these efforts, which has delayed any repayment required by the university since the court placed a temporary hold on the recoupment.
In all, the latest actions by the Education Department are an effort to hold fraudulent colleges and universities accountable rather than pass on the cost of this type of loan forgiveness to taxpayers. These actions should send a message to dissuade similar, predatory institutions from engaging in these deceptive practices. It's unclear at this time whether the Education Department will also pursue further legal challenges to recoup more of the $22.5 billion in student loan forgiveness that it has collectively granted defrauded borrowers who attended other institutions.
More From GOBankingRates