Student Loan Forgiveness: Didn't Get an Email? Here Are 3 Ways You May Still Benefit From Biden's Latest Plan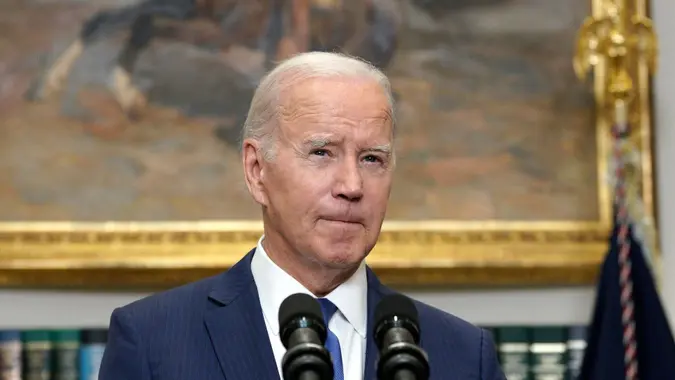 Yuri Gripas/UPI/Shutterstock / Yuri Gripas/UPI/Shutterstock
On July 14, the Biden administration announced it would automatically cancel $39 billion of debt for 804,000 student loan borrowers in the coming weeks. This follows the June 30 Supreme Court 6-3 decision, which struck down President Joe Biden's student loan forgiveness program. The Department of Education said it was sending email notifications right away. But if you still haven't received an email, you could still qualify.
The loans are a result of fixes implemented by the Biden-Harris Administration to ensure all borrowers have an accurate count of the number of monthly payments that qualify toward forgiveness under income-driven repayment (IDR) plans.
Borrowers are eligible for forgiveness if they have accumulated the equivalent of either 20 or 25 years of qualifying months, the department added.
But now, as Forbes explained, borrowers who don't qualify for loan forgiveness may still benefit.
Here's how:
Retroactive Credits
Borrowers may receive retroactive credit toward their 20- or 25-year student loan forgiveness term, but still be well short of the threshold for loan forgiveness, Forbes explained.
"However, that retroactive credit will still be beneficial for millions of borrowers, potentially shaving off years of repayment and advancing their progress toward eventual debt relief," according to Forbes.
New Details to Come
While the Education Department's implementation of the IDR Account Adjustment is currently prioritizing borrowers who have reached the IDR threshold for student loan forgiveness now, borrowers who are short of their loan forgiveness milestone, should receive more specific details about where they stand sometime in 2024, Forbes noted.
The Department also said in its July 14 announcement that it will continue to identify and notify borrowers who reach the applicable forgiveness thresholds — 240 or 300 qualifying monthly payments, depending on their repayment plan and type of loan — every two months until next year when all borrowers who are not yet eligible for forgiveness will have their payment counts updated.
"Any month counted for this purpose can also be counted toward PSLF [Public Service Loan Forgiveness] if the borrower documents qualifying employment for that same period," according to the statement.
In Some Cases, Borrowers Need to Take Action
Borrowers who have received notifications since July 14 to inform them about eligibility, do not need to take any action. These include borrowers with Direct Loans or Federal Family Education Loans held by the Department (including Parent PLUS loans of either type) who have reached the necessary forgiveness threshold as a result of receiving credit toward IDR forgiveness for any of the following periods:
Any month in which a borrower was in a repayment status, regardless of whether payments were partial or late, the type of loan, or the repayment plan;
Any period in which a borrower spent 12 or more consecutive months in forbearance;
Any month in forbearance for borrowers who spent 36 or more cumulative months in forbearance;
Any month spent in deferment (except for in-school deferment) prior to 2013; and
Any month spent in economic hardship or military deferments on or after January 1, 2013.
In addition, months described above that occurred prior to a loan consolidation will also be counted.
Now, if you meet these requirements, you might be able to qualify for the IDR, but you will need to apply. For instance, If you have commercially held FFEL loans, you can only benefit from the IDR Account Adjustment if you consolidate by the end of 2023, according to the Student Aid website.
"Due to potential legal challenges against the waiver, we urge borrowers with commercially-held FFEL loans to consolidate immediately," according to Student Loan Planner.
More From GOBankingRates