Student Loan Forgiveness: DOJ Tells Supreme Court Biden Had 'Clear Permission' From Congress to Execute His Plan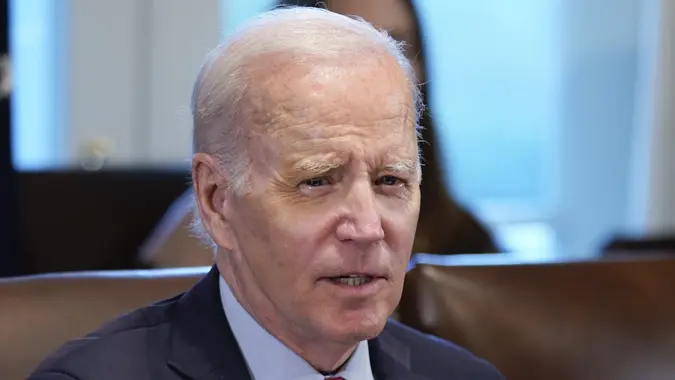 Patrick Semansky/AP/Shutterstock / Patrick Semansky/AP/Shutterstock
The Department of Justice (DOJ) filed an 86-page brief with the Supreme Court on Jan. 4 regarding President Joe Biden's halted student loan forgiveness program, arguing that the Education Secretary's "actions fall comfortably within the law" and that his plan "is both reasonable and reasonably explained."
Student Loan Forgiveness Update: Biden Administration Files Briefs With SCOTUS Defending Plan
Student Loan Forgiveness: Who Will Be Hurt the Most if Biden's Program Is Canceled?
"In defining the key aspects of the plan, the Secretary examined the available economic and historical data and tailored the relief to the relevant statutory objective: ensuring that borrowers affected by the pandemic would not be in a worse position financially with regard to their student-loan obligation," according to the filing.
The Supreme Court will hear two cases on Biden's student loan forgiveness program in February, according to court filings, while millions of borrowers are awaiting their fate, as GOBankingRates previously reported. 
The administration turned to the Supreme Court on Nov. 18 to vacate the nationwide injunction put in place on Nov. 14 by a federal appeals court, temporarily barring Biden's student loan debt relief program. 
The other case stems from a federal judge in Texas striking down the administration's program on Nov. 10, saying that the law "does not provide the executive branch clear congressional authorization to create a $400 billion student loan forgiveness program," according to court documents.
In turn, the administration announced on Nov. 22 that the student loan pause — which was set to end Dec. 31, 2022 — will be extended to the end of June 2023, while the administration awaits the Supreme Court's review.
The lower courts' orders have erroneously deprived the Secretary of his statutory authority to provide targeted student-loan debt relief to borrowers affected by national emergencies, leaving millions of economically vulnerable borrowers in limbo," according to the DOJ filing. 
In the brief, the DOJ discredited one of the lawsuits' arguments, which states that the program will "diminish their tax revenues." 
Take Our Poll: Do You Think Student Loan Debt Should Be Forgiven?
"That argument is flawed for several independent reasons: The States' alleged harm is self-inflicted; a federal policy's incidental effects on a State's tax revenues are not judicially cognizable injuries in any event; and the incidental injury the States posit rests on a chain of speculation," the DOJ said. 
More From GOBankingRates